The Revenge Society
Original Air Date:

November 15, 2009

Written by:

Doc Hammer

Production Number:

41
Summary
The Guild of Calamitous Intent comes under attack from an old foe with a new name, Revenge. Revenge's hunt for the all-powerful Orb brings the entire Guild to the front door of the Venture Compound, where they must face the combined might of Sgt. Hatred and Hank Venture.
Capsule
Inside Guild headquarters a mysterious figure slides... a toaster down a lengthy and well guarded hallway. As he pulls it back towards him with its extremely long cord it ejects toast high into the air with each piece setting off a different trap. The final trap is fire, which toasts the bred. The figure takes a bite and laughs to himself, saying that it needs something. Yes, Chuck, it needs jam! (Chuck?) He throws the toast with full force and it hits a computer at the end of the hallway, breaking it. All the lights go out and the figure approaches the computer.
Under a bridge the Intangible Fancy is making a deal with two men in suits. He hands one of them a bag, but is immediately questioned. Apparently a ham sandwich and 100 calorie pack of little Oreos isn't what they wanted. One of the men tries to shoot the Intangible Fancy, but since he's smoke or something the bullets have no effect. He takes control of the same man and forces him to shoot the other, who can only watch in horror.
Meanwhile the mysterious but vaguely familiar man at the Guild location is running down a hallway when he encounters a robot dog. The dog jumps for him but he grabs it and uses a very familiar power to short out the robot. It's Phantom Limb!
Next we see the Intangible Fancy ingest a box the second agent was holding and it's revealed that this is actually happening on video. Similar to the Monarch and Dr. Girlfriend's ordeal, Fancy is in front of the Guild Council of Elders.
COUNCILMAN 9
Intangible Fancy! We are lenient on murders.

COUNCILMAN 1
We have all been there.

COUNCILMAN 8
But the penalty for smuggling contraband is beheading.

COUNCILMAN 3
Does he have a head? Can we even get that, whatever that is, that head area off?

COUNCILMAN 9
What say you to the charges?

INTANGIBLE FANCY
I didn't swallow it. I dropped it.

COUNCILMAN 3
We all saw it! I mean you're like a ghost or something, you're clear!

COUNCILMAN 1
Here's something, I can see Councilman 8.

COUNCILMAN 8
Yes, okay, that's pecular.
Phantom Limb grabs Councilman 8 and speaks into the camera, announcing himself as 'Revenge' before destroying the camera. The other councilmen wonder if they should do something, though they're unclear as to the exact location of any of the other rooms containing councilmen. Just then Councilman 3 fades into view in the same way Councilman 8 did, and likewise Revenge takes him down.
Seconds later Revenge and Councilman 3 burst through the ceiling of the crucible room. Revenge is beating Councilman 3 pretty well but Councilman 8 jumps through the hole after them and grabs Revenge, holding him up by his neck. Just as it seems over (and Councilman 1 is on his way to help) Revenge uses his arm powers to knock down Councilman 8. Behind them on Councilman 9's screen Councilman 1 shows up.
COUNCILMAN 1
Oh, hello. Well that didn't work out.
Opening credits logo.
In an unknown location Billy appears to be wrapping up a surgery. Billy says that they'll live, and Revenge notes that if they die, so does Billy. They argue a bit with Billy asking if this makes them even. Revenge is still unhappy about the accident with Billy many years ago. Revenge ultimately wins the fight, mainly because Billy doesn't want to deal with it, and Billy gets back in his bag.
Just then the councilmen wake up... except they're now a single councilman. Billy has grafted Councilman 8's head onto Councilman 3's body. Councilman 3 appears to still be all there. Revenge explains that their bodies were dying and these measures needed to be taken. Councilman 3, Red Mantle, notes that he was fine and the other guy was the dying one. Maybe try grafting the head onto your own body next time, Limb. Just then Councilman 8 (known as Dragoon) wakes up and is of course quite angered by the situation. He immediately recognizes that Revenge is really just Phantom Limb.
RED MANTLE
Great, now he's gonna kill us.

PHANTOM LIMB
[laughs] Hardly! I have plans for you, and after you hear what I tell you, you will willingly help me.

BILLY
[still in the bag] I can't hear that. And if I can I have a very bad memory.
Meanwhile David Bowie is reading a book. Watch and Ward enter his quarters, causing him to dive behind the coffee table. He activates the classic huge Sovereign head and tells Watch and Ward not to pay attention to the ageless rock star in the room.
SOVEREIGN HEAD
I am the mighty Sovereign!

WATCH
Everyone knows who you are, my master.

SOVEREIGN HEAD
Really? You sure? Everybody?

WARD
Pretty much. And may I say that Hours was a totally underrated album.

SOVEREIGN
Yeah? I mean I thought so, but wasn't it kinda too little, too late?

WATCH
That would be Tin Machine.

WARD
Master! The Guild has been penetrated! Two of your council members have been taken.

SOVEREIGN
Impossible! Getting past the Diamond Dogs? We'd have at least heard the chants of the ever-circling skeletal family.

WATCH
The intruder knew all of our secrets. We suspect-

SOVEREIGN
Phantom Limb has returned.

WARD
Annnnd, that's kinda the good news. The bad news- you tell him!

WATCH
No way! Dude, we already went through this!

SOVEREIGN
Tell me or you both die.

WARD
He penetrated... the Chamber Sub Rosa.

SOVEREIGN
The Chamber Sub Rosa?! And the charter, is the charter safe?

WATCH
Uhhhhh... gone.

SOVEREIGN
You! [pointing at Watch] Summon the high council! And you [points at Ward], call Imon! Tell her I'll be on tour.
Watch and Ward run out of room as Sovereign turns into a bald eagle and flies away.
Back at where ever Phantom Limb was squatting Red Mantle and Dragoon are attempting to read the Guild charter. Billy is sitting on the couch next to them, though he is still inside his burlap sack. Red Mantle and Dragoon bicker as they try to turn the page of the charter. Phantom Limb yells at them for feigning ignorance and Dragoon tells a story about February, 1659, back when they were both musicians and playing a gig in the middle of nowhere, Iowa. We see Fantoma, much older than when we last saw him, approaching a younger Red Mantle and Dragoon. Billy interrupts, asking if this really happened in 1659. Dragoon says that it was actually in 1959, denying that he ever said 1659. They continue to story.
Fantoma offered them a spot in his rock band, though it turned out that he only played sousaphone (and badly) and every day they would have to rehearse with a band made up of kidnapped musicians. Huh.
BILLY
So Phantom Limb kidnapped you to start a band? So he can be like his grandfather?

PHANTOM LIMB
No, young William, the Guild was once much than a safe haven for washed up rock stars. It was a sacred order of knights that are sword to protect an ancient doomsday device. The Orb.

RED MANTLE
I don't remember reading that.

DRAGOON
I admit it, I was skimming.

BILLY
Uh, okay, don't kill me or anything, but, uh, I know where the Orb is.

[Phantom Limb leans forward]
BILLY
Is he pointing a gun at me?

PHANTOM LIMB
Tell me!!

BILLY
In a safe!! At the Venture Compound.
At the Venture Compound... Sgt. Hatred is laying on the bathroom floor, sobbing. Dr. Venture is trying to get Hatred out of the bathroom, but Hatred is too upset that Hank hates him. Dr. Venture tries to firmly get Hatred to come out again, but he's interrupted by his wrist communicator beeping.
DR. VENTURE
That's impossible. Apparently Rhode Island is in our driveway. I gotta deal with this. Dean, he listens to you, get him out of there. [he exits]

DEAN
[knocking on bathroom door] Uncle Hatred?

SGT. HATRED
Dean? I'm gonna be straight up and down with you. Uncle Hatred has fallen right of the wagon! I'm drinking... I don't know, it's awful, I think it's Axe cologne, or maybe the CVS equivalent, I don't know...

DEAN
Hatred! You listen to me! This is your sponsor talking! What is step number four?

SGT. HATRED
Uhhh... to make a f-fearless moral inventory of ourselves?

DEAN
Yes! And what are you doing in there?

SGT. HATRED
I don't know what moral inventory means! And you're not my sponsor! Pretty little boys do not drink!!

DEAN
You need your shot. You're going to the dark place again!

SGT. HATRED
I know!
Hank runs in, letting Dean know about the situation. The front lawn is crawling with bald-headed Guild guys! Hatred reacts to this news by bursting through the bathroom door (literally) and declaring full lockdown. Everyone to the panic room! Dean runs off as Hank and Sgt. Hatred scope out the situation.
HANK
Whatever. Guess I'll go hide in the panic room.

SGT. HATRED
Hey, uh, you wanna maybe help your Uncle Hatred stop the bad guys?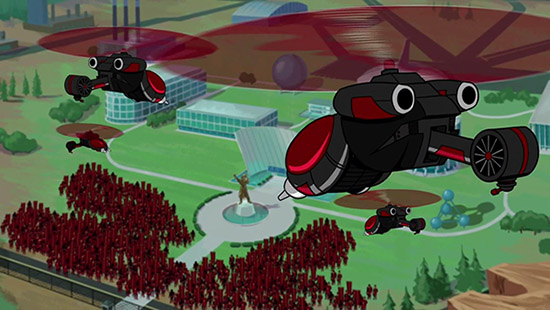 Commercial.
Back at Phantom Limb's house Red Mantle and Dragoon are practicing syncing up the limbs they control. Red Mantle notes that Dragoon is taking over the right side, but Dragoon claims he'll probably take over the whole thing since he's the dominant one. The bickering leads to noogies and the two roll around on the floor fighting each other, which you can imagine is sort of bizarre for two heads sharing the same body.
Phantom Limb returns and breaks up the fight. They ask him where he's been all day, and Phantom Limb tells them he was out with his team researching what Billy told them. The Guild is there too.
DRAGOON
Did you say 'the rest of your team?'

RED MANTLE
Who else have you stitched together?

PHANTOM LIMB
Hah, how rude of me! Let me introduce... The Revenge Society! Meet Wisdom, our fix it man. [he pulls out a mug with 'Wisdom' written on it] Demolitions, communications, new technology. Wisdom's the one we- hmm? Oh! And yes, the spiritual heart of our team. Namaste, Wisdom, forgive me.

DRAGOON
That is a mug!

PHANTOM LIMB
A face only a mother could love! But what a mind! [pulls out a toaster] That's Chuck. Named so for his abilities in the ancient art of nunchaku. He's the muscle! Also quite handy with dismantling traps. Hmm? Oh, [laughs] but not very humble! Chuck you imp! He's always doing that.

BILLY
Why can't I hear them?

RED MANTLE
Because you are sane!

PHANTOM LIMB
[holding up a woman's high heel shoe] The looker here is Lady Nightshade. Her skills are obvious. But hands off, gentlemen, she's spoken for.

DRAGOON
Am I missing something?

RED MANTLE
The man is a fruit loop!

PHANTOM LIMB
Fruit loop as a fox, gentlemen! Join us! Together we shall destroy the Guild of Calamitous Intent!

DRAGOON
That's ridiculous! You are ridiculous! [stutters] This is ridiculous, sir!!

PHANTOM LIMB
Oh. Well, my mistake. So I guess I'll just... murder you.

RED MANTLE
Ohh, no, wait a second! No, that sounds like a fun thing for us to do!

DRAGOON
Oh, yes, totally! I'm into it!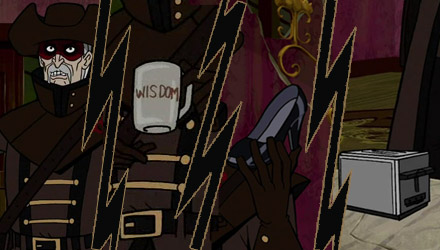 Back at the Venture Compound Sgt. Hatred and Hank are watching the Guild operatives in the security room. Hatred thinks they've come after him. He tries to explain to Hank his love (or former love) of young boys, though does so awkwardly with a birds and bees conversation that also involves eggs.
HANK
I think it's me they want. Yeap, they must have found out how Batman I am.

SGT. HATRED
Oh, you've got tons of Batman! But I gave every Guild secret I had to the OSI when I became your dad's bodyguard.

HANK
Not very Batman.

SGT. HATRED
No, sir, not Batman in the least.

HANK
So, what do we do?

SGT. HATRED
Yeah. Uhhh... I got nothing.

HANK
Just what I needed to hear! Let me show you what a Batman-loaded, Brock-trained Venture can do!
Outside the main building of the compound Watch and Ward, accompanied by some drummer dudes and of course a fuckton of Guild guys, knock on the door. Over the intercom Hank asks who they are. They tell him and he says they're not interested, but maybe they can leave some literature. In the main lobby Hank and Sgt. Hatred are hiding behind the main desk, laughing. Hatred gets an idea and then over the intercom places an order for some Girl Scout cookies. Frustrated, they ask to speak to Dr. Venture. Hatred tells them that they have the wrong place and that the Ventures live down the road.
Down in the panic room Dr. Venture is watching the debacle on his wristwatch. He complains that Brock would have taken care of this already when he notices Dean, huddled up and rocking on the floor.
DR. VENTURE
Dean what are you doing?

DEAN
Hyperventilating into my knees. They smell a little like spit-up because... I spit up a little.

DR. VENTURE
Dean, you just baby burped onto a speedsuit. Not a super scientist alive that hasn't coughed a little acid onto his speedsuit.

DEAN
[sniffles] Really?

DR. VENTURE
Why do you think these things are like ninety-five polyester? You can clean off your vomit with a wetnap!

DEAN
I thought you were used to this.

DR. VENTURE
Dean, I remember when the Action Man would wake me up with a gun pointed at my head. He'd just hold it there and pull the trigger. I'd hear the click really loud because it was right against my forehead.

DEAN
So it'd echo.

DR. VENTURE
Right, it sounded like he snapped one of my teeth out. Click! Then he'd go 'Not today, Rusty! Not today.'

DEAN
Golly! And you took it because you had to?

DR. VENTURE
No, Dean, I took it because I was Rusty Venture, boy adventurer. I didn't ask for this life, Dean, but it's mine. Sure, I fall down in the speedsuit, but I get up and wetnap my puke off.

DEAN
Do you have one?

DR. VENTURE
I got a pocket full of those lemony little devils. It all comes with that outfit, Dean. It's not all bad. I mean I'm a super scientist. Loved. Feared. Hell I have a lawn full of bad guys who want my, uh- what do they want?

DEAN
Let's find out!
Meanwhile from the cliffside road above the compound Phantom Limb instructs his new improved crew. Billy, the councilmen and Chuck are to infiltrate and retrieve the orb, and he, Wisdom and Lady Nightshade will keep up surveillance. Billy refuses to leave his bag and the councilmen point out that they're old and haven't been outside in thirty years. They're afraid of everything, but most of all teenagers. Phantom Limb points out that he can kill a man by touching him, which it turns out is just what the councilmen needed to overcome their fears.
Still hanging around on the lawn, the Guild members sit around, unable to do much. Watch and Ward ponder how to become more intimidating. Ward suggests naked army, though the eunuch division might freak everyone out. The women's auxiliary will be pretty great though. Just then:
WATCH
Wait, he's finally here! And he brought Eon!

WARD
How do you know that?

WATCH
[points at some approaching jets] Here come the warm jets!
Dr. Venture and Dean lay on the conveyor belt. Dr. Venture tells Dean to be still and the Guild will think they're just laundry. Seems simple. Just then Doc gets notice that the Guild has infiltrated the compound.
DR. VENTURE
Okay, they got in. The place is hot. We call it hot when bad guys are there.

DEAN
How did they get past the laser field and the security locks?

DR. VENTURE
I turned the lasers off when Orpheus got shot mowing the lawn and got all lawsuit on me. And I removed the locks because Hank locked himself in the research lab after seeing Dog Day Afternoon.

DEAN
Okay, we're here.

DR. VENTURE
I'm gonna take another lap.

DEAN
Check! A little super scientist reconnaissance.

DR. VENTURE
No, my zipper's caught in the conveyor belt.
Down below the compound in the tunnels Hatred and Hank are riding the hover bikes, apparently on a reconnaissance mission or something. Hatred points out that they've been taking his shortcut for like an hour, but Hank says all they need is his dad's Playboys and an ice cream cake and his plan will fall into place. Hatred points out that it seems like he's just taking advantage of him to do things his dad won't let him do.
HANK
What you don't trust me?

SGT. HATRED
What? No! Hey, you were trained by Brock Samson, I worked with that boy. He is as honest as sunshine. Like you, son. You and Brock Samson, two of the most Batman fellas you could ever-

HANK
Fine! Okay, we gotta turn around. I forgot about the part of my plan where we save you from the Guild.

SGT. HATRED
Let's get back on course there, soldier! Come on, I'll race ya!
Hatred speeds away (as much as one can speed on a hover bike) and Hank motions that he is putting goggles on and follows after him.
Billy, still in his bag, and the councilmen finally find Dr. Venture's guest room. However a Guild operative is in there. He aims his gun at Red Mantle's forehead. Red Mantle drops Billy but Dragoon throws Chuck (who he has been carrying this whole time) and nails the operative in the head.
RED MANTLE
What was that?

DRAGOON
That's a Guild Blackout. Dangerous idiots. They don't even make minimum wage. [they walk over to the wall safe] Chuck is the muscle.

RED MANTLE
Yes, hilarious. [he opens the safe, which is apparently unlocked, and pulls out the Orb] Here, hold this.

DRAGOON
I just learned how to make a fist and that's like a bomb! You carry it.

RED MANTLE
I'm carrying the Billy bag! [he motions at Billy, who hasn't moved or spoken]

DRAGOON
Leave him!

RED MANTLE
[kicks Billy] Oh great, we knocked him out!

DRAGOON
What is this, an episode of Gilligan's Island? Everybody gets hit once and they are instantly unconscious?

RED MANTLE
Good one! Six bucks says he has amnesia when he wakes up!
They leave without Billy.
From his lookout point Phantom Limb watches the crowd of now thoroughly bored Guild dudes. He's looking for Bowie.
PHANTOM LIMB
So sneaky, you could be anywhere! Anything. [looks at Wisdom] Yes, Wisdom, a shape-shifter. You know that.

WISDOM
[is a mug]

PHANTOM LIMB
Well, I didn't say you were-

WISDOM
[still a mug]

PHANTOM LIMB
What are you getting at, Wisdom? If that is your name. Or could it be... Sovereign!? [he grabs Wisdom as if he is strangling him]
Dean and Dr. Venture are finishing up their second loop on the convey-er belt as Dr. Venture gives Dean some super scientist survival tips:
DR. VENTURE
Every professional nemesis has weaknesses. One, they wear goggles. Peripheral vision is shot! Two, helmets with logos and stuff on them? A guy with a big metal piece of punctuation on his hat can't turn his head fast. So you gotta be moving, always moving!

DEAN
Got it, always moving.

[at the end of the conveyor belt they run into... Doc?]

FUTURE DR. VENTURE
I'm you from the future!! We have to finish our time machine before the angels of destruction find the portal!!

[Dean and Dr. Venture only gape in horror]

SOVEREIGN
[shapeshifts back] Nah, I'm just messing with ya. Come with me, I need your help.
Hank and Sgt. Hatred are now in the guest room. They're pondering over the Billy bag. Hatred thinks it's a trap. Hank suggests it's a bag of scorpions that have been trained to take the shape of a guy. Hatred opens the bag only to find a sleeping boy! He's all cozy in his PJs! They're praying on his weakness! Also Hank has found the Playboys.
Outside the Venture Compound the two councilmen and Phantom Limb approach the crowd. Brian Eno tells the councilmen that they're kind of working the two-headed thing, which they appreciate. Phantom Limb also wants them to read a thing. It declares that Phantom Limb is the rightful Sovereign of the Guild since his grandfather, Fantoma, was a founding member. A number of Guild Blackout agents point their weapons at Phantom Limb who quickly throws Lady Nightshade, knocking the guns out of each of their hands before returning back to him.
EON
Is that a... shoe?

[cut to the Monarch's house, Dr. Girlfriend is looking through the closet]

DR. GIRLFRIEND
Sweetie? Have you seen my other shoe? Black Ferragamo?
Cut back to the Venture Compound. Phantom Limb proclaims himself the Sovereign. Just then Bowie shows up. Phantom Limb looks into his bag and says that he should have trusted Wisdom and will avenge his death.
PHANTOM LIMB
If it's not the thin, white douche! Hand over the Guild to its rightful heir! Or I will activate this! [he pulls out Wisdom, who has been broken]

SOVEREIGN
Please no, don't activate a broken coffee mug.

PHANTOM LIMB
[throws Wisdom away and pulls out the Orb] Behold! The Orb!!

SOVEREIGN
Yes, well, in that case I'll hand the Guild over. Meet the rightful heir to the Guild of Calamitous Intent: [Dr. Venture and Dean walk up behind them] Dean Venture! Lloyd Venture, that boy's great grandfather, was the grand protector of the Orb. Your grandfather, not unlike you, was a usurper. All hail the Sovereign! [he hands Dean a sword and a number of Guild officials bow to Dean and cheer]

DEAN
I am... the Sovereign!

DR. VENTURE
Alright, boy, hustle this up. I want these idiots out of here. They're killing my lawn.

DEAN
Ooh, sorry. In the name of chaos, dominion and organized havoc, I dub thee, Sovereign [he touches the sword to Bowie's shoulders], lord of the Guild of Calamitous Intent.

SOVEREIGN
Good on ya, boy.

DR. VENTURE
He's a Venture!

PHANTOM LIMB
This is crap, I'm the rightful heir! Me! Phantom Limb! And I shall go down in history as a destroyer! Behold, the awesome power of the Orrrrrbbbbb!! [he attempts the activate the Orb]
We see the same flashback we saw in ORB where Lloyd Venture is about to activate the Orb with Sandow begging him not to do so. We see Sandow again, crying, and we hear a cracking sound.
LLOYD VENTURE
You- you broke it! [in front of him the Orb sits, broken in two] You destroyed the Orb!

SANDOW
My orders were to kill you.

LLOYD VENTURE
Oh. Well in that case... thanks! And, uh, let's not tell anybody about this, shall we?
Back in the present day Phantom Limb furiously tries to get the Orb to do something, but to no avail. He falls to his knees and is advanced on by Guild agents. The Orb falls out of his hand and rolls over to Red Mantle, who picks it up.
RED MANTLE
Two heads are better than one!

DRAGOON
What does that have to do with anything?

RED MANTLE
Nothing, I've just been wanting to say that all day. I got sick of waiting for an opportunity!
Roll end credits.
Billy wakes up. He's in what is apparently his bed.
BILLY
Huh? Whoo, that was crazy. White! White, you up? You gotta hear about this dream I had, it was completely-

SGT. HATRED
[sits up, has his shirt off, maybe more] Good morning sunshine!

BILLY
-I wanna go back in my baaag!!
Notes
A ton of callbacks and references in this episode, so let's get started!


The room Intangible Fancy is being questioned in is the same one seen in Shadowman 9 when the Monarch and Dr. Girlfriend were questioned prior to having their duality approved by the Guild. Intangible Fancy himself has always been a sort of semi-background character, but his two most notable appearances prior to this episode were in Tag Sale, You're It! and Fallen Arches where he had one or two small lines.


The councilmen of course also appeared in Shadowman 9, though this is the first time we've seen more than a silhouette of any of them. You may recall there are thirteen council members, each with only a number to designate them, though their numbers don't seem to correspond to any sort of rank. We also find out the villain names of Councilmen 3 and 8, which are Red Mantle and Dragoon, respectively.


Phantom Limb, who now calls himself 'Revenge' (though he does refer to himself as Phantom Limb a few times, so who really knows what he wants), is of course returning from his very major role in season two which ended with his apparent but uncertain death in Showdown at Cremation Creek Part II. We later found out in Shadowman 9 that he was still alive, though badly injured, but he has not appeared in the series since then aside from in flashbacks (mainly his major part in The Invisible Hand of Fate). We see in this episode that he is quite a bit thinner and has lost at least one of his arms (replaced by a robotic one) as well as his sanity.


Watch and Ward's first conversation with Sovereign is rife with David Bowie references, as you might expect. First they mention one of his more recent albums, 1999's Hours.... Notably it was Bowie's first studio album to miss the top 40 in the US since Ziggy Stardust in 1972.

Mentioned next, though briefly, was Tin Machine, a band Bowie was a member of from 1988 until 1992. The band was largely ignored and their two albums sold poorly. In 1992 the band dissolved (at least partially due to disagreements between Bowie and Reeves Gabrels) and Bowie restarted his solo career.

When referring to the apparent security the Guild employs Bowie ponders how Phantom Limb got past the diamond dogs without anyone hearing the chants of the ever circling skeletal family. Diamond Dogs is a concept album released by Bowie in 1974 and Chant of the Ever Circling Skeletal Family is the final song on Diamond Dogs.

Bowie also tells Watch to 'call Iman' which refers to Bowie's current wife, supermodel Iman. In the same scene he also turns into an eagle, which was previously seen at the end of Cremation Creek II and is a reference to his character in Labyrinth who could also shapeshift into an eagle.


From Dragoon's story it becomes clear that he and Red Mantle are actually The Big Bopper (real name, J.P. Richardson) and Buddy Holly. Aside from their general appearances being similar, Dragoon mentions that they were playing "The Winter Dance Party" in the middle of nowhere, Iowa. The circumstances of the plane crash that killed Holly and Richardson (as well as Ritchie Valens, who is nowhere to be seen in this episode) was that they were on a tour called 'The Winter Dance Party' and the circumstances of the tour split Holly, Richardson and Valens from the rest of the tour and to a plane rather then their tour bus (which Holly had been unhappy with for the duration of the tour). They chartered a flight out of Clear Lake, Iowa to their next tour stop in Moorhead, Minnesota, but due to inclement weather and pilot error (the pilot and the plane were not qualified to fly in bad weather conditions and at night) the plane crashed five minutes after it took off. The day is famously known as 'The Day The Music Died'.

Red Mantle also mentions that he's 73, which would mean he was born in 1936 (if the episode takes place in 2009) which is the same year Holly was born.


The Orb is of course from the season three episode ORB. It was built up as a super weapon that was eventually passed on to Jonas Venture and hidden by him with only some vague clues hidden in the old Rusty Venture cartoon revealing its location.


Ward's line 'here come the warm jets!' in exclamation of Eon arriving is a reference to Brian Eno's first solo album of the same name. A 1980's version of Brian Eno (who also collaborated with Bowie in the 70s) later appears in the episode as another apparently high-ranking Guild official. In something most likely pure coincidence, Here Come The Warm Jets features Robert Fripp of King Crimson, a band mentioned in Perchance to Dean. Watch likely calls him 'Eon' as a way of not using his actual name in the episode (as to avoid any potential legal issues), similar to how David Bowie is never referred to by his real name in the entire episode (or how Jonny Quest is called Action Johnny).


Phantom Limb calls Bowie 'the thin white douche', which is reference to one of Bowie's many personas, this one called the Thin White Duke, and primarily identified with Station to Station.