Showdown at Cremation Creek, Part I
Original Air Date:

October 8, 2006

Written by:

Doc Hammer & Jackson Publick

Production Number:

25
Summary
The Monarch finally (for like the fourth time) has Team Venture in his clutches at the one time he doesn't want them - smack dab in the middle of the social event of the supervillain season. The stage is set for a deadly, ultimate showdown between The Monarch and Phantom Limb for the hand of Dr. Girlfriend.
Capsule
A motel room. Dr. Girlfriend is sleeping. The Monarch enters with breakfast in bed. An orange and pretzels. Dr. Girlfriend tells him to put them down an instead join her. She is clearly naked under the covers. The Monarch eagerly sheds his robe (revealing his tiger print undies) and crawls up through the covers.
THE MONARCH
Hello girls. Remember me? Dumpling? Have you had some work done? I can barely get my hands around them.

DR. GIRLFRIEND
They're exactly the same size.

THE MONARCH
Are you riding your menstrual cycle?

DR. GIRLFRIEND
No! What are you getting at?

THE MONARCH
That maybe you're hiding something from me? Like a little gift that Phantom Limb left in your oven.

DR. GIRLFRIEND
Alright, I knew you couldn't handle this. It's crazy, we've been meeting in this crappy hotel like three times a week and it's going nowhere!

THE MONARCH
Alright, fine, I'll do Thursdays too! But only for like an hour, which means we have to get right to the dirty deed! I give you permission to begin without me.

DR. GIRLFRIEND
Oh gee, thanks. Look, I keep coming home with welts on my neck and the 'I got jumped by flying squid' excuse is starting to get Phantom Limb a wee bit suspicious.

THE MONARCH
Screw Phantom Limb! No, wait, no, don't...

DR. GIRLFRIEND
Don't you get it?! I love you! But I don't want this!

THE MONARCH
Alright, fine!

[DR. GIRLFRIEND starts crying]

THE MONARCH
Oh. Oh crap, you're crying. I- I- uhmm... marry... me?

DR. GIRLFRIEND
Oh stop it, I'm worn down from all this! I should go.

[She tries to leave but THE MONARCH grabs her before she gets to the door and gets down on his knees]

THE MONARCH
Marry me.

DR. GIRLFRIEND
You're being serious?

THE MONARCH
Deadly serious!

DR. GIRLFRIEND
[smiles] Yes.

THE MONARCH
Good! Done. Now get your ass back in that bed!

DR. GIRLFRIEND
But we need to make some ground rules. [she pulls out a piece of paper] One. No more of this 'I need my space, you're crowding me' crap.

THE MONARCH
[sighs] Fine, whatever. Where were you hiding that list?

DR. GIRLFRIEND
Two! I'm not your number two. I'm your partner.

THE MONARCH
'kay, I'll get you a crown or something. Anything else on that magic and probably moist list of yours?

DR. GIRLFRIEND
Yes, number three. This whole Dr. Venture thing is over.

THE MONARCH
Yes! We kill him once and for all! And we shall make slaves of his sons and a lamp from the flesh of Brock Samson!!

DR. GIRLFRIEND
No! I want you to give up this insane grudge you have with Dr. Venture once and for all!

THE MONARCH
No way!! Dr. Venture is my sworn enemy!

DR. GIRLFRIEND
Nevermind then, I knew you weren't serious!

THE MONARCH
No, no, don't go! Deh. [sighs] Fine, I'll do it. No more arching Dr. Venture.

DR. GIRLFRIEND
Ever?

THE MONARCH
Never.

DR. GIRLFRIEND
Swear.

THE MONARCH
I pinky swear! Kay? You happy now?

DR. GIRLFRIEND
The happiest woman alive.
The Cocoon, one month later.

[various HENCHMEN are crawling around in pain, there are bachelor party decorations torn up on the walls]

HENCHMAN 24
Oy, he's gonna kill us. Maybe if we beg for mercy.

HENCHMAN 21
Oh god, let him. It would be such sweet release from this torture we've brought upon ourselves. Oh fuck it, you kill me. Just don't hit my head or make too much noise doing it.

BROCK
I have an idea, chunk. You open this door and I'll kill ya.

[the camera pans over to reveal BROCK is in a holding cell]

HENCHMAN 21
What did we do?

HENCHMAN 24
Oh shit, I thought I dreamt that part.
Roll (shortened) opening credits.
We're outside. Birds are flying. A gunshot. A bird falls. Phantom Limb is shooting at them. The Monarch is talking to him. The Monarch once again tells Phantom Limb that he's marrying Dr. Girlfriend. Phantom Limb calmly agrees. The Monarch commends Phantom Limb for being so calm and not trying to kill him. Phantom Limb tells him that he pretty much knew it was coming. The Monarch tells PL that he needs Dr. Girlfriend's shit since needs something old. Phantom Limb, however, wants to have a nice chat first.
Peeking out from behind a bush, a man in an orange prison jumpsuit leaps into another bush. It's Mr. Monday. Phantom Limb aims his shotgun and fires.
THE MONARCH
Was that Mr. Monday?

PHANTOM LIMB
Ohhh yes, you two were in prison together, were you not?

THE MONARCH
Uhh, I saw him. Around. I think.

PHANTOM LIMB
Ohh, you'd be surprised at the array of wildlife here on the grounds. Wonder what other game we could scare up?

[in a nearby tree something yells and rustles the tree. PHANTOM LIMB fires into the tree and a bloody body falls to the ground twitching in pain]

THE MONARCH
Dr. uh, Dr... Septapus?

PHANTOM LIMB
Oh don't tell me, not another one of your former prison mates? What are the odds?

[he fires a point blank shot into DR. SEPTAPUS]

THE MONARCH
Alright, what's going on here?

[WHITE NOISE attempts to creep by THE MONARCH and PHANTOM LIMB]

PHANTOM LIMB
Just disposing of some vermin. Terrible, the havoc they can reek on a meticulously manicured lawn you know.

[PHANTOM LIMB spins around and shoots WHITE NOISE]

THE MONARCH
Wow! Okay, okay, fine. So what did you do, bust all these guys out of jail just to... show me how ruthless you are?

PHANTOM LIMB
What do you take me for, a common thug? Of course not. I hired them an excellent appeals attorney. And there he is.

TINY ATTORNEY
Please! Phantom Limb! I did everything you asked!

[PHANTOM LIMB kills TINY ATTORNEY]

PHANTOM LIMB
I'm a reasonable man, Monarch, but don't think for a moment that I will forget this. Revenge, like gazpacho soup, is best served cold, precise and merciless.

THE MONARCH
Oh yeah you can never have enough precision in your soup. Look, nut job, I hate these traitorous dinks more than you do. So shoot whoever you want.

[PHANTOM LIMB cocks his gun and aims it at THE MONARCH, holding it there for a while and finally lowering it]

PHANTOM LIMB
Go. Her shit's by the door in a box marked 'hers'.
The Order of the Triad, meanwhile, are battling Torrid in some kind of pink, foggy dimension. Dr. O is attempting to shoot him with some kind of laser magic but Torrid keeps poofing away and reappearing close by, thusly avoiding said magic. The Alchemist asks Torrid for the All Seeing Orb. Nicely. Torrid instead taunts them and holds the eye over his head. The Triad forms the 'thaumaturgic man-mound', which turns out to be Dr. O standing on Jefferson and the Alchemist's hands. They do another magic laser beam thingy which hits Torrid in the feet, causing him to fall backwards and drop the eye. They complain that Orpheus' shoes hurt their hands and the Alchemist picks up the eye. Dr. O asks if anyone else feels embarrassed, and decides it's time to head back to his home for some real training.
Back at the Cocoon the Monarch has found out what the henchmen have (somehow) done and is reaming them. Because, you know, broken promise. 21 explains that they (Dr. Venture and the boys are also in the cell) were going to be the Monarch and Dr. Girlfriend's wedding gift. The Monarch calmly explains with yelling and hitting that he made a sacred pinky swear and that Dr. Fiance is going to flip a shit.
The Monarch calms down a little and mentions that he is impressed nonetheless. And why exactly didn't they pull this off any time, you know, ever, before this? How did they do it anyway? Well, 24 explains that after the bachelor party died down a lot of the henchmen were still pretty wound up, so they picked up a case and hit the streets. Along the way 24 found a tatoo place and decided it would be a great idea to get a butterfly tramp stamp. And who should happen to be in there at the time? Brock fuckin' Samson. Slayer of men. Slayer of henchmen.
Brock of course didn't see them coming, so the henchmen got the jump on him. There were, of course, still casualties, but the henchmen still managed to overpower Brock and tie him up. And with Brock out of the way, well, Dr. Venture and the boys were easy pickings. And what better gift could they offer the Monarch than his arch-nemesis?
Just then Dr. Girlfriend walks in and of course, flips her shit. The Monarch explains that it's not how it looks... you see, Dr. Venture is the Monarch's best man. You know, just to prove that bye-gones are bye-gones. And they're only in the cell because Hank wanted to see. He's not the sharpest tack and he probably thinks they're in a submarine or something. On cue Hank wakes up and asks where they are. Dr. Girlfriend, amazingly, buys it. They make out a bit as everyone watches with some discomfort. Dr. Venture, meanwhile, remembers his adventures from whenever Mid-life Chrysalis took place and realizes, astoundingly, that Dr. Girlfriend and Charlene are in fact the same person. Gasp!
At Phantom Limb's place he's talking to the Sovereign. Sovereign informs Phantom Limb that his request has been denied. Phantom Limb is to commit no acts of vengeance against the Monarch:
SOVEREIGN
It matters not that you were dumped. And that's kinda... you know.

PHANTOM LIMB
I understand, Sovereign.

SOVEREIGN
May I suggest you start a journal. There you could pour out your woes upon the tear-stained pages of dear diary.

PHANTOM LIMB
That is an excellent suggestion, my liege.

SOVEREIGN
Or maybe go jogging with friends.

PHANTOM LIMB
I shall do just that! You honor me, my master.

SOVEREIGN
So I have your word then? No movement on the Monarch.

PHANTOM LIMB
You have my word.

SOVEREIGN
Excellent! Well I'm glad we got this wrapped up. I've got a wedding to get to- oh. Uh, I'm gonna go.
The telescreen turns off and the Phantom Limb quietly spins around in his chair. The wall next to him opens up to reveal an army of Guild operatives. Choppers and soldiers. Uh oh.
Commercial.
At the Cocoon:
THE MONARCH
Ahh, I can't thank you jerks enough.

BROCK
So, you and manwich are finally tieing the knot, huh? I always figured you for a closet case.

THE MONARCH
Oh in your dreams, macho man. I'm about to marry the hottest piece of ass in super-villainy.

[a moppet with a scarf runs by and DR. VENTURE breaks from the group to follow]


HANK
Why would you do this?

HENCHMAN 21
What, be a henchman?

HANK
Yeah. Retardo costume, some skinny guy yelling at you all the time-

HENCHMAN 21
Dude, are you describing me or you?

HANK
I don't wear a costume.

HENCHMAN 21
What!? Are you drunk? Where do you even buy a baby blue kerchief? I just said kerchief. Dude, what, does your dad use his time machine to go shopping?


DEAN
Are the walls titanium or made of secret rocket ship metal?

HENCHMAN 24
What? Who ca- I know they're wicked easy to stain.

DEAN
Hmmm, then we can rule out any chromium based metals. Those clean nicely with a damp cloth.

HENCHMAN 24
Alright. I'll 'rule that out'. So uh, you uh like being a, uhhhh...

DEAN
Uh, Dean?

HENCHMAN 24
Yeah, a Dean. That must kind of, uh, suck.


BROCK
Oh come on, that voice!? Sounds like a dude! Probably still half a dude.

THE MONARCH
Hell-o, jealous much? Heh, excuse me, but I am not the rough trade in the tight camisole with a naked guy tattooed on my arm!

BROCK
It's not finished. Supposed to be Icarus, you know, from the Led-

THE MONARCH
Zeppelin albums, yeah yeah. Super fuckin' cool! When I was like fourteen.
Dr. Girlfriend, in the meantime, is being fitted for her wedding dress. Dr. Venture, no, Rusty Venture, knocks at the door. And he brought her something blue. Him! Dr. Girlfriend shudders. She comments on how him agreeing to be the best man is rather big of him. Oh, but that's not the only thing that's big of him. Smooth. Dr. Venture sends the moppets off.
DR. VENTURE
Who is Charlene? Only the finest woman in eighteen years to steal my heart. Only the sexiest pile of girl parts to climb mount Rusty.

DR. GIRLFRIEND
What? I have no idea what you're- oh my god.
At Dr. O's pad there's a ring at his doorbell. Door. Whatever. It's the Alchemist! With chips and beer. Extreme chips. Also he's dressed like, uh, a paunchy gay guy who likes Jimmy Buffet. Jefferson, meanwhile, is setting up 'the apparatus'. Which turns out to be a birthday candle on a Pilate's matt. Al suggests they take the edge off before training. Even though it's only noon. Jefferson points out that he doesn't drink. The Alchemist is quick to respond, noting that he has five packs of nickel nips. Jefferson looks... intrigued. He starts shaking and sweating and the Alchemist taunts him with the package until Jefferson tackles him.
Back at the Cocoon, Hank and 21 converse in 21's room:
HENCHMAN 21
Yeah I think I've still got an old costume you can wear. And before you say it, I was much slimmer then.

HANK
I was gonna say you have more toys than a little girl.

HENCHMAN 21
What? Dude, there are no toys in here.

HANK
Oh what do you call that?

HENCHMAN 21
Alright, that's a maquette.

HANK
Doll. And that?

HENCHMAN 21
That is a collectable bust.

HANK
That, is a toy.

HENCHMAN 21
How can you play with a disembodied head?

HANK
Well he could be like a, like an all-knowing head that, that tells...

HENCHMAN 21
Quisp?

HANK
That tells Quisp that he has to kill...

HENCHMAN 21
The micronaut.

HANK
Kill the micronaut.

HENCHMAN 21
[long pause] Huh. So do you wanna-

HANK
Only if I get to be that He-Man head.
24, meanwhile, is slightly less lucky and has to deal with Dean, who really wants a tour of the engine room. 24, who clearly doesn't want him around, tells Dean to go exploding on his own. Just don't touch anything. Seriously kid, get away from me.
Dr. Venture, meanwhile, is still talking to Dr. Girlfriend. She points out that she was under orders to seduce him, turn him into a butterfly, and then the Monarch was going to strap him to a giant bug zapper or something. But instead she gave him the antidote because (according to Dr. V) she fell for him! Dr. Girlfriend tries to explain that it can't work this way since he's her boyfriend's arch-enemy and all that. Dr. Venture plans she planned this all herself. You know, get the Monarch and Dr. Venture together and do them both! Dr. Venture says he's unwilling to share. Dr. Girlfriend is clearly not amused. Plus she's not zipped up and the moppets have been kicked out.
21 and Hank, meanwhile, are playing with 21's toys... collectibles, whatever. Hank has some sort of puppet with a goatee, and discovers that the goatee comes off. He puts it on his own face and pretends to be, how you say, Russian Guyovitch?
HENCHMAN 21
Hank you should totally grow one of those! You look like Green Arrow! Or like the mirror mirror version of Hank!

HANK
Yeah, evil Hank!

HENCHMAN 21
Yeah, evil Hank, completely.

[a JONAS VENTURE clock goes off]

HENCHMAN 21
Aw crap, is that the time? Dude, the guests will be here like and minute, and I'm not even dressed for the wedding!

JONAS VENTURE CLOCK
Hello, Rusty, it's time to get up! Hello, Rusty, it's time to get up!

HENCHMAN 21
[putting on a bow tie and holding a guitar] Okay, come on, we've got work to do.
Back at Dr. O's, the Alchemist is drunk and Jefferson is out cold. The Alchemist is at the end of telling a story that involves him catching 'crotch crickets' from someone who then said they were going to call but never did. Sweet. They're playing truth or dare. Dr. O takes truth. The Alchemist asked if he really thought he could get a bunch of middle aged guys to chase around bad guys and take it seriously. Dr. O says yes. The Order of the Triad has potential. Nevermind that Jefferson was just throwing up artificial cherry flavored vomit before he passed out. And Al is a down a similar road himself.
Dean, meanwhile, has found the engine room. Dean is looking at the door when he hears 24's voice. 'Just don't touch anything.' Oh hey, that's not in his head, it's over the PA. 24 tells Dean to get to the wedding. Just then a henchman exits the engine room and hands Dean a printout. He tells him to give it to the Monarch at the ceremony and then runs off, leaving the engine room doors open. Dean, of course, goes inside.
At the wedding 21 plays guitar. Hank talks to Brock who is acting as doorman and usher:
HANK
You seen my brother?

BROCK
Naah, he's probably sitting down torturing Monstroso with Snapple facts.

HANK
Nah, I don't think- holy moley, that guy is almost a truck!

TRUCKULESE
Ah, Truckulese?

BROCK
Uhhh, yeah.

TRUCKULESE
With a 'T'.

BROCK
Here you are... and your guest.

TRUCKULESE
Came stag, friend. This big ol' rig takes up two seats.

BROCK
Okay but you only get one bag of Jordan Almonds. Right side, fourth row, seats six, seven.

HANK
Where am I sitting?

BROCK
Uhhh, you are... next to... Sergeant Hatred and guest.

HANK
Awwwwww, no.


SGT. HATRED
Lookit that honey! Look at that! Tell me those aren't the monitors from my old hover tank? What the hell kind of a deal is this, what kind of a shabby operation they running here?

[HANK looks upset but then gets the idea to put on his fake goatee again. He sits down next to HATRED]

HANK
You're not gonna... bad touch me, are you?

SGT. HATRED
Do I know yo- honey, do we know him?

HANK
[Russian accent] Uhh, no! Helloski! I am, how you say? Russian Guyovitch!

SGT. HATRED
Sergeant Hatred, pleased to meet you! This here's Princess Tinyfeet. Show him honey, show him the little gentlemen.

[PRINCESS TINYFEET lifts up her feet, which are indeed quite small]

HANK
Huh. So she is.

SGT. HATRED
Ohh, look at those perfect little toes, so plump! Like little nibblets! Like little coooorn nibblets!

TINYFEET
Maize.

SGT. HATRED
[laughs] That's right honey! Hot damnit those things are beautiful!! Gimmie, gimmie, gimmie!
Sergeant Hatred then proceeds to lick the crap out of Princess Tinyfeet's feet. Hank watches with disgust.
21 and 24 meanwhile, are singing, but stop when they see who has entered.
BROCK
David Bowie.

BOWIE
Brock Samson. It's been a while.

BROCK
Not long enough. You're lucky I don't kill you right here after what you pulled in Berlin.

[BOWIE's two bodyguards get between BROCK and BOWIE and hiss a bit]

BOWIE
You're welcome to try.

[BOWIE makes a noise and his bodyguards step back]

BROCK
What the hell are you doing here?

DR. GIRLFRIEND
He's giving me away. [she goes over to BOWIE] You look fabulous! Thank you so much for doing this David.
21 and 24 start up the wedding song. Bowie walks Dr. Girlfriend down the aisle as Dr. Venture and the Monarch converse:
DR. VENTURE
She's too good for you.

THE MONARCH
Are you still mad at me?

DR. VENTURE
What!? I'm suddenly supposed to be your best friend? I can't remember a day of my life that you didn't fuck up.

THE MONARCH
Calm down. Look at all that history! We have so much in common.

DR. VENTURE
Oh you don't know the half of it, buddy-boy.

THE MONARCH
What is that supposed to mean? Oh! There she is! [whispering] Hi pookums!

DR. VENTURE
I feel so dirty when they start talking cute.

THE MONARCH
Get used to it.

DR. VENTURE
I wanna tell her that I love her, but the point is probably moot.

THE MONARCH
[pause] Are you reciting Jessie's Girl?
Bowie and Dr. G reach their destination and he hands her off to the Monarch. 21 falls over.
Killinger is apparently the judge or priest or whatever in this case. He begins the opening speech.
Back at Dr. O's, Dr. O is saying that they need to take this whole thing more seriously. Anyway, the seance was a success. Dr. O points out that Jefferson was light as a feather and stiff as a board (he's still pretty stiff) and they were able to materialize a spirit from the beyond. If the beyond was a Star Wars trading card. It's one of those creepy aliens... you know the kind.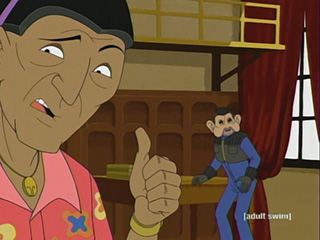 The Alchemist inquires if they should take him in the back and kill him with a shovel. Dr. O says the Alchemist doesn't even care. Come on, Al!
THE ALCHEMIST
No, I care about the true spirit of the divine. I care about the universal truth! But being a magic super hero that keeps chasing the same guy? It's completely gay! And that is coming from a guy that voluntarily has sex with men!

DR. ORPHEUS
Well. So does this mean it's over? Are we breaking up?

THE ALCHEMIST
I guess so. You want me to pack up my blackula hunter and leave quietly, hmm? Come on Byron, don't be so ding-dong serious all the time! [he notices something] Uhh, your Montel Williams neck pin is blinking.

DR. ORPHEUS
[gasps] There is cosmic peril somewhere.

THE ALCHEMIST
No, no, answer it! I guess I'll just wait.

DR. ORPHEUS
It says that Dr. Venture and his entire family are in danger. Then there was something about hundreds of deaths. Like you care.

THE ALCHEMIST
No! You old bag of sad! That I care about! That's the kind of cosmic ju-ju I am interested in! For I am, the Alchemist! Seeker of truth!

DR. ORPHEUS
And I am Dr. Orpheus, master necromancer!!

[JEFFERSON snores]

THE ALCHEMIST
Oh, and he is, Jefferson Twilight! Blackula hunter!

[the weird STAR WARS GUY says something in his native language with a Triad logo glowing behind him]
Meanwhile at the wedding:
KILLINGER
Do you, Mrs. Dr. the Girlfriend, take Mr. The Monarch to be your lawfully wedded husband? To have and to hold, in sickness, and in health, till death do you part?

[Guild wasps congregate outside the Cocoon]

DR. GIRLFRIEND
I-
There's a loud crash. Everyone looks around with curiosity and a little bit of fear. A large telescreen lowers. Phantom Limb has something to say!
PHANTOM LIMB
Monarch, this is the Phantom Limb. You are surrounded.

THE MONARCH
Ohh! Dick move!!

PHANTOM LIMB
You have five minutes to turn over my girlfriend or I will destroy your ridiculous cocoon. And all inside.
To be continued...
Notes
The first post-opening credits sequence with Phantom Limb and the Monarch is a play on the famous short story The Most Dangerous Game by Richard Connell. The premise of the story is a big-game hunter is trapped on an island and hunted by a fellow big-game hunter who has become bored with conventional prey. Phantom Limb, of course, put considerably less effort into his hunt (not that his huntees made it very hard).


The characters Phantom Limb kills in this scene are Mr. Monday, Dr. Septapus and White Noise who all last appeared in Powerless in the Face of Death (Dr. Septapus and Mr. Monday also had non-speaking appearances in Return to Spider-Skull Island) and of course Tiny Attorney who was captured by the Guild in Trial of the Monarch.


If you were curious as to what the Alchemist meant when he held that eye thing up to his head and said "look, I'm the Residents!", it's because The Residents (a band) wore bigass eyeballs on their heads. Makes sense, right?


The tattoo Brock is getting should look familiar since it's the same picture he drew on his written exam in Mid-life Chrysalis. In that episode and later on in this one he incorrectly identifies it as Icarus from the Led Zeppelin albums. It's actually Apollo (god of the sun) and it's the logo for the band's record label, Swan Song Records.


Nik-l-Nips are a super old type of candy that are essentially tiny wax soda bottles filled with colored sugar syrup water. My grandma used to get them for me all the time, which may explain why I was such a hyper kid. Anyway, what you do is bite off the top of the bottle and then drink what is essentially liquid sugar. Gotta love it. Clearly Jefferson does.


I had a hard time with 21 and Hank's conversation, but I believe they said Quisp and 'the micronaut'.

Quisp refers to an Aquaman ally (who later became a threat to Aquaman). I had a bit of trouble with him, so here's a picture. It does not refer to the cereal mascot from the 70's, sorry guys. I mean, it may, but Aquaman references in Venture Bros. seems more likely, and I have to play the odds.

'The micronaut' doesn't even really refer to anything, but there was a Marvel comic series called The Micronauts which existed between '79 and '86. This was spawned from a line of toys (thanks to Rob Dean for a correction there) which you may remember Col. Gentleman wished existed when he was a lad back in Twenty Years to Midnight . Oh and also He-Man.


When Hank puts on the fake goatee 21 mentions he looks like 'Mirror, Mirror' Hank, which is a reference to the parallel universe in Star Trek called Mirror Universe. Essentially the Mirror Universe has the same people as the regular one, only they are 'evil' versions and very often have a goatee. You may also recall South Park had an episode that referenced this.


Also of note is the toy Hank takes the beard off of is a vintage 70's toy named Hugo, Man of a Thousand Faces which is a bald guy with various disguises as you can see in the picture.


Truckulese and Sgt. Hatred have both been mentioned many times in prior episodes, and both finally made appearances in Fallen Arches, but now both have speaking roles. Truckulese is indeed almost a truck, and Sgt. Hatred appears to have a whole slew of issues aside from those mentioned by Hank in I Know Why the Caged Bird Kills.


Likewise, David Bowie was mentioned and quoted a few times in season one, but finally appears at Dr. Girlfriend and the Monarch's wedding. A good amount of what he says in this episode (and the next) are quotes from his songs. For instance when he says 'I know when to go out', this is a reference to the opening lyric in Modern Love, 'I don't want to go out'.


Bowie's bodyguards are Iggy Pop and Klaus Nomi. Iggy's career was actually saved by Bowie when they produced an album together in the 70's. They ended up reuniting Pop's band 'The Stooges' which had broken up two times before due to Pop's problems with drugs.

Similarly Nomi was actually hired by Bowie to be a backup singer for his performance on SNL in December of 1979. This was shortly after Nomi moved to New York from Germany.


Dr. Venture is indeed reciting Jessie's Girl (by Rick Springfield):


I play along with the charade
there doesn't seem to be a reason to change
You know, I feel so dirty
When they start talking cute
I wanna tell her that I love her
But the point is probably moot

And here's a video if you've never heard the song. Which I don't think is possible.


Oh, the guy that the Triad materialized from a trading card was a Sullustan from Star Wars... Wikipedia says it's probably Nien Nunb since he's the most famous and thus most likely to appear on a trading card.


This is the first episode of Venture Bros. to lack closing credits thanks to it really being an hour-long episode split into two parts.