Momma's Boys
Original Air Date:

July 7, 2013

Written by:

Doc Hammer

Production Number:

508
Summary
A friendship built on lies threatens to unravel Dr. Venture's sanity. But Hank and Henchman 21 are the ones getting committed to an asylum. And Dean's growing relationship with a mystery woman is only making everyone crazier.
Capsule & Notes
Venture Compound. Doc walks to Hank's room, telling Dermott that it's time to go home. Hank asks if Dermott can spend the night. Doc agrees, but only if Dermott takes out the garbage. It's Thursday. Doc leaves. Dermott asks why Dr. Venture is now giving him chores. Hank has no compassion for Dermott's issue since he was the one who had to take out the garbage until just now.
Doc walks up to Dean's room next, telling him lights out. Candles do count as lights, Dean. Also don't talk on the phone too long since Doc is expecting a call.
DR. VENTURE
Okay, ten minutes. And no sexting.

DEAN
Do you even know what that means?

DR. VENTURE
GYPO, I'm FOL, code 9, TTYL. That's 'get your pants off', 'I'm fond of leather', a parent or guardian is near, 'I will talk to you later' in sexting language! Daddy is hip to it, Dean. Ten minutes!
Outside in front of the fountain Dermott and Hank are discussing... something. It sounds kind of weird. Something about getting someone to do something for six hours and them falling asleep with the phone in their hand? Well, okay.
Dean, still in his room, is now on his phone talking to someone. She sounds angry about Doc not letting Dean call her earlier. Dean tries to convince whoever is on the other end that he loves her, though she doesn't seem to buy it (we can't hear her voice). Doc interrupts by picking up the phone in his bedroom. Three more minutes, Dean.
Back outside Hank and Dermott are now entirely outside of the compound. It's time for Operation Keep Dr. Venture From Bugging Them. Oh hey, it's Teddy. Seems they have hatched some kind of plan that allows them to call up Doc using Teddy?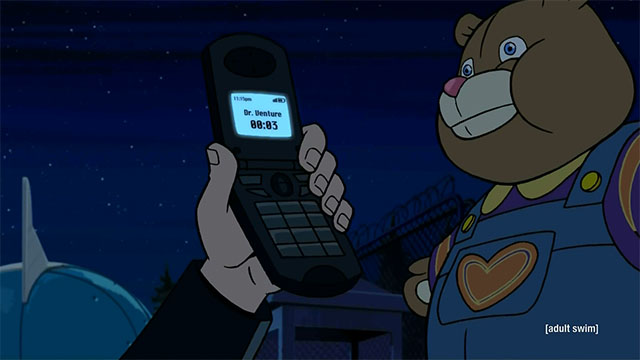 Episode Notes
Teddy makes his triumphant return from "Any Which Way But Zeus" where he was used as the voice of one of Dr. Venture's "kidnappers" which was really just Hank and Sgt. Hatred wearing voice modulating masks in an attempt to make Doc feel better for not being actually kidnapped. As noted in that episode guide, he's a non-copyright infringing Teddy Ruxpin.
They ring Doc with an old flip phone. He answers, greeting Teddy as 'Ted'. Teddy begins telling a story about Bygolly Gulch.
TEDDY
... but it's also home to Grumpy Bandersnatch. Everyone from Bygolly Gulch that Grumpy Bandersnatch hates sliding down rainbows and never plays with us in the Honey River.

DR. VENTURE
Alright, well there's your problem. Grumpy doesn't ever play in the Honey River, you said never?

[HANK presses play on TEDDY]

TEDDY
He just wants to steal out happiness.

DR. VENTURE
Exactly, you can't expect a guy like that to know what you've been through. He doesn't swim in the honey river, well not like I do that much myself these days...
Dermott and Hank signal each other. Success! They put the phone down in front of Teddy and leave. Hank notes that Doc will go on for hours. He doesn't talk to people, he talks at them. Meanwhile, Dermott and Hank have a gig. They go on third! Third of eight, but still.
It's a week or so later, Hank and Dermott and HELPeR are practicing at HankCo. Dermott stops the practice to answer his phone. It's Dr. Venture, looking for Teddy. He's going through doll withdrawal. Hank suggests telling Doc the truth, since he's been calling non-stop for like a week. Dermott isn't sure that's the best idea. After a brief conversation with HELPeR (in which they wonder both how Dermott and Hank can understand HELPeR) Hank ponders how far Doc can take it.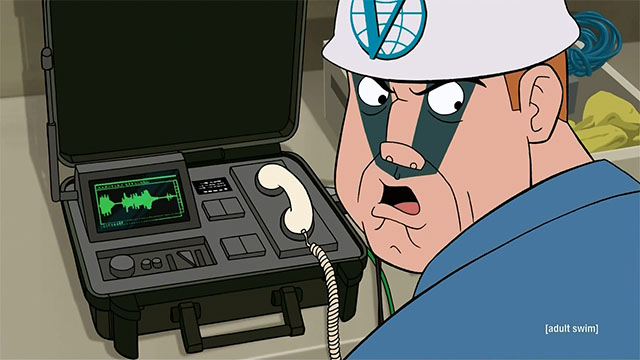 Well. Okay. Hatred notes that the calls are to a pre-paid cellphone. It's untraceable! Doc realizes that this means Ted is in trouble. Grumpy Bandersnatch. Doc searches the room for a trace. Hatred asks if Ted ever actually said that he's in trouble. Doc says he knows the signs. Also he found a bug, except it's Hatred's. The one he plugged in twenty minutes ago. Doc concedes that his room is safe but they'd better check Hank and Dean's rooms.
Hank and Dermott come upstairs only to find Dr. Venture in their room. He's holding Teddy. He seems to know. Dermott tries to leave (HELPeR does leave) but Doc explains everything. He associated with an ex-criminal named Ted who disappeared. Doc suspected foul play and in his search for bugs he came across Teddy who has a tape of everything Ted ever said to him on the phone. Yeah.
DR. VENTURE
Boys, we are dealing with the type of criminal that would desecrate a child's toy.

[Beat]

HANK
Wow. That's-

DR. VENTURE
That's the kind of monster Grumpy Bandersnatch is! Now I don't want to worry you, believe me, daddy will handle this!
Up in Dean's room Hatred is flipping through Dean's journal. Dean comes in, angry that Hatred is snooping. Hatred, once again, tries to confide in Dean. He thinks that Dean is looking a little skinny... and maybe he's friends with Anna... anorexia? Dean is not very happy about this, but the phone rings. In his room Hank answers. It's for Dean. It's girl. Hank yells to Dean, who picks up the phone.
Dean, happily, says to whoever is on the other end that he was just going to call. She wants him to visit tomorrow! Sounds good!
Shortly after Hank is sitting on the front steps talking to Dermott, who is suggesting Taco Bell. Hank says he can't go since it's Venture Lockdown. No tacos until his dad slays Grumpy Bandersnatch and frees all the animal friends of Bygolly Gulch.
DERMOTT
So stupid. How does he even believe this?

HANK
Last year, right where you are sitting, David Bowie looking like David Bowie in the 70s slapped a guy with invisible arms and legs. Right over there Brock killed a guy from Dimension C that may or may not have been an Alternate Earth. [To the bushes] Dude, totally see you there.

21
That's impossible! Stealth mode.

HANK
And that's an ex-henchman from my dad's arch-enemy. Pretty sure he lives in my yard now.

DERMOTT
No, I get it, I get it. But, we gotta fix this.
Over in the bushes Gary says that he has a suggestion. It will make them into men. Apparently.
Episode Notes
Doc mentions that his map is three Thomas Guides taped together. Which sounds complicated if you've ever seen a Thomas Guide. Most people just use their phone now like Sgt. Hatred did. The vPhone, of course, is JJ's version of the iPhone (we already saw in "Venture Libre" that he has an tablet called a jPad as well).
Meanwhile in the spare bedroom, which Doc has deigned the 'War Room' he's planning out he and Hatred's rescue of Ted. Though there still seems to be the issue of not actually knowing where Bygolly Gulch is. His maps don't seem to have it. Sgt. Hatred opts to use his phone, which finds the route quickly.
Meanwhile back outside the lobby 21 has been explaining his plan. He explains that the actual voice of Teddy Talk To Me was in a fire at the plant where they made the bears. He was disfigured, went bananas and became a super villain. He apparently hugged president Reagan too hard and he's been in Dunwitch Asylum for the Criminally Obsessive ever since. So the plan is to get Dr. Venture a real Teddy. There's no other way. Then it's settled. They have to get committed to Dunwitch Asylum.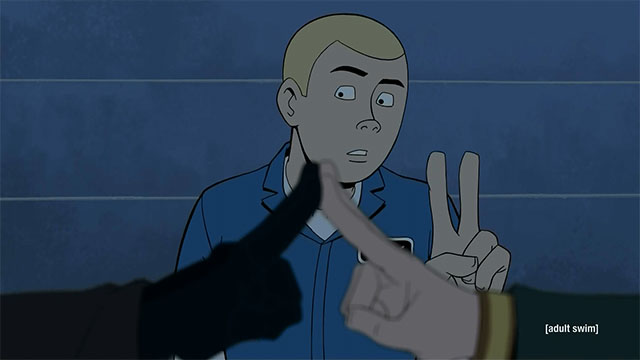 HANK
Yeah, no, I can't do it. It's too watered down.

21
No, it's understandable. I get it.

DERMOTT
Stupid anyway.
Anyway, now we're at a bank. A huge Venture Industries drilling machine bores through the floor. Out comes, uh, Hank.
HANK
Nobody move, see! This is kind of a holdup! We are insane criminals!

21
I'm the Viceroy, I mimic the monarch butterfly, and I am obsessed with monarchs, so I mimic them!

DERMOTT
I'm Flying Sidekick, and these are my magic nunchucks, that I think might be pronounced nunchucku. I am unsure of their pronunciation. Woah! [he loses his nunchucks] Crap, sorry!

HANK
And I'm Enrico Matassa, Latin playboy and insane egomaniac! My name means Hank Hank! And I'm also using a hank of yarn as a weapon! Also, this is a huge hankie!
HELPeR falls out of the digging machine.
21
And that's our crime robot that we named Crimerobot!

HANK
We programmed him to think only about crime! He's obsessed with it! Now drop to the ground or something! Again, we are insane criminals!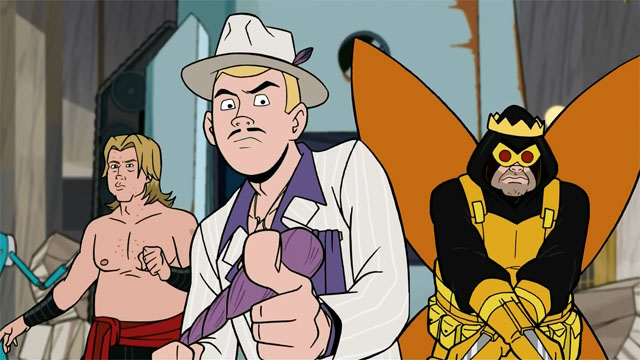 Episode Notes
Yes, Enrico Matassa does translate to Hank Hank. Enrico is the Italian version of Henry and Matassa is an Italian surname that translates literally to skein, bundle, coil or hank. That same word, hank, in the textile industry, means a coiled unit of yarn or twine. Also he has a huge hankie.

We should already know the Viceroy from most episodes with Gary recently, but as a refresher, the Viceroy butterfly is a mimic of the Monarch butterfly. Get it!?

Finally, Dermott is correct, the word 'nunchucks' is the word usually used in English when referring to Japanese weapon nunchaku.
Commercial.
So in less insane matters, Doc and Hatred are flying around in Hatred's hover-tank following the directions to Bygolly Gulch. Though they don't seem to know how to use the vPhone's GPS system since it keeps recalculating the route. Doc tells Hatred to stay on the road, but Hatred points out that they're hovering over the road, so he can't really do that.
They eventually pull over and park at a rest stop. Doc runs out with an arm full of snacks (and a face full of chocolate) as Hatred comments that he's not sure if he's parked his hover-tank legally... but it's not like anyone can do anything about it. Anyway they're continuing this mission in the jeep.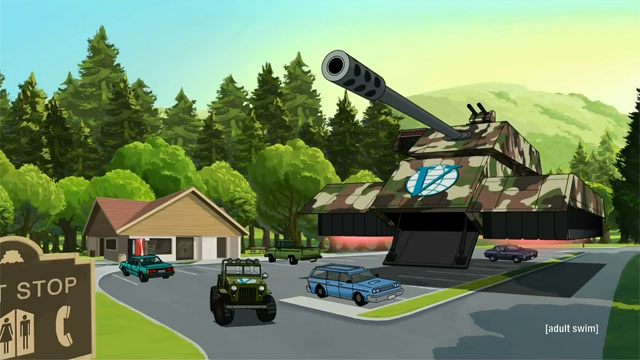 Back at the bank the insane criminals are being handcuffed by the cops. 21 quickly spouts some Guild bylaw and that they have to be taken to Dunwitch. The cop agrees and says he'll radio it in. The other cop takes Dermott and HELPeR away, in spite of Dermott's protest that they are also insane criminals.
Dean has flowers and is also somewhere. It looks like he's in a interrogation or visitation room at a jail or something. There's an armed guard standing by the door.
GUARD
She, uh, she really loves you, you know.

DEAN
Uhh. Okay.

GUARD
Yeah. I love you. We all love you.

DEAN
Uhh, neat.
And in walks Myra. She's uncuffed and goes over to hug Dean, who calls her mom. The guard who brought Myra in tells them no touching and goes to grab Myra, but the first guard clocks him over the head before he can get to her.
DEAN
Hey! What's going-

MYRA
[Shushing DEAN] My sweet baby, mother's here. It's gonna be okay now.

GUARD
[Unbuttoning his shirt] I love mother!

MYRA
What a good boy you are!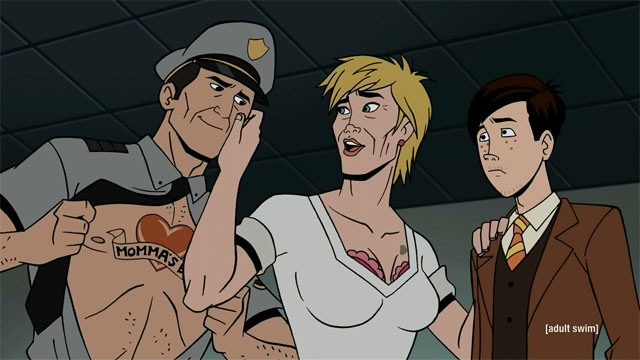 MYRA
[To DEAN] You've grown into such a strong boy. Now take off your clothes and show mother your handsome body.
Episode Notes
Oh crap, Myra's back. We haven't seen Myra (aside from a flashback every so often) since "I Know Why The Caged Bird Kills" in season two. The basic backstory with her, if you don't remember, is that she was Doc's bodyguard before Brock, but she was obsessed with Doc. They eventually had sex (admitted to be truth by Doc) and Myra claims that's where Hank and Dean came from. The story beyond that has been muddy and unanswered by Jackson and Doc.
At the end of "Caged Bird" Myra was squashed by Brock and presumably has been in Dunwitch ever since.
21 is talking to a psychiatrist who is showing him ink blots. He identifies every ink blot as a butterfly.
Hank is being given the same test, though he is a little more elaborate with his answers.
HANK
I see two ladies, hanked side by side. Between them is me, Enrico Matassa! They are fighting over the affections of Enrico Matassa, I think. But this one on the left, she has the husband. He is not Hank at all! He is so un-Hank that he wants to fight Enrico Matassa. But Enrico Matassa is very Hank. He is double Hank!
Back at the asylum the guard bursts out holding Dean in his arms shouting that the prisoner tore his face off. The other guard apparently has Myra subdued. They get into the elevator and once the door closes we see that the other guard was actually Myra and Dean was posing as Myra for some reason. Also Dean is the other guard.
DEAN
What are you doing?! You almost broke my neck!

MYRA
Oh my collectible Deany-baby. Mother just wanted more time with her boy. I can't say goodbye any more, it's not fair to break up a family... it's not right!!
In the meantime Dermott is in jail with a ball and chain on his ankle. The cop comes over and tells Dermott that he couldn't find 'Flying Sidekick' on the list of Guild sidekicks. Dermott says that he's not a sidekick, he's a regular villain. It's Side Kick, like the karate move. Except flying. Also he can't fly. The cop opens the cell to remove the ball and chain. They haven't used those in 100 years. Just a precaution in case Dermott wanted to fly away.
Still driving, Doc and Hatred are informed that they're at their destination by the vPhone. Doesn't really look like a gumdrop forest though. Doc looks over the directions again and sees that it's for Bygod Gulch, not Bygolly Gulch. Doc angrily throws the phone out of the jeep. They argue about it some more and don't notice that they're approaching a cliff with no bridge. Hatred tries to stop but it's too late and...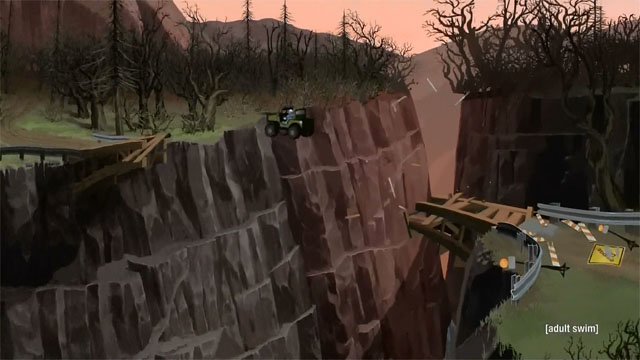 Episode Notes
21 briefly mentions his 'Liger Zoid' model, which refers to the model/toy/television/comic series Zoids.
Back at Dunwitch it appears that 21 and Hank are now committed. They're doing crafts with some of the other patients. Hank wonders why everyone is making so many hearts (and why his is so awesome). One of the other inmates says that it's because it's the second Sunday in May. They're all Momma's Boys. He opens his shirt to reveal that he has the same tattoo as the guard in Dean's room.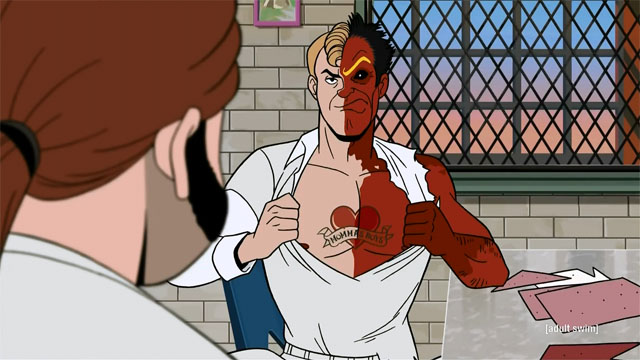 He asks if 21 and Hank are Momma's Boys. 21 says that he is and the inmate sitting next to Hank speaks up. He says that it's Mother's Day. Her day. On this day they become a family. Hank realizes that he is the voice of Teddy, though the inmate says Hank is mistaken. Hank is about to ask Ted for help but he's interrupted by another inmate going off like a cuckoo clock. It's five o'clock! A guard rushes over to him and he punches the guard in the face. A second guard attempts to subdue him but meets the same fate. This riles up all the inmates in the room and they scream and begin to smash items in the room.
Doc and Sgt. Hatred, meanwhile, are not in the best of positions. They've landed on the other side of the cliff, but about midway up the gulch and upside-down. Doc barfs up his Nutty Buddy and says he's going to radio for help. He of course calls Sgt. Hatred, who is right there next to him. This seems bad.
Episode Notes
In this scene Dermott mentions Dr. Bombay who is a fictional warlock from Bewitched. Dr. Bombay was generally summoned by calling his name at which point he would appear out of nowhere to solve some sort of problem.
At the police station Dermott is thinking about who to call for his phonecall. He decides that he can't call his mom. HELPeR suggests something and Dermott, after confirming HELPeR's suggestion thinks about something really hard. Dr. Orpheus appears! He immediately puts the cop watching Dermott to sleep.
DR. ORPHEUS
Dermott? How intriguing. I felt that it was one of the Venture boys in peril. So odd.

DERMOTT
Dude, that was sweet!

DR. ORPHEUS
Regardless, let's get you out of here.

DERMOTT
Aww, are you gonna turn back time to, like, before this happened?

DR. ORPHEUS
Well, no, I'm going to take your arrest record off their computer and get us a taxi cab!

DERMOTT
Psh, gyp.

DR. ORPHEUS
Ohh, heh, I'm sorry, was my appearing from thin air and putting everyone to sleep a disappointment? You see that kind of magical fun constantly, I assume? Not cool enough for you?
Back at the asylum all the inmates have tied up the guards and are chanting 'mother' over and over. The doors of the room open and four more inmates carry in Myra on a platform along with Dean, who is bound and seems like he doesn't want to be there. Myra gives a crazy speech to them all, saying that she doesn't judge them and they're finally a family. Hank notes to 21 that she's probably his mom.
MYRA
Maybe Man, Big Time, can you do mommy a special favor now?

BIG TIME
Yes, mother!

MAYBE MAN
Maybe!

MYRA
Could you return me to the day when my little baby Dean was born?

BIG TIME
Of course! There's time for that!

MYRA
Aren't you a good boy. Maybe Man, could you put baby Dean in my pink, pillowy womb so I can finally give birth to my teeny-weeny Deany and be his only-wonly mommy!

MAYBE MAN
Uhhhh. Maybe.

HANK
'Finally' give birth-? You're not my mother!! I knew you were lying!!
Speculation
We now have a definitive answer to if Myra is the boys' mother. The answer is 'no.' Their real mother, as always, remains at large.
Myra greets Hank and he yells that she's not his mother. 21 says the same, also saying that he wants to be a monarch. Butterfly. Teddy chimes in, saying that he's Teddy and he wants to slide down rainbows. Other inmates join in and they eventually have a full on revolt against Myra. Though they seem less concerned with her and more about just smashing everything in the place. Big Indian Chief throws a water fountain through the window and jumps out the window, with all the other inmates following him. 21 says that it's time to go. Hank flips a table.
Episode Notes
Big Chief (returning from his speaking role in "Bright Lights, Dean City", as well as random background cameos) tearing the sink out of the ground and throwing it through the window is a reference to the final scene in the classic film "One Flew Over the Cuckoo's Nest" in which one of the patients (who is Native American) does the same in order to leave. You can watch the scene on YouTube but I recommend watching the movie if you haven't seen it.
Back at the gulch Hatred and Doc are trading death confessions. Hatred has already said that he was a traitor to OSI and Doc said that he let Myra believe that she was the boys' mother. So they both think it's kind of lame. Hatred then gives up the confession that his boobs kind of turn him on. Sometimes he looks at them while he masturbates and pretends they're on a lady. Doc, not wanting to be one-upped, tells Hatred that Dermott is his illegitimate son. Hatred concedes that Doc is the winner.
Up at the top of the gulch just happens to be Dunwitch Asylum. Hank and Dean are leaving while all the inmates escape and smash up the place. Dean says it would have been a good thing if Myra actually was their mother. Hank points out that Myra wanted to make Dean into a baby again and push him up her 'lady hole'. Dean concedes the point. 21 finds them and says that he couldn't find Teddy in there. Hank suggests that they just tell Doc that they came here to save Dean. Some Guild Wasps show up which is Team Venture's cue to get out of there.
Back in the jeep Doc is telling Hatred about Ted.
DR. VENTURE
Ironic that my bestie is a dust head and my ex-kidnapper.

SGT. HATRED
He- kidnapped you?

DR. VENTURE
Yeah, about a year ago when all the scientists were taken. He was working with these guys called the monsters...

SGT. HATRED
Wait, don't tell me, a guy with a robot voice, right?

DR. VENTURE
Yeah, that was him. Ted just gets mixed up with these guys. Like Grumpy Bandersnatch, and that robot guy. He's got to stop swinging from gumdrop trees and grow up. Heh, I guess I'm like a mentor to him.

SGT. HATRED
Doc, [sighs] aww, jeeze, I gotta tell you something about Ted. You're not gonna like this though.
However before Sgt. Hatred can tell Doc the awful truth the jeep begins to shudder. They're sliding! Just then a branch pokes through the side near Doc and a voice shouts at them to grab it. It's Ted! Doc grabs the branch and Ted pulls him up to safety. Doc is extremely happy.
In their cab ride back home Dr. O is telling Dermott that when he summoned him he felt the mind of a Venture boy. That's good enough for Dermott.
DR. ORPHEUS
Magic reveals little more than questions. She is a capricious light that tickles the intellect and begs us to peer into newly illuminated truth.

DERMOTT
Yeah, that's, uh, totally confusing.

DR. ORPHEUS
Then I, again, have done my job.

DERMOTT
Well if, you know, I'm a Venture then can you give me your daughter's new number?

DR. ORPHEUS
Not from beyond the grave, Dermott.
Back at the gulch Hatred is pulling himself over the edge. Doc is safe on top along with Ted. Ted hugs Doc, telling him that he loves him and needs to return to Bygolly Gulch. He then runs off.
DR. VENTURE
Call me, ya rascal! And give your Lady Bug a slap on the fanny for me, playa! [Laughs] You see what I'm saying? He's a bit out there but just true blue. Now what were you gonna tell me about him?

SGT. HATRED
Uhhh, he's uhhh. Burn victim?

DR. VENTURE
Oh my god, right? That nose! [Shudders]
The jeep falls down into the gulch.
Roll end credits.
Episode Notes
The song played at the end credits is called "DIEarrhea" and is naturally a Shallow Gravy song (written by Doc Hammer, performed by Shallow Gravy). The second one, in fact, after "Jacket."
Back at the Venture Compound Doc is explaining his and Hatred's night to Hank, Dean (who is asleep) and Dermott. Hank also goes into their own escapades.
HANK
Oh, we had an interesting night, too. We were saving Dean from Myra. Who's not our mom. Apparently.

DR. VENTURE
Yeaaah, daddy makes mistakes, Hank. You boys needed free daycare. And when Myra was younger she was quite the sexual panther. [Laughs] I needed my daycare too.

DERMOTT
Ohh, gross, dude that's my cue. I don't wanna hear this. I gotta go to work in two hours. Later, loser.

HANK
Latrix my fart flavored friend.

DR. VENTURE
Yeah, she wore these little 'hot pants'!

HANK
Ah, no! I don't wanna hear it either!

DERMOTT
[At the door] Oh, uh, later. Dad.
Dermott leaves.