Return to Malice
Original Air Date:

November 8, 2009

Written by:

Doc Hammer

Production Number:

43
Summary
In the aftermath of the death of his best friend, Henchman 21 has rededicated his life to become the most feared and skilled of all of the Monarch's Henchmen. But tonight, all bets are off as Henchman 21 begins the hunt for the murderer of Henchman 24. Alliances shift, secrets are revealed, and the Venture brothers are kidnapped. Again.
Capsule
We start off in what appears to be some kind of bar or restaurant in the Cocoon. Two henchmen are arguing about a fight between the Loch Ness Monster and Champ when 21 speaks up from a table in the back. Everyone in the bar immediately stops what they are doing. Some hide. One of the Henchmen mocks 21 for his suggestion of Ogopogo while the other tells him to shut up. 21 makes his point about Ogopogo and the other two which ends with him brandishing his blade. Satisfied, he leaves.
HENCHMAN 86
What. Was. That?

HENCHMAN 87
That was 21! The 21! It's not even his number any more, I mean the guy is like henchman 1 or something, but he won't change his number!

HENCHMAN 86
Why didn't you tell me that was two-ton 21? Well the guy's like a living legend. Man! I'm so glad I didn't mention the car accident.

HENCHMAN 21
[extends blade and turns around] Car accident? Car accident? [he walks towards 86 and 87] That was no car accident. 24 died in a car intentional. [grabs 86] What's your number, scrub?

HENCHMAN 86
I-I-I- [stuttering] I'm henchman 86.

HENCHMAN 21
You're 87 now [he pushes him down] Listen up, noobs. I want henchmen 87 through 95 for field duty. You got fifteen minutes to put on your makeup and fix your hair!

HENCHMAN 86 87
What are you smiling about?

HENCHMAN 87
I have allergies.

HENCHMAN 86 87
What, who cares?

HENCHMAN 87 86
Dude, I was henchman 87. You just got me moved up to 86! Now I don't have to rake leaves all week! Yeah, I have allergies.
Opening credits logo.
At The Monarch residence Dr. Girlfriend is worried about 21's mental state. The Monarch of course is not concerned and is more worried about a zit on his nose. You can't see it yet, but it's pressing its way out for sure. Dr. Girlfriend points out that he lost his only friend, but the Monarch is pretty sure that doesn't mean much. 21 has seen hundreds of henchmen die, some by his own hand. Also he's built them a mudroom, whipped the henchmen into shape, alphabetized the Monarch's DVDs and put little lasers on his wrist shooters. Oh, and hired a gourmet chef henchman. Henchchef? Anyway, 21's done all that, and now they're eating rocket and sun choke. Fancy. But that's not all he's doing...
In his room 21 is talking to apparently nobody. He's having a conversation with what turns out to be 24's (now bare) skull. He even waits for 24's responses to his questions before replying.
The Monarch points out that he also talks to his dead friend, Mr. Mostly-mittens, his old cat. So you know, that makes it normal. In the middle of the conversation he catches Dr. Girlfriend feeding the moppets table scraps. The Monarch isn't overly happy with that and tells them to buzz off. They attempt to continue to conversation again but the Monarch is distracted this time by his rocket and sun choke, which tastes like burning soap. Not so fancy.
Back in Henchman 21's room:
HENCHMAN 21
The training is complete, the timing is right, it's time I let you in on... The Lazarus Project.

24'S SKULL
[is a skull]

HENCHMAN 21
No, does it sound like I was gonna bring you back from the dead?

24'S SKULL
[still a skull]

HENCHMAN 21
Okay, whatever. I just thought it sounded cool. I also have 'avenging angels', 'dragon thunder undertaking' and my second choice 'eye for an I'. The second 'i' is the letter I! That's pretty cool. I also have a logo for it. [pause] Sweet, I like that one too. [reads from a paper] I have a list of your possible murderers, we shall apprehend and interrogate, and if need be, execute each suspect.

24'S SKULL
[continues being a skull]

HENCHMAN 21
What, I am totally being serious. An Eye for an I begins tonight. And it begins with the Venture family.
In Hank and Dean's room, the boys are both fast asleep. A shadow looms above them as a pair of hands cover Hank's face. Sgt. Hatred yells 'snap' and informs Hank that he's just broken his neck. Hank claims he knew it was Sgt. Hatred the whole time, though Hatred doesn't fall for that. Dean wakes up and asks what's going on. Hatred tells him that he just killed his brother and had time to rip off his leg and beat Dean with it. Hatred says that it's important for the boys to realize that they're more fragile than they're accustomed to.
Before leaving the room Sgt. Hatred asks Dean what the next book in the Giant Boy Detective series is. Dean tells him and Sgt. Hatred pulls it off the shelf, saying he's going to borrow it.
Back at case de Mr. and Mrs. The Monarch, there's some pillow talk going on in the master bedroom. Talk of little and not so little piggies. Eventually they surface and Dr. Girlfriend reviles at the Monarch's face. It's so bad she's not even able to look at him. The Monarch rushes into the bathroom to pop his zit, though it seems to actually be much worse than a zit.
At the Venture Compound Hank and Dean are fast asleep again when Sgt. Hatred enters their room again. Suspiciously you can't see his face this time. He walks up to Hank, who wakes up and quickly hits the panic room button. He ejects down into the panic room but ends up falling into a burlap sack (classic!) held by two Monarch henchmen.
HENCHMAN
[into walkie talkie] One is mint in box, the other is out of stock. Over.

HENCHMAN 21
[dressed as Sgt. Hatred] Copy that, I'll handle it. Over. Deeean, Dean! [he shakes Dean] Dude, sleep heavy enough? [he pulls off Dean's blanket] Ahhhh!!! Oh, oh gross! [into walkie talkie] The kid's packing wood.

HENCHMAN
Copy. Do you require backup? Over.

HENCHMAN 21
No, no, not that kind of packing wood. Seriously. And trust me, nobody else needs to see this. It's rank. [he puts Dean's blanket back on him and hits the other panic button] It's grim. Alright, let's move!
21 rolls away and sneaks out the door only to smack his leg on the coffee table once he's outside.
Meanwhile the Monarch has locked himself in the bathroom as Dr. Girlfriend tries to console him.
DR. MRS. THE MONARCH
Come on, let me see!

THE MONARCH
My face is massive! I'm a freak!

DR. MRS. THE MONARCH
[snorts] Then can I come in if I have a ticket? I promise not to bang on your cage!

THE MONARCH
Yes, please make light of this. It's helping. I feel much better about my hideous deformity.

DR. MRS. THE MONARCH
Should we change our costume theme, sweetie? Maybe you could be Globface, and I could be Lady Globface. Maybe we'll get a Globmobile and Glob-O the Wonder Dog.

THE MONARCH
Why are you not helping!?

DR. MRS. THE MONARCH
Well what do you want me to do? Clearly you're allergic to whatever rocket is.

THE MONARCH
[opens bathroom door revealing his face] Or whatever sun choke is.

DR. MRS. THE MONARCH
Maybe your Fortress of Globitude.

THE MONARCH
[sighs] I'm going back in the bathroom.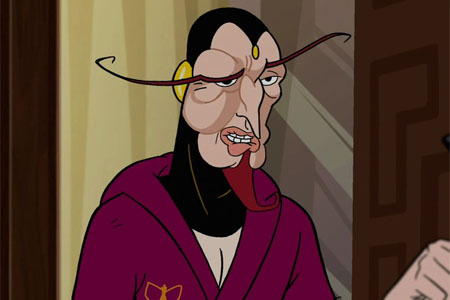 Back at the Venture Compound Sgt. Hatred barges into Dr. Venture's room, waking Doc up even though it's apparently only 9:15.
DR. VENTURE
What time is it?

SGT. HATRED
Go time! I was downstairs sitting in front of the computer masturbating and then 'zip!' this is sticking out of my neck [he holds out a Monarch dart], my clothes are gone and the boys are missing!

DR. VENTURE
Oh my god!

SGT. HATRED
Don't you worry, we'll get 'em back!

DR. VENTURE
No, I mean oh my god you just told me you were masturbating in front of the computer. That's foul!

SGT. HATRED
Oh, what, and you don't?

DR. VENTURE
Well. Yeah, but I'm not proud of it.

SGT. HATRED
Look you can talk about your needless shame later, we have to rescue your sons!!

DR. VENTURE
[groans] Fine. Well that's a Monarch dart so we... get them or something?

SGT. HATRED
No so simple. Look, I was in the Guild of Calamitous Intent, and, I'm also a recovered pedophile. So if anyone knows the rules about abducting young boys from their bed it's old Sergent Hatred.

DR. VENTURE
Why did I let you take this job?

SGT. HATRED
Because I'm great!! Plus I had no job, no home and refused leave yours. And not the point! This abduction malarkey is completely against Guild law. So we're gonna handle this one the Hatred way.
Back at the Monarch's, the Monarch is still locked in the bathroom. He argues with Dr. Girlfriend about what to do about his issue when the phone rings. It's Sgt. Hatred.
SGT. HATRED
Yeah, hi, this is Sergent Hatred. I used to live next door but now I'm kinda your arch enemy?

DR. MRS. THE MONARCH
Yeah?

SGT. HATRED
Yeah, well it seems you illegally took the Venture boys. So, uh, you're gonna have to hand them over or I'll come over to your house and blow it up. Annnd I guess I'll probably have to kill the both of you too.

DR. MRS. THE MONARCH
Hold on.

SGT. HATRED
Okay. [see Dr. Venture putting on his socks] So you like the briefs? I find 'em a tad too tight on the old batallion.
Dr. Girlfriend informs the Monarch that she needs to take the call. The Monarch asks her if it's Modern Enemy Weekly and she lies and says it is and that they want to do a blurb on her. She leaves the room as he informs her to use the words 'genius' and 'visionary' when she tells them things about him. Sgt. Hatred meanwhile is telling Dr. Venture all about the latest Giant Boy Detective escapades until Dr. Girlfriend comes back on the line. She tells him that she's pretty sure nobody took them, but Hatred knows better and threatens her with Guild actions. She says she'll take care of it, but that's not good enough for Hatred. He says that he and Doc will be at their door in an hour. Dr. Girlfriend instead suggests the old observatory.
Meanwhile Hank and Dean are under what appears to be Chinese water torture. That can't be very much fun.
Commercial.
Sgt. Hatred and Dr. Venture pull up to the gates of Malice. Sgt. Hatred tries to convey the severity of the situation, but Dr. Venture points out that he's already been here a million times. Just then a security guard taps on the jeep's window. He tells them that they have to head home.
SGT. HATRED
Uhhh, yeah, I'm a pretty little flower. Like a prom date, maybe?

SECURITY GUARD
This is a gated community.

SGT. HATRED
Enjoy the silence, are you for supper?

[the guard begins to babble and starts to spark and smolder]

SGT. HATRED
Turtles. Now let's go dream about little breaded chicken fingers. [the guard falls over] Hah! Robots, programmed to respond to over seven-hundred different questions, none of which includes chicken fingers. [he pulls off the guard's face] Hey, souvenir! You can use 'em like Halloween masks. Maybe Dean could go as a middle-aged security guard this year, eh?
They drive through the gate.
Hank and Dean are still tied to a table, water dripping on their foreheads. Hank asks what's going on and 21 appears and informs them that they've been driven insane. Half an hour of Chinese water torture has caused them to lose their grip on reality. Hank and Dean discuss it a little and decide that they're not actually tortured or insane, just wet. Well, aside from the stinky water. 21 notes that the buckets are the same ones they use to mop up the level four bathrooms.
The Monarch gets a call from Dr. Girlfriend, who is at the old observatory. Apparently the magazine wanted to do a photo shoot. Makes sense. The Monarch gets angry with her and declares that he might just go arching without her in the Cocoon. Dr. Girlfriend begs him not to but he hangs up on her instead.
Dr. Girlfriend makes a call to the moppets, telling them to keep the Monarch occupied. The Monarch calls her back in the middle of that conversation however.
THE MONARCH
Hi.

DR. MRS. THE MONARCH
Hi.

THE MONARCH
I didn't get cut off, I hung up on you.

DR. MRS. THE MONARCH
No, I know.

THE MONARCH
Well why didn't you call me back!?

DR. MRS. THE MONARCH
I thought you'd just hang up- [the Monarch hangs up on her again]
Sgt. Hatred and Dr. Venture are hanging around outside Hatred's former residence. Hatred claims that he needs to pick up some old gear, but it's clear he's just there to spy on his ex-wife. But wait, who else is with her?
SGT. HATRED
Who- who's that other guy?

DR. VENTURE
I can't tell, everyone looks the same in a leather mask. Okay! I recognize the one with the ball gag! That's Private Schwa!

SGT. HATRED
Argh, I can't look!! Tell me what's going on!

DR. VENTURE
Okay, the big guy with the saddle on his back is just driving his-

SGT. HATRED
Argh, lie to me!! Damn you, lie to me!!

DR. VENTURE
Fine, just relax. Okay I think they're rehearsing for a play. Is there a non-musical mostly-nude version of Oklahoma?
The Monarch is about to leave his house only to see the moppets at his front door. They are about to threaten him, saying he's not going anywhere, but he interjects:
THE MONARCH
I'm only gonna say this once. I don't like you two. And if you ever, ever try to give me an order again I will kill you both and feed your tiny, rotting bodies to the neighborhood dogs!! Now what were you saying?
Needless to say the moppets let him leave.
Back in 21's treehouse he's reading a magazine while he waits for the boys to go insane. Might be a while. Dean, in the meantime, points out that the kidnapping and attempted torture are against Guild procedure. The Monarch could get into big trouble for it. 21 points out that the Monarch is nowhere to be seen. This is 21's thing.
HENCHMAN 21
This is about me, and the murder of my best friend.

HANK
Your friend was murdered?

HENCHMAN 21
Daaah, you don't remember a- a car blowing up in your yard, killing my only friend!

HANK
Oh, wasn't that the same day that a hundred gooey copies of me and my brother were mowed down by a lunatic in a spinning laser suit?! And the day that my best friend Brock left us forever?! Oh, how could I forget one of like a million guys who died on my lawn!!?

DEAN
Yeah, and that happened a pretty long time ago. Why are you doing this now?
21 explains his situation in a post-24 world. After burying his friend he went back to his life before he was ever a henchman. We see a flashback of him attempting to 'podcast his life', which fails because his mom wants him to be quiet. The next stage in his life was 'mystic arts training'. We see scenes of 21 LARPing, training, lifting weights and such.
HENCHMAN 21
I was ready to rejoin my unit. And under my tutelage that unit became the most feared henchmen ever to don the wings. I vowed never again would we lose a man to my cowardice. [realizes something] Oh yeah. I did it. Was me... I killed 24.

DEAN
We all did, Gary. We all did.

HANK
Don't blame me, I didn't! And you seriously gotta untie me or you're gonna have to scratch my heiney. Because my heiney totally itches.
Back at the Cocoon lounge the Monarch is drowning his sorrows in some alcoholic beverages when the bartender asks him to leave. No serving drinks after midnight, General 21's orders. The Monarch refuses to leave, demanding another drink, when two other henchmen come up behind him to escort him out.
Sgt. Hatred, in the meantime, is lamenting his relationship with Princess Tinyfeet and her new found relationships. He apparently asked her to do some similar things but she refused. Some thunder is heard and it begins to pour. Sgt. Hatred cries out into the sky:
SGT. HATRED
Ohhh, what would Giant Boy Detective do!?
Hank and Dean are wandering through the woods, flashlight in hand when they meet up with the Monarch, though his skin condition prevents them from recognizing him. He tells them to go home, revealing his face. They still don't recognize him, with Dean suggesting that he's the old groundskeeper and probably deformed. The Monarch tells them to go home again and says that he'll call them a cab.
Outside the old observatory Dr. Venture and Dr. Girlfriend chat about the observatory telescope, which is apparently actually a giant laser.
DR. MRS. THE MONARCH
I've never seen it fired.

DR. VENTURE
I did. I was four, maybe five. Super loud! Probably the reason I have tinnitus.

DR. MRS. THE MONARCH
Yeah! That was in one of the episodes of the Rusty Venture Show.

DR. VENTURE
So you're a fan? Figured! And here we are. Alone. What would the neighbors think?

DR. MRS. THE MONARCH
The, 'neighbors' are Auntie Matter, who is a spinster who shapeshifts. And Flying Squid, he's pretty self explanatory, so I don't think they'd find this weird.

DR. VENTURE
[laughs nervously] I have a magic guy living in my house. Oh, and my former arch enemy is now my bodyguard.

DR. MRS. THE MONARCH
So... looks like we made it. Exactly what my parents wanted for me! Guaranteed.

DR. VENTURE
Yeah, my father would be proud [chuckles]. But you haven't seen the boys?

DR. MRS. THE MONARCH
No. Did you try calling them?

DR. VENTURE
[pause] Ohhhh [hits forehead] Hatred! What an idiot! No, he never- [he dials something on his watch] World's worst bodyguard.

HANK
[answers the communicator] What's up, pop?

DR. VENTURE
Where are you!?

HANK
In bed.

DR. VENTURE Really? Where were you tonight?

HANK
We were in Gary's treefort. We took a cab home like an hour ago.
The Monarch, still bloaty and in his robe and now wet from the rain comes upon 21's tree fort. He climbs the ladder and knocks on the trap door entrance. 21 is sitting on the table, subjecting himself to Chinese water torture.
HENCHMAN 21
What's the password?

THE MONARCH
I forgot. Oh wait, I remember, I'm the fucking Monarch! Let me in, now.

HENCHMAN 21
It's open.

THE MONARCH
[enters] What the hell are you doing?

HENCHMAN 21
It's the Chinese water torture. Eh, it's not really torture, it's like, uh, napping under an air conditioner kinda. [he notices the Monarch's face] Woah, you know I think the water torture has given me second sight or something. I can see your true evil self. It has been revealed.

THE MONARCH
Hardly. It's an allergic reaction to a fancy salad.

HENCHMAN 21
Oh. So, uh, why you not with Dr. Girlfriend?

THE MONARCH
She's taking her clothes off for my interview. Hey you'd like that, wouldn't you?

HENCHMAN 21
What, your wife naked? No! I mean, no, she's pretty, but no. No, that's not-

THE MONARCH
Yeah, yeah, phase out the Monarch so you can take his place, eh?

HENCHMAN 21
What?

THE MONARCH
I'm onto you, I know you had the Venture brothers here.

HENCHMAN 21
Hey, who told you that!?

THE MONARCH
Nobody, I can smell them! Hank wears more Stetsen cologne than a gigolo and Dean smells like Selsun Blue. So, uh, what, were torturing them? Without me?

HENCHMAN 21
Hardly. Yeah, I blew it. I tried to get them to confess to a murder that I think I committed. [sighs] I'm not you. I don't have that natural hate. You were born for this.

THE MONARCH
You don't know the half of it. I hate everything. Seriously, I hate myself more than most villains hate their arch enemy. I'm all hate.

HENCHMAN 21
No, it's true. And I am honored to serve in your ranks [salutes]. Sir.

THE MONARCH
Really?

HENCHMAN 21
Totally! Oh hey, you wanna hang out? We could play cards, or watch uh, Josie and the Pussycats. Slow-mo with the Rosario Dawson scenes. Like when 24 was still here. [starts to cry a little]

THE MONARCH
Yeah, uh, this is very touching so I tell you what I'm gonna do. Instead of having you executed for suspected treason I'll... leave you to play in your tree fort. Before I burn it down. Okay?

HENCHMAN 21
See?! Right- total pro! You are the mighty Monarch!

THE MONARCH
Don't. Ever. Forget that. [he leaves]
Roll end credits.
In 21's room the list of suspects hangs on his wall. An orange gloved hand checks off the box next to 'the Ventures'. 21 enters, the room is empty.
HENCHMAN 21
Dude, guess who did a spread for Modern Enemy Monthly. Tadaaa! [he holds the magazine up to 24's chair, but 24 isn't there] Dude? Where are you? [he turns around, the skull is on the opposite side of the room] What are you doing all the way over there?
Notes
In the very beginning of the episodes the three monsters 86, 87 and 21 are arguing about are the Loch Ness Monster (which everyone knows about), Champ, which is basically Lake Champlain's version of Nessie (Lake Champlain is in upstate NY and Vermont) and Ogopogo, another similar monster in Okanagan Lake in British Columbia. When 21 says that Champ is a log and the Loch Ness Monster is a toy he's referring to two famous hoax photographs.

In 1977 Sandra Mansi took a photograph which appears to be a plesiosaur-like creature, though the bay where that photo was taken is no deeper than 14 feet, which is much too shallow for such a creature to swim around in (Lake Champlain itself is over 400 feet deep). Many people have suggested that the photo is of a rising tree trunk or log, which could have collected gas in the process of decay and risen to the surface at the moment of the photograph.

As for the Loch Ness Monster, the most famous photograph of that creature is known as "the surgeon's photo", which was allegedly taken in 1934 by Robert Kenneth Wilson. However in 1994 it was revealed that the photo was a fairly elaborate hoax, and the creature in it was actually a sculpted head attached to a toy submarine.

Ogopogo has fewer photographs and none clear enough to even identify a hoax.


Chinese water torture is, as demonstrated in the episode, a method where a victim is tied down and water is dripped on his forehead. There is actually no evidence to support this method of torture was ever used by the Chinese or even that really anyone ever used it. In general it's agreed that it's not actually an overly efficient method of torture. The television series Mythbusters actually tested it out and found that water dripping on you alone was not anywhere near torture, though the act of being tied down along with variable rate droplets (something difficult to do with just a bucket) did have some effect.


The Monarch mentions his former cat, Mr. Mostly-mittens, who is apparently stuffed and sitting above the dinner table. In I Know Why The Caged Bird Kills it's noted that 21 is the one who killed the same cat by sitting on him.


When his face swells up the Monarch says that he looks like John Merrick which is a commonly used misnomer for 'the Elephant Man', Joseph Merrick. Merrick suffered from a congenital disease which gave him a very strange and almost startling appearance. Originally it was thought to be elephantiasis, but a number of different diseases have been proposed throughout the years (Merrick died in 1890, by the way) with no conclusion ever really being drawn.


Sgt. Hatred of course visits his former house where Princess Tinyfeet, who we first met in Showdown at Cremation Creek, Part I, is having a sexy romp with some of Hatred's former henchmen including Private Schwa, who we met very briefly in The Buddy System and you may remember is named for an unstressed vowel in linguistics.


While one of 21's plan names is 'Eye for an I' (the second 'eye' is the letter 'i'), Mr. Monday in the comments notes that, perhaps coincidentally, Exodus 21:24 is the famous 'eye for an eye' excerpt dealing with punishment.


21's list of suspects is as follows: The Ventures, Brock Samson, the moppets, OSI, a shape-shifting nightshade, suicide, happenstance. Assuming he's going to investigate all of them in order we may see him confront Brock in the near future.


The back of the issue of Modern Enemy Monthly seen at the end of the episode features the papercraft ray gun currently on Astro-base Go.com, which was put up some time during last season.