The Better Man
Original Air Date:

December 6, 2009

Written by:

Doc Hammer

Production Number:

44
Summary
The Orpheus Family is caught between the problems of their past and future as Dr. Orpheus must rescue the man he hates the most from Hell and Triana stands at the crossroads of her destiny.
Capsule
In some kind of magic church or something Torrid is hard at work conjuring something. Opening a portal to hell, to be specific. The Triad stand there watching him, complaining that he's not really doing something that's all that good. Orpheus points out that once the portal is open and the second world comes through there's not much they can do. So it's time to wager their final battle. The Alchemist attempts a last ditch effort, which involves telling Torrid to stop being a pudd. No go.
Torrid's spell appears successful, as a horrifying creature comes through it. It grabs a protesting Torrid and throws him into the portal. It is now the Triad's duty to stop the beast. They attack and it quickly grabs Jefferson in its many tentacles. Al throws a fireball of some kind but it's smacked back into him by a free tentacle. Orpheus casts and even larger ball of fire but all it does is make the monster grow larger. Jefferson begs for death just as a mysterious figure on horseback rides through from the other side of the portal. She shoots him once, causing him to release Jefferson, and a second blow he stabs the creature in the eye, sending him back to 'the depths from which it came'. He then calmly walks over to Jefferson and places his hand on his head, waking him up.
THE OUTRIDER
He was just dead. He'll be fine. [he mounts his steed] 'till next time, gentlemen! Black Lightning, ride! [he rides back into the portal]

THE ALCHEMIST
Call me!

DR. ORPHEUS
'Call me?' What was that?

THE ALCHEMIST
Instinct? He's adorable! I panicked.

JEFFERSON
Who was that guy?

DR. ORPHEUS
That guy was the Outrider.

THE ALCHEMIST
Oh my god! That's the guy who s-

DR. ORPHEUS
STOLE. MY. WIIIFE!!
Opening credits logo.
We're at the Venture Compound now. Dean is putting on his fancywear, Hank mocks him. They briefly talk about fashion before Hank inquires weather or not Dean's dress has anything to do with Triana and Dr. O doing something on the front lawn. Dean of course feigns ignorance of this event.
Jefferson, meanwhile, is training in what appears to be a garage. Various cardboard figures pop up and he takes them out with his swords. Some kind of flame guy, lots of Draculas, a wolfman. He doesn't cut up any innocents of course.
JEFFERSON
Score?

THE ALCHEMIST
Eighty-five percent.

JEFFERSON
Get out, where did I blow it?

THE ALCHEMIST
Well, for one, you killed Matthew Lesko.

JEFFERSON
That was- well he was wearing punctuation on his suit! That's a total bad guy suit.

THE ALCHEMIST
He helps people get free money from the government. That is a good guy. It's reflected in your score.

JEFFERSON
What's the use in training! I have no magic powers! The second someone uses magic I get killed!

THE ALCHEMIST
That was humbling for all of us. It was like he pulled down our pants and powdered our bottoms.

JEFFERSON
Humiliating! He brought me back to life. I'm serious, I saw my dead mom and she was all 'Jefferson, head into the light'. And I was like 'I can't mom, I have to stay here and get my ass kicked by a guy made out of fire'.

THE ALCHEMIST
Thank god that Outrider guy was there.

JEFFERSON
Don't let Orpheus hear that.
Meanwhile Dr. O is attempting to set up a portal to the second world on Dr. Venture's lawn. It's comprised mostly of some lawn chairs, a tent and a door propped up on some stools. It's also not really working as intended. Triana tells Dean that her father always has to compete with the Outrider; whatever he does Dr. O also has to do.
DEAN
Isn't the Outrider married to your mom?

TRIANA
Yeah. I only met him once. I was eight.

DEAN
Well, if I was your dad, and you were your mom, and the you that wasn't your mom was another girl, I would never let anyone take the you-mom!

TRIANA
That would be really sweet. If it wasn't so confusing.
Dean then awkwardly, but innocently, asks to pet Triana's pussy (her cat is sitting on her lap) and it turns out that cat hates him. Yeah.
Hank has been watching Dr. O the entire time when Al and Jefferson enter. Hank then inquires weather or not Al's dingus is 'all Frankenstein'. You know, because Al is gay. Jefferson asks if Hank is embarrassed by his ignorance, to which Hank responds: 'constantly'.
Just then Dr. O attempts to open the portal. Nothing happens. Well, Dr. O's cat took a dump in the tent, but that's all. Dr. O walks away in frustration.
DEAN
What was supposed to happen?

TRIANA
My mom calls his cell phone and tells him he's a better kisser I think.

HANK
Did the portal work? Is he in hell yet?

THE ALCHEMIST
Whoo, he's in hell alright!
Some time later (presumably) Dr. O is visiting the Master, who has taken on the form of Dr. O's ex-wife, Tatiana. The Master, as always, isn't overly helpful, and instead taunts Dr. O with news about her body, which is in rather good shape.
Back in their room Dean asks Hank what he's up to. Hank complains that he's not up to anything since their father (the globe-trotting super action scientist) is 'resting his eyes'. Dean notes that he's happy with their new sedentary lifestyle, mainly because he gets to hang out with Triana more.
HANK
I saw you two. She treats you like her friend.

DEAN
Well I am her friend.

HANK
Annnd, that's it.

DEAN
Nuh uh!

HANK
Have you seen her naked?

DEAN
[gasps] No!

HANK
Have you kissed her?

DEAN
No.

HANK
Have you even held her hand?

DEAN
No.

HANK
And are you ready for the super depressing part? Have you helped her shop for shoes?

DEAN
Oh my glory!

HANK
Dean, she's your hag.

DEAN
You're right!

HANK
It's gonna be okay! I know a place where the native girls abound! A paradise of young women all waiting to venture into adventure with a Dean Venture! Get your coat!
Orpheus, meanwhile, continues to complain to the Master about the Outrider. He notes that the Outrider was a student of his and there's no way he could attain such an ability. He was too lazy. The Master is more or less annoyed with Dr. O at this point and tells him that he has a headache. After asking Dr. O for a number of remedies (none of which Dr. O has) he decides the best cure would be some nude jump rope in front of a mirror. Alone time.
Hank also has apparently taken Dean to the mall to learn him about women. Or as Hank call it, girl island. A number of girls walk past them with Hank pretending to know them, though none of them respond to him at all. His advice to Dean to get ladies? Pull those pants down a little and mess up your hair. Dean complies and comments that he looks like Rufio. What follows is what can only be described as an incredibly awkward coaching session from Hank. He tells Dean that he needs to introduce himself and make 'body contact'. It ends with Dean being pushed into two girls by Hank and then putting his finger one one of their shoulders. Hank gives Dean his next instruction but both girls have made their escape. Dean sighs and says he's leaving.
Back in Triana's room Dr. O exits the closet only to see Al and Jefferson waiting for him. They question him about his meeting, not knowing that Triana is outside listening (mostly by chance). Dr. O notes that the Master seemed to want him to return to his portal, but Al suggests that maybe he actually wanted him to go back to the original portal since his portal wasn't really a portal. They all decide that's a great idea and leave Triana's bedroom only to run into Triana:
TRIANA
What were you guys doing in my bedroom?

DR. ORPHEUS
Um, ha ha, well, Al wanted- uh, what's the-

THE ALCHEMIST
I wanted to see your see, uh, CD collection!

DR. ORPHEUS
Yes.

THE ALCHEMIST
Yeah! I'm old school death rock. Mmmm, you know I used to go to the Batcave when Nik Fiend was still the doorman.

DR. ORPHEUS
Yes! That's true! Uh, he was!

JEFFERSON
We'd love to stay and bail ourselves out, but-

DR. ORPHEUS
Yes! So, [they grab each other's wrists, forming the Triad symbol] with wings of light!

THE ALCHEMIST
By day and night!

JEFFERSON
We make our flight!
They all disappear in a flash of light. Triana walks into her room and sees that her closet appears to be glowing. That can't be normal.
Commercial.
Back in the same church thingy the Triad teleport in, though they are ten or fifteen feet above the ground. Better than last time though. They briefly argue about what's causing these kinds of issues before Al says that they should just start up the portal so they can do this thing. Orpheus raises his hands to begin a spell but the portal opens before he starts. He freaks out and tells them that they should hide.
Torrid comes tumbling out of the portal followed shortly by the Outrider. He begs the Outrider to kill him but just as the Outrider is about to comply Torrid leaps on him, knocking him off his horse and onto the ground. He chants a spell while holding the Outrider's head, there is a flash of light and Torrid is gone. The Outrider remains, but he doesn't look so hot.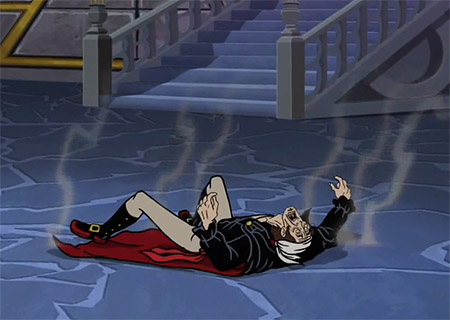 With the confrontation all cleared up the Triad approach the Outrider.
THE ALCHEMIST
That was one hundred percent bad ass!

JEFFERSON
That was total movie cool! And Torrid actually said 'abracadabra'. I so thought that was a fake magic word!

DR. ORPHEUS
It's a real magic word. One of the three holy names- ugh, look at his face.

THE ALCHEMIST
Great, so we take credit for killing Torrid, you take credit for kicking the Outrider's ass, then we make a secret pact to never speak of this again.

DR. ORPHEUS
I've been wrong about the Outrider. He was noble and good. We... can't leave him like this.

THE ALCHEMIST
Okay. We drop a rock on his head. Then we make a secret pact to never speak of this again.

DR. ORPHEUS
No, help me get him up! We are going to rescue him! FROM HELL!!
Oh hey, and guess who's wandering around in the Master's realm? Yup, Triana! He's taken on the form of a middle aged Dean. He greets Triana.
THE MASTER
Hi sugar dumpling! I was just vacuuming and after this I'm gonna watch TV and then cry myself to sleep. I don't know, I might wake you up in the middle of the night and threaten to kill myself if you leave me. Again. So, ha, how was work?

TRIANA
What is this? Who are you?

THE MASTER
Babydoll, it's me! Your loyal husband, Dean Venture! I'm your future! Isn't this great?! [a baby cries offscreen] Oh, that's our baby, Rusty Jr. Well I mean, if you can call it a baby. It's got like a leg growing out of what would be a head on a regular baby and if you squeeze him poop comes out of his eyes and a little bit under his fingernails.

TRIANA
I just walked into a closet! What is going on?!

THE MASTER
Oh, we had a deformed kid because my gene pool is more of a gene septic tank. Yeah, I was cloned so much I can only make monster babies.

TRIANA
Wait. Dean was cloned?

THE MASTER
Dean was cloned, Hank was cloned and you've been here like ten times before this. Surprise, somebody's been getting her memory wiped!
Back at the mall Hank is riding his scooter around the parking lot searching for Dean. He runs into Dermott who is clearly working at Big Bargains, but refuses to acknowledge it. He informs Dermott of the situation and Dermott quickly remedies it by finding Dean.
HANK
Where?

DERMOTT
Uh, duh? The guy with the other flying scooter. Holy shit he's talking to a girl!
Meanwhile the Triad are gathered in Dr. O's kitchen and discussing what to do with the Outrider. Dr. O says that they need to get him out the door he entered. Not the portal though, because those are more like windows.
JEFFERSON
This is confusing! I'm getting a headache!

DR. ORPHEUS
I don't have any aspri-uhh wait! How did I miss it? The Master asked me to cure his headache. A headache so severe that medication couldn't help! Of course! [he pulls of the Outrider's head covering] Trepanning. Home brain surgery!!
Back at the mall, Hank, Dean and Dermott are talking at the bus stop. Dermott is telling them about his I'm sure entirely real out-of-state girlfriend who he hooks up with whenever he road trips. She's a model. Of course.
DEAN
Well, Tracy, that's the girl I just met, she's a cashier.

DERMOTT
You gonna go for that piece?

DEAN
Well, I'm kind of seeing someone else.

DERMOTT
What are you, married? Man. You dig this Tracy girl or what?

DEAN
Well, she seems nice. And her hair is really pretty.

DERMOTT
Well talk to her then. You don't have to nail her, just see what happens! Man, way to be uptight!

HANK
Wait, did you just give good advice?

DEAN
I gotta go check the temperature in hell.

DERMOTT
You can both blow me.
Back in Dr. O's kitchen they have enlisted the help of Billy to perform brain surgery on the Outrider. He finds a weird marble or something in his brain, which Dr. O informs him is the Eye of Osiris. They were usually placed in the brain of a mummy after embalming to protect them on their journey to the underworld.
DR. ORPHEUS
The Outrider did it, he found a shortcut to the second world. I'm not sure if he's the bravest sorcerer or the stupidest.

BILLY
[holding up the marble] It's out! I did it. So, am I part of the Triad?

THE ALCHEMIST
Triad implies three. So...

BILLY
Alright, then you guys have to pay my rather steep fee.

THE ALCHEMIST
Welcome to the mystical Order of the Triad! Special brother Billy!

JEFFERSON
Why is he still like that?

DR. ORPHEUS
We must draw him out! Draw him from hell, with hell! Quickly [points at Jefferson] what is the worst thing that ever happened to you?

JEFFERSON
Umm! I saw my mom raped by blackulas. I was ten. She called my name. I just stood there.

DR. ORPHEUS
Uhhhhh, wow. Wait, I can hear him! More ugliness!!

BILLY
Oh! Once I saw two homeless guys giving each other oral sex.

DR. ORPHEUS
Yes! He's closer! More like that!

THE ALCHEMIST
Okay, this is really gross. Once I was out of toilet paper so I used cotton balls. So, you know, I'm wiping, and I think my finger kinda poked through the cotton, so I, and- and, do not ask me why, I smell my finger to check-

JEFFERSON
Gross!! I see where this is going.

DR. ORPHEUS
Quickly, Al, he's so close!

THE ALCHEMIST
Okay! I bring it up to smell it, right, but somehow the cotton got stuck to my fingers, so when I smell my fingers the cotton's getting stuck to my razor stubble! So then I have this shit cotton all over my face!
A flash of light comes off the Outrider's body and the room is engulfed in it. When it fades Al and Dr. O are standing next to themselves and the kitchen appears in shades of red.
Triana and the Master have continued their conversation. Triana confesses she's not really into Dean and the Master says that it's pretty much time to set him free. Otherwise get ready for old Dean. He then gives her some advice. Seeing as how her closet appears as a normal closet to anyone without her gift then she should start her training now. Her dad wants her to go to art school, but this is better.
THE MASTER
Triana Orpheus, you should go live with your mother and begin your training to become a sorceress. It's your destiny! And it's way cheaper than art school.

TRIANA
Wow. You know that all seems so... right. It's just like like, everything just makes sense now.

THE MASTER
Well, it's too bad you'll forget all this ever happened.
Back at Dr. O's kitchen the Outrider appears and informs them that it's actually hell. Al comments that he figured it would be hotter (maybe with some lava) just as Dr. O's cat shows up to tell him that he doesn't like dry catfood. He then proceeds to walk backwards out of the room on the ceiling.
Dr. O apologizes to the Outrider being blinded by jealousy. The Outrider says that he idolized Dr. O for being so powerful, but when he saw that was because Dr. O sacrificed his family life to do so he figured there had to be a quicker way. Then his nose falls off. Dr. O points out the quicker way was much more dangerous, but the Outrider says that family is more important. Then his ear falls off. Dr. O continues to apologize when Al suggests that they hightail it out of hell before they talk any further. The Outrider points out that there's no escape unless they can get between the worlds. They're trapped.
Dr. Venture has been napping on the couch when Dean wakes him up. After an exchange where Dr. Venture reveals Dean has never gotten a call at the compound and Dean notes that he was out with the boys (meeting girls), Dean heads up stairs feeling pretty good about himself.
Meanwhile, in hell the Outrider complains that they removed the Eye of Osiris even though it was working great. Al notes that it was Torrid's fault. The Outrider says that Torrid was stupid just because the guy who opens the portal is always the guy to get killed first. Text book stuff. Just then Jefferson, who does not have a double like Orpheus or Al, pipes up. He can hear them, which means he's between worlds!
THE ALCHEMIST
Dude, you have a magic power!

JEFFERSON
Really?! I'm magic?!

DR. ORPHEUS
Yes!! Outstretch your hand and bring us home!

JEFFERSON
I'm trying! Is it moving?

THE OUTRIDER
Ehh, you've really gotta lean into it!

JEFFERSON
I'm magic! Damn!! Magic Blackula hunter! [he slowly raises his hand up]

THE OUTRIDER
That should do it! Orpheus? After you. [Dr. O takes Jefferson's hand and is teleported away] Al, your turn.

JEFFERSON
Orpheus is back I am so totally magic!!

THE ALCHEMIST
Ugh, we are never going to hear the end of this.
In her room Triana is sitting on her bed. She looks over at the closet and then gets up. Downstairs in the kitchen the Triad, Billy and the Outrider are having a few drinks and regaling tales of old. Triana walks in and asks her dad if they can talk.
Roll end credits.
Outside the Venture Compound the entire crew is gathered to say goodbye to Triana. The Triad and Dean. Dr. O tells her all the ways she can communicate with him if she ever needs to. Triana assures him that she'll still see him all the time.
DEAN
Can we... talk? [to Triana, they walk away]

THE ALCHEMIST
You know what this means, right?

DR. ORPHEUS
Yes, yes. My little girl has grown up.

THE ALCHEMIST
Uhh, no. It means that we are going to have to throw a huge party in your empty house!

DEAN
I've been doing a lot of thinking and, uh, I think we should see other people. Long distance relationships can be rough.

TRIANA
You are so wise, Dean. I'm gonna miss you. [she leans over and kisses him]

DEAN
Or maybe we could try a long distance relationship!!

TRIANA
There are too many girls waiting in line. I can't hog you all to myself.

DEAN
[sighs] True.
Notes
For those of you who may not remember, Torrid is the Order of the Triad's sanctioned arch-enemy as assigned to them (after try-outs) in Fallen Arches. He made a brief appearance in Cremation Creek I but did not appear in season three.


The creature that Torrid summons out of the second world greatly resembles Cthulhu, a cosmic entity from the works of H.P. Lovecraft. His first appearance was in the short story "Call of the Cthulhu" and he has had a minor role in a number of Lovecraft stories after that. Cthulhu can be broken down to be described as 'huge and terrifying' though the stories tend to focus more on fear of the unknown and what may come and not generally Cthulhu beating up dudes.


Update: On the Season 4.1 DVD commentary Doc Hammer mentions that the Outrider actually isn't based on Solomon Kane or anyone, he was just created as an opposite to Dr. Orpheus, meaning someone exciting that his wife might leave him for. Similarities to Solomon Kane are purely coincidental.

Original Notes: The Outrider is based mostly on Solomon Kane, the creation of pulp writer Robert E. Howard (coincidentally created around the same as Cthulhu). Kane was basically just a guy who just wandered the planet with no specific goal other than to vanquish evil. Unlike the Outrider he primarily used non-magic weapons such as a sword, dagger and flintlock pistols. However later on Kane was gifted a juju staff by an African shaman primarily for defense, though Kane did use it as a weapon as well.

For those of you into it, Solomon Kane is being adapted into a screenplay to be released in 2010.


Matthew Lesko, whose cardboard cutout Jefferson slices in half, is a crazy infomercial host who is best known for authoring and selling books he has written on how regular Joes can get free money from the US government. Lesko is most well known for wearing question mark laden suits and being overly excited about how much free money he can get you (as long as you buy his books). He is perhaps infamously known for simply plagiarizing free government grant documents and selling them in his books. Also his suit is very reminiscent of the Riddler which is why Jefferson mistook him for a bad guy.


In the mall when Dean messes up his hair he notes that he looks 'like Rufio', which is a reference to the 1991 film Hook which is about Peter Pan after he leaves Neverland and is a sequel to the original story. Rufio, in specific, took over as leader of the Lost Boys after Peter left and is partially characterized by his sticking up hairstyle.


Loyal comment-type-person InActionMan pointed out that Hank's pickup methods come verbatim from the infamous book 'The Game' which is written by Neil Strauss and details his encounters in the 'seduction community'. Some of Hank's methods also come from the VH1 series The Pick-up Artist which is a similar sort of thing only on TV.


When trying to explain why they were in Triana's room, the Alchemist mentions that he was going to the Batcave when Nik Fiend was the doorman. This is a reference to the Gothic night club in London called the Batcave which is considered to be the birthplace of the English goth subculture. Alien Sex Fiend, a band consisting of Nik Fiend and his wife, Mrs. Fiend, was formed at the Batcave. There's no record on if or not Nik Fiend was the doorman there, though you should note that the Batcave opened in July of 1982 and Alien Sex Fiend was formed in the winter of the same year, so come to your own conclusions.


When the Outrider's ear falls off Al picks it up, saying "you dropped your dino damage". This is a reference to some toys associated with the film Jurassic Park. The dino damage line were usually made of rubber of some kind and had a small chunk that could be taken out of their side to reveal 'dino damage'. Here's a ridiculous video you can watch showing one of the toys and dino damage.


Al also refers to Outrider as 'brundlefly', which is the name Seth Brundle (played by Jeff Goldblum) gives himself in the 1986 version of The Fly. For those who may not know the film centers around Brundle, who is a scientist, and his work on teleportation technology. He's invented something he calls 'telepods' which allow instantaneous transportation of an object from one pod to the other. When Brundle tests the pods on a human subject (himself) a common housefly sneaks into the pod and his DNA is combined with that of the fly. Al calls him that since pieces of Brundle fall off him from time to time during his transformation. This film was also referenced more overtly in Powerless in the Face of Death when Dr. Venture's body was teleported to three different locations.