Venture Bros. Year In Review: 2011
As far as The Venture Bros. went, 2011 was not an overly productive year. Season four wrapped up in late 2010 and new seasons weren't confirmed until we were well into the year. However we did get to see Jackson and Doc at a few conventions and the Shallow Gravy special, "From The Ladle To The Grave: The Shallow Gravy Story". Let's take a trip down memory lane and recall all the Venture Bros.-y stuff that happened over the last year.
January
With the final episode of season four airing November 21st of the previous year, January didn't see too much Venture Bros. news. Sideshow Collectables revealed their Brock and Molotov statues for the first time, with promises of future statues (Dr. Venture, the boys and the Monarch) that may not become reality. The Brock statue was also shown further in-depth later in the month.
February
February was mostly a month for Venture Bros. toy news, with Sideshow taking pre-orders on the Brock statue and BifBangPow! revealing some new Mego-style figures at New York Toy Fair. Fans would soon be able to add Jonas Venture Sr., Young Rusty Venture, Molotov, Billy, SPHINX Brock and Dr. Killinger to their collections, with Pete White, Shoreleave, Dr. Mrs. The Monarch, Jefferson Twilight and The Alchemist planned for the future. The first six figures were also displayed at the convention for all to see.

In more exciting merchandising news Nonsek announced a partnership with Adult Swim, allowing fans to roll their own Venture Bros. tshirts. The fact that official tshirts even existed outside of Adult Swim's store was itself an excellent change of pace, nevermind the almost endless options to customize them.
And for those with a never-ending desire to view Venture Bros. clips Adult Swim launched their mobile app, allowing fans to get all the Adult Swim they could handle on the go.
March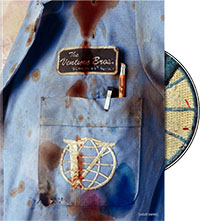 March brought some of the first show-related news of the year, not only with the release of season 4, volume II on DVD (and the complete fourth season on Blu-Ray) but Jackson spilling the beans that the show had been renewed for two more seasons. Not only that but their contract also included a long-form episode (60 - 90 minutes) and an 11-minute short that would premiere sometime in the summer. And there was much rejoicing.
A short while later we would also find out that seasons five and six would be a mere ten episodes each. Slightly less rejoicing there, but still hard to complain about new episodes.
This site also had an interview with Jackson about the upcoming season of SuperJail! and his involvement with that show, as well as some future Venture Bros. happenings and plans.
April

April was comparatively slow for news compared to March. JG Thirlwell released video of his performance at Prospect Park from June of 2010, which was certainly one of the highlights and biggest treats of the month. Season two of SuperJail! also started for everyone craving something that at least involved one of the creators of Venture Bros., if not something that was completely different in almost every sense.
Adult Swim also informally announced (via a bump) that the as of yet unknown short episode would premiere on July 24th, suspiciously during San Diego Comic-Con.
On the merchandising front Sideshow revealed their Molotov statue in full and opened up pre-orders for anyone who wanted a compliment to their future Brock statue.
May
May saw a little bit of Shallow Gravy news as Adult Swim released a press release with info about it, finally revealing the nature of the special.

BifBangPow! revealed that the Young Rusty and Jonas Venture Sr. figures would be convention exclusives, set to be sold first at San Diego Comic-Con complete with a retro-style tin lunch box (or tin tote, for legal reasons).
June
In some JG Thirlwell news, Dinoflagellate Blooms, under his Manorexia pseudonym is released to critical acclaim.
July
July saw the finalized lineup for Comic-Con released, with Jackson, Doc and James Urbaniak all confirmed for a Venture Bros. panel, among other events. This was followed by Comic-Con itself, along with the first ever Mantis-Eye on-premise coverage of San Diego Comic-Con. During Comic-Con BifBangPow!'s previously unseen 3 3/4" figures were revealed.

In slightly sadder news the Shallow Gravy special did not premiere at Comic-Con, only the music video. It was announced that the special, since it wasn't finished in time for SDCC, would instead premiere on August 28th.
August
In August the convention fun times continued with the announcement of Dragon*Con 2011's lineup. This year's festivities included Doc Hammer and James Urbaniak. There was to be a Venture panel, along with a number of other appearances by our two Dragon*Con-attending heroes.
During this month we also got our fill of warm gravy. Shallow Gravy, I mean. Not only did the special air but the EP went up for pre-order on iTunes and Amazon for those who wanted to hear multiple versions of "Jacket" and get their own copy of the music video as well.

On the merchandising side of things we found out that the previously revealed 3 3/4" figures were not in fact set in stone and that BifBangPow! needed to gauge costs along with potential interest in the figures before actually making them.
On the internet side of things, Adult Swim premiered Gold Videos on their video site, allowing folks with cable or satellite to watch full HD versions of many of their shows online for free.
September
September saw Dragon*Con 2011 come and go, though not without plenty of coverage from the first-ever roving Mantis-Eye reporters, Katie and Vanessa. There was much rejoicing!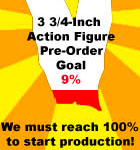 In even more convention-centric news, the New York Comic Con Venture Bros. schedule was revealed, starring Jackson Publick and Doc Hammer as themselves answering questions and signing stuff!
In the continuing saga of the 3 3/4" action figures, BifBangPow! and Entertainment Earth started the Rusty Venture Toy Club in hopes of drumming up enough pre-orders for the new figures to start making them.
The Shallow Gravy merch also came pouring in, including the released of the promised physical EP of Jacket.
October
October was another big month for the site, with me in attendance at New York Comic Con and providing tons of coverage. The site also announced a user-submitted Q&A with Jackson and Doc, which almost didn't happen because of their insanely busy schedule at the convention. However I triumphed and got the interview and released some sub-par quality videos, if not a pretty decent interview thanks to you, the loyal reader!

November
November was a very calm month. Conventions had ended, though I did release a podcast version of the previous month's Jackson & Doc interview. The biggest news beyond that that (for this site at least) was the launch of the brand new Mantis-Eye Experiment, complete with user accounts, achievements, a community section and all sorts of other stuff. There was hopefully rejoicing!
December
Finally, December. As December always does, the yearly Christmas song was released via FRED Entertainment thanks to Jackson, Doc and AstroBase cadet Ken Plume. BifBangPow! posted their state of the union for 2012 with promises of the Venture Bros. license going new places.
Not much else happened, Venture-wise, but the prospect of Venture in 2012 is surely dancing in our heads. While this wasn't an overly busy year for the show it was a nice ramp up. Good news about the future, plenty of new content (even an episode!) and plenty of good times.
Who knows what news and other things are in store for the show in 2012? As always, the Mantis-Eye Experiment will be there to cover it and maybe explain it, if that's what you want. While this site couldn't exist without The Venture Bros. itself, it also couldn't exist without all of you awesome folks who visit and contribute. For that I'm thankful, and all I ask is that you have an awesome new year, and I'll see you back here in the future.
Thanks for a great 2011!