Latest News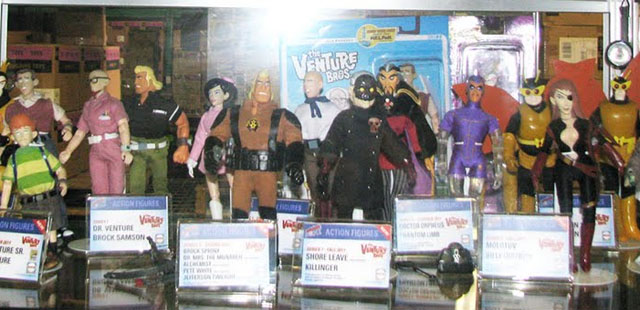 Our friends over at
BifBangPow!
put up the promised
sneak peek
at what's to be shown at the upcoming Toy Fair 2011 in NYC (which starts today and runs until the 16th) and the
Venture Bros.
related results may surprise you! (Click for a bigger version.)

Along with expected figures like Billy and Molotov there's a Dr. Henry Killinger (with Magic Murder Bag proudly on display), Brock decked out in SPHINX gear (SPHINX!) and even Dr. Jonas Venture Sr. and young Rusty Venture. No word on how final these are or if there are any more to be revealed (Billy without Pete?!) but if you're around the Javits Center in Manhattan this week you can check them out at Toy Fair in booth 4813.
Update
: Observant reader Pyroth also
pointed out
that you can read the cards (with minor difficulties) which list out
Shore Leave, Jefferson Twilight, Pete White, The Alchemist and Dr. Mrs. The Monarch
. So, expect to see those some time in the future, even if they aren't pictured here!