Latest News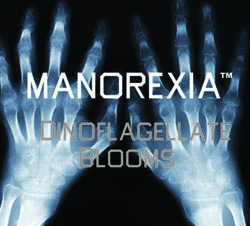 One of the many hats
Venture Bros.
score composer,
JG Thirlwell
wears is that of Manorexia, which has just released a new album called
"Dinoflagellate Blooms"
. You can check out samples on the page and purchase it for $15 which includes both a CD version and a DVD version for those of you who want to experience it in 5.1 surround. Also if you live in the vicinity of New York City there are some events you can attend:
We are also thrilled to announce that the album will be presented in all its surround-sound glory at a special, free listening event at Harvestworks, New York on June 22 2011 as part of the New York Electronic Arts Festival. The album will be played in its entirety at 7.15pm and 8.30 pm. The album will also be available for purchase at the event.

Manorexia will also be performing on October 2nd 2011 with Portishead at an All Tomorrows Parties event in Asbury Park, NJ.