Latest News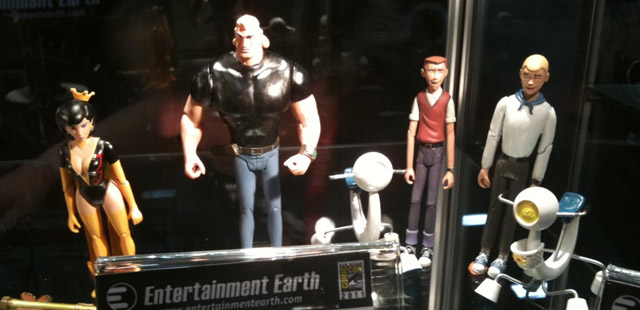 ... to preorder! According to this
Venture Bros. 2012 Pre-Order Page on Entertainment Earth
the figures are now in the hands of, you, the fans. Here's the skinny: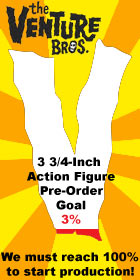 Your pre-order for these characters has never been more important! We need to hit a certain number of pre-orders before we can throw the switch for these figures to start production, and that's where you come in! Just pre-order the figures from this list or ask your favorite comic and toy shops to order the figures for their store. Your credit card will not be charged until the figures arrive in 2012-- provided we meet the order goal-- and then you'll be able to have been a part of Venture Industries history!

These figures sport 10 points of articulation and unlike our retro action figures, are 100% original and new sculpts. The factories require a large commitment, and that's why we wanted to let you know that your pre-orders are so important to making this line a reality.

These figures will not be produced unless pre-orders meet our targets. If you want Brock Samson, Phantom Limb, or even Hank and Dean, show your support with a pre-order. No character is "safe," the shape of the line is entirely within your hands!

All orders must be placed by October 31, 2011. At this time we'll tally our orders and we will make an announcement on how the line will proceed by November 30, 2011.
Right now the little graphic on the page shows only a sad 3% of the required preorders have been attained, so if you want to see these figures and want to help out you should
pre-order them like crazy
. Individual figures are $9.99 each and a set of five figures is $49.99. You can make a difference! Thanks to Seth Longmire for sending along this news.
Update (8:30pm):
Changed the link on Entertainment Earth to a better, linkable one that they posted
on their Twitter
.