Mantis-Eye Presents: Ask Jackson & Doc NYCC Podcast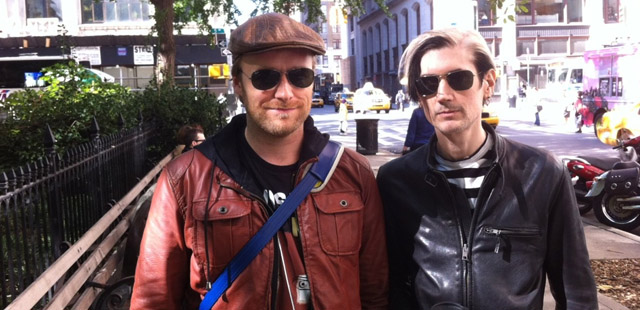 If you enjoyed of the video interview with Jackson and Doc where I asked them user-submitted questions then you will probably enjoy this. Since the video for the middle portion of the interview was choppy and unusable but the audio was fine I was able to cut the full thing into a podcast. So this podcast is bookended with the stuff from the videos, but the middle section (starting at around 5:55) is brand new, unheard content. So if you want to know what Jackson & Doc's favorite snack foods are, what Doc's plans for Weep's next album are, how Jackson's dog is doing and how many suits Doc owns you should take a listen!
Mantis-Eye Podcast: Ask Jackson & Doc (28:41)
Direct Download (Save As)
(19.2MB)
Apologies for my slightly loud voice overs. I had to record them since my voice was nearly unhearable in the original. Also, again, many thanks to Jackson and Doc for taking time to do this and to all of you guys who submitted questions.
Want more Mantis-Eye podcast action starring Jackson and Doc, but with slightly longer, more nerdy questions? They recorded one for me way back between season 4.1 and 4.2 which you can still listen to.