Latest News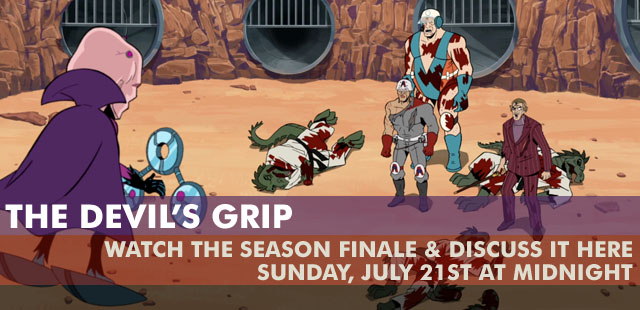 Good evening,
Venture
fans! Tonight is the night of the big season five finale.
"The Devil's Grip"
airs tonight... followed by silence. However don't let the impending World Without Venture get you down, tomorrow is a new day! In the meantime, use the comments here to talk about the episode, the season or the series. If you haven't seen it yet, beware,
spoilers lie within
. Unless you like that sort of thing. Some other items on the agenda:
The SDCC + Season Finale Giveaway
is still in full swing, so if you haven't entered that yet you really should. You can win some neat Brock Samson action figures signed by Jackson and Doc, including last year's SDCC exclusive figure that you can't even buy any more. Unless you check eBay, probably.
Don't forget to
rate the episode on the guide page
after you watch it. And feel free to go back through the rest of the season and score them as well. We need to know where these things stand in Venture History. It's true, that's a real thing that people care about! Or at least I do!
Shirt Club
has debuted the final shirt, and it's
Calamity Conference shirt
as seen in the episode (not really a spoiler).