Latest News
Sometime earlier today the art and release date for the
Venture Bros.
season five DVD/Blu-Ray was released! You can check out the art below (click for a bigger version) and the release date is currently
March 4th, 2014
for both formats. All season five episodes will be included, as well as
"From The Ladle To The Grave..."
and
"A Very Venture Halloween"
(technically part of season five's arc). You can also
pre-order the DVD version on Amazon
for a mere $17.49. No specific word on any extras just yet, though there will be the usual episode commentaries from Jackson and Doc.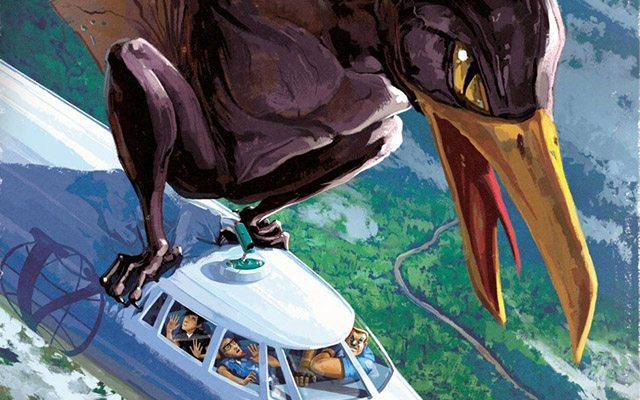 We may be in the middle of the long Venture-gap but that doesn't mean I can't update you with a list of interviews and videos from this year's NYCC! Sorry for being tardy, but that's just how it goes sometimes.
Adult Swim has posted a video of (most?) of the Venture Bros. panel from NYCC earlier in the month! Since we're in between-season limbo there's no new footage or anything, but plenty of Jackson and Doc. If you've got 45 minutes, you should check it out!
Or more accurately a discount on your very own Hankbuck towel. The
Venture Bros.
crew at Titmouse are
offering up a Hankbuck towel for a mere $25
. However if you have any Hankbucks (one came with each Shirt Club shirt)
print out this form on Astrobase Go!
, fill it out and mail it in with your Hankbucks for a discount. Each Hankbuck is worth one buck off the towel, meaning if you were a subscriber the towel can be yours for only $15!
With the end of the season comes the end of the episode guides. I just finished up the episode guide for
"The Devil's Grip"
and you should check it out. Feel free to let me know about any omissions, errors or whatever else you think should/shouldn't be in there. You can use either the comments or
the old contact form
to do that. Enjoy! And don't forget.
The season may be over but that doesn't mean we still can't talk about episodes. To help with the transition from a bunch of brand new episodes to no new episodes for a while, let's watch and talk about
"A Very Venture Halloween"
together! This is only the second or third time it's been shown on TV, and since it takes place during season five (in fact, it takes place during the season five premiere) it seems like the perfect episode to go out on. Since this isn't a new episode the discussion will probably be smaller than the previous ones, but hopefully just as good! And if you want to look at the original discussion,
look no further
! Also maybe having seen season five will reveal some stuff about this one, who knows? Either way, enjoy!
Less than a week later Adult Swim has put up
video of the Venture Bros. SDCC panel
held last Friday. The panel was series creators Jackson Publick and Doc Hammer along with Brock Samson himself, Patrick Warburton. Come for the discussion about Patrick's son cosplaying as Shoreleave, stay to admire Jackson and Doc's most excellent speedsuits:
The
episode guide for "Bot Seeks Bot"
is finally up. This guide was one of the more difficult to write since there were so many callbacks to previous episodes, as well as major reveals. As such, I'm sure I missed some things, so if you see anything wrong or think something is missing feel free to post it in the comments here or
use the handy contact form
if you prefer. Even if it's just to correct a grammar mistake. We should all strive for excellence. Enjoy!