Mantis-Eye Interview With Douglas Lovelace
If you're a fan of The Venture Bros. then you'll be happy to know that you're also a fan of Douglas Lovelace. He's worked on the show since the pilot and has contributed in some capacity to all four seasons. You may also recognize him as the curator of many a storyboard art eBay auction. Sadly (for us, not him) he's currently committed to working for Dreamworks on their new television series Dragons, adapted from the movie How To Train Your Dragon, so he won't be contributing to season five of Venture Bros. Of course that didn't stop me from asking him a bunch of questions about the show, and it certainly didn't stop him from answering them!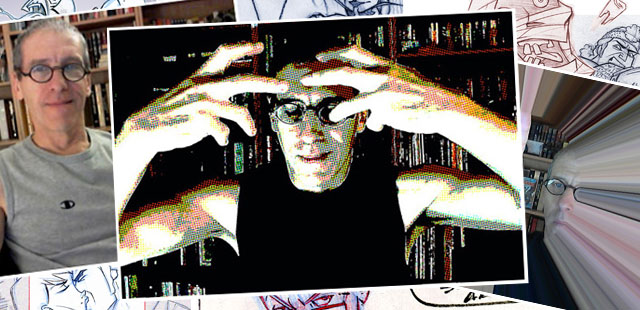 Mantis-Eye
You've been working on the series since the pilot, so how did you originally get involved?
Douglas Lovelace
I will always have a basket of kisses for Venture Brothers because it was the little engine that actually got me into the story art part of animation production.  Before that I had mainly done character design on some shows that I thought were dreck.  Then Noodlesoup appeared, and I got to work with Bill Presing (now a Pixar story artist) on Gotham Girls layout and a few bits of boarding on this and that.  My layouts for The Venture Bros. pilot led to the position of storyboard revision supervisor for season one.
This was the opportunity to stretch my drawing chops on material that I really loved, and it was a crash-master-class in storyboarding, with Jackson Publick, Presing, Nick DeMayo, Miguel Martinez-Joffre, Mike Foran, Nash Dunnegan (and more) as my mentors & collaborators.  Bill Presing was the storyboard supervisor and pretty much thumbnailed the whole season (and a lot of his brilliant work got chopped up in the ensuing process).
The show was finding its production-pipeline feet, and it took some time before Stephen DeStefano and Tom Connor were brought on as board artists, about half way through the season.  A lot of season one boards were built from the ground up in revision, so I was familiar with every panel of every episode.  Fantastic experience, expanded my art chops and I continue to reap professional benefits based on my Venture work, as well as love of both the spiritual and carnal sorts.
Mantis-Eye
Are you at all involved with the current season?
Lovelace
The last substantial work I did on Venture Bros. was the second half of season three finale ("Family That Slays Together"). I did do a couple of small bits for season four (Brock waking up on the medical table and jumping out of the airship, the Treister and Hunter scene), but these were only a few weeks of work, about a year apart. It doesn't look like I will be working on the show in the foreseeable future as I have a current ongoing commitment to Dreamworks.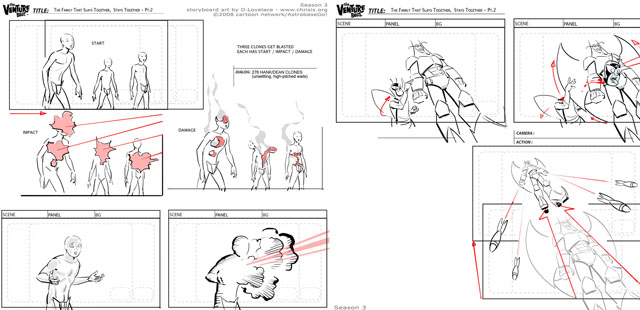 Mantis-Eye
Before we get into the nitty gritty, how about a quick rundown of how an episode is made?
Lovelace
Script. Design. Dialog recording. Storyboard. Animatic (storyboard cut into rough movie form, with dialog). Animation Director's timing. In that order, ideally. This is pre-production. Then off to foreign lands for animation. The animation comes back and is vetted for fixes and re-takes. (This could be quite funny at times, with the occasional Brock voice coming out of Molotov's mouth or similar wacky anomalies). All of this is approved by the director. After overseas animation is done, post-production begins. Doc Hammer made many spectacular things happen here.
Mantis-Eye
According to your IMDB page you've worked in a few different roles over the years. Can you go over what's involved in some of those roles?
Lovelace
Storyboarding is challenging and fun, and can lead to a fulfilling lifestyle in today's hectic world of politics and taxes, people grinding axes. Turning words into a clear dynamic flow of shots is intensive brainwork. The brain muscles get quite big.
Revision is fixing things that don't work, improving on first pass, incorporating new material and alternate takes. Revision can also be rebuilding a board, or parts of a board, from scratch.
Mantis-Eye
I'm not entirely familiar with the process myself, but are you given a script and told to go to town, or are you given specific direction?
Lovelace
The standard procedure is a kick-off meeting with the director. He gives you his ideas and other information necessary to understanding the intent of the episode, the individual scenes, physical details, etc. Some directors are founts of useful information. Others are ciphers that sit under cork trees and smell the flowers. Some are collaborators and some are dictators. Some are born to sweet delight. Some are born to endless night. In the case of Venture Bros. boards I was pretty much given a free hand to run like a young girl in a field.
Mantis-Eye
How do you decide on camera angles and framing things?
Lovelace
It helps to be an incurable cinematography geek. I think every good board artist has to be. There's no end to the mysteries and revelations of inspired camera work. The basic rules of cinematic grammar must be learned, but the creative possibilities from there are wide open. Lately I've been very impressed by the cinematography of Breaking Bad (shovel cam!). I think the DP on that show must have a dedicated shovel crew to get all those extreme up-from-under angles.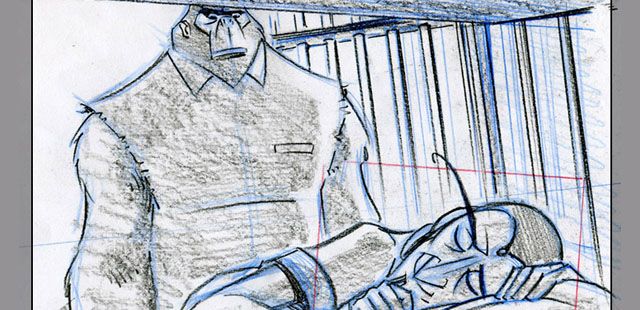 Mantis-Eye
For your character design role: which characters have you designed and do you have any favorites?
Lovelace
Just did a short stint on character design in season three. The ones I did that spring to mind: Twiggy, Bowie, 19th Century Dr. Venture, Oscar Wilde, that legendary Strong Man [ed: Sandow] and Triana in a groovy retro spacegirl outfit. Also college-age Dr. Girlfriend. Plus Hatred's battle tank and some nice Victorian GCI props. Jackson Publick is an inspired designer in his own right, with clear ideas about all the characters. In my experience, all character designs started with rough sketches by him, so the job was to bring those into a functional form. You get your assignment and dig in. Mr. Publick stops by at some point and gives his notes and then you incorporate those changes. Finally the designs are approved, at which point Cuban cigars are smoked as Balinese dancing girls descend from the rafters.
Mantis-Eye
If you can pick one, which episode has been your favorite to work on (and why)?
Lovelace
I rather fancy "Trial Of The Monarch" and "Return To Spider Skull Island" from season one, because of all the Monarch and Dr. Girlfriend scenes. They were always my favorite characters. Also the scared-straight prison scenes were a blast to do. Also, season three finale, "The Family That Slays Together Part 2". I boarded the second half of that, with all the battle action and marching clones. Rather proud of that one (kof kof).
Mantis-Eye
Has the smaller budget of the series (compared to something on Fox or probably even Comedy Central) affected you in any way?
Lovelace
Having cut my boarding teeth on Venture in NYC, when I went out to LA to do some Fox sitcom stuff (Goode Family and Neighbors From Hell, both misfires), I was paid more dollars and given a longer schedule. On Venture we had four weeks to board up to 20 pages of script, soup to nuts. When I told some seasoned LA directors this they laughed. My favorite response was one bloke who gave me a deadpan look and said, "That's physically impossible." True, but we did it anyway. (Didn't always hit those deadlines). On the Fox shows I had five to seven weeks to do 8 to 10 script pages. Personally, I'd rather kill myself over material that I love and respect (Venture Bros., Dragons), than have an easy ride with stuff I don't really relate to.
Mantis-Eye
When did the show switch from physical storyboards to digital ones? Did the transition change the way you worked on anything?
Lovelace
Venture Bros. went digital with season two. There is no difference whatsoever between paper and digital (Cintiq) in terms of drawing. Give me a stick and some dirt and I will draw you a foxy Molotov. I prefer to work in Photoshop, though a lot of TV shows have recently adopted Storyboard Pro. Takes a couple of weeks maybe to adapt to the tactile change of touch and response on the Cintiq, then it becomes second nature. It's a different experience than drawing on paper, but just as functional. As for structuring a board, digital is superior in every way. You can fix perspective and composition on the fly and re-use elements as needed. For example, characters can be drawn in action on an open "page", then re-sized into the field guide on the panel template. On paper there was a slow process of photocopying and resizing, then cutting these into the board page, or light-boarding. (This is the source of all that paper artwork I have released into the wild via eBay). Try to work out a composition inside a three by five inch paper page panel. Pain in the arse.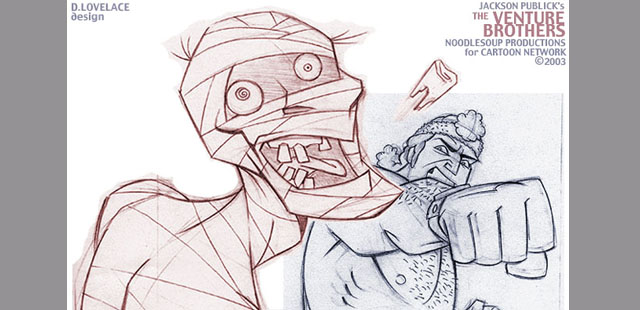 Mantis-Eye
Is there anything you miss about working with physical storyboards?
Lovelace
The sad aspect of the digital takeover is that in paper times every artist's desk was covered with post-its, roughs, inspirational art, reference, etc. You'd pull rejected art or roughs from someone else's trash and pin it up for inspiration. A physical cross-pollination of various artistic styles and ideas. After digital took over the studio environment became as wholesome and antiseptic as a Republican's asshole (not that I've ever seen one). I mean, all the cool paper art vanished.
Mantis-Eye
Why did you decide to auction off the season one art?
Lovelace
The eBay auctions came about by accident. I kept the artwork because it represented a breakthrough for me as an artist, and because no one else on the production team wanted it. It migrated to milk crates in storage where it would have rotted away had I not noticed that fellow Venture vet Stephen DeStefano sold some of his paper Venture Bros. art on eBay. So I thought I'd have a go. Got Jackson's okay. The Venture fans are so happy to get this artwork that I feel the obligation to keep going until it's all gone. Got enough left for maybe two more rounds.
Mantis-Eye
Did you see the pieces from the Adult Swim art gallery at Gallery1988? Any favorites?
Lovelace
There are a lot of amazing graphic takes on the Venture Bros. characters out there. I'm blown away by many of them. Bloody brilliant. Special faves: Ryan Brinkerhoff, Glen Brogan and Danny "Kano" Kimayen
Mantis-Eye
Aside from Venture Bros. (which we can only assume is your favorite anything ever) what other projects have you worked on and really enjoyed?
Lovelace
Apart from certain short-term jobs that offered some degree of creative freedom and challenge, Venture Bros. was my favorite series project because I respected the material and the creators, and had at the best of times an empathic connection to the characters. My current board job working for Dreamworks on the TV series of How To Train Your Dragon is ultra super double-plus cool and I am loving living in that world. All my latent Harryhausen/King Kong/Dinosaurs kid-magic urges are unleashed in a beautifully designed world. Also, boarding for CGI is like having the chains and boxes removed from my cinematic imagination. I can move the camera! I don't have to draw mini-layouts! Free at last!
Mantis-Eye
What sort of things do you make on when you're not working in the world of animation? Your site is a pretty great catalogue of all the stuff you've worked on for the last 15 years or so, both professionally and otherwise.  Any favorites you want to point out?
Lovelace
The art that I do apart from animation work is influenced as much by literature as by other visual sources. I managed to finish a homage to Michelangelo's Sistine Chapel wall, a version of The Last Judgement composed of robots, monsters, cute dames and other shady and sunny characters. This was begun as a physical rough for an art show a few years ago, but the digital painting is the finished piece. It's poster size and I'm curious as to whether I could sell nice big prints of it.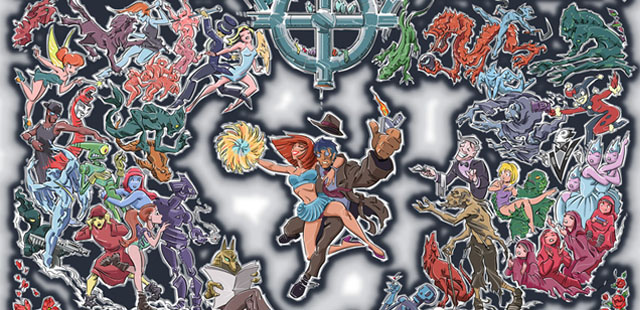 Art by Douglas Lovelace, click for the full version
I'm a simple calligrapher/pinup girl art/iconographer at heart (trying to make my way in the universe). Drawing for me is at best a form of alchemy where surprising chimera are born. It's always gratifying to have your work accepted and approved, but I never have the sense that I am a "good" artist, or that I have any idea what the fuck I am doing. Every line is a leap of faith. The best work that I manage is only an approximation of what I was going for. There is sensual exhilaration in drawing. When I'm on my game I feel like Edward Scissorhands giving a haircut or making a goose out of a gooseberry bush, or V fencing with phantoms in a shadow gallery. My professional work is so time consuming that it's easy for me to let the original works fall to the back back back burner. But I am determined to start a weekly web comic this year. Gosh durnit.
Mantis-Eye
Anything you want to add before we ride off into the sunset?
Lovelace
Just that I'm a lucky so-and-so and grateful that I've had the chance to work with so many talented artists and really nice people and contribute a few bits and pieces to the popcult phenomenon known as The Venture Bros.
Mantis-Eye
Thanks, Douglas!
Many thanks to Mr. Lovelace for taking time out of his busy schedule to answer my questions! For his full body of work (including Venture Bros. storyboards and character designs) you can check out his website. You can also check his blog for even more stuff. Dragons will premiere on Cartoon Network in Fall of 2012.