SDCC 2012 Wrap-Up Interview with Jackson Publick
Jackson Publick is the man who needs no introduction, but just in case you somehow found this site and don't know who he is, he created The Venture Bros. and also writes episodes, directs episodes, voices multiple characters in each episode (Hank and The Monarch being the two most prominent ones) and almost everything else in between.
So with Comic-Con behind us and season five in full-steam production and Jackson obviously not having enough to worry about, I figured it would be the perfect time to ask him a bunch of questions. Jackson clears the air on just what exactly the Halloween special is, how long the premiere will be (A Mantis-Eye Exclusive scoop!) as well as some of his experiences at this year's San Diego Comic-Con. Oh, and he says 'hi' to all of you.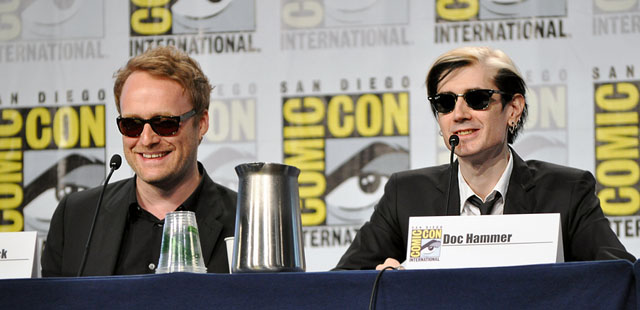 Photo Credit: Venture Bros. Blog
Mantis-Eye
So, I'm hearing some slightly conflicting reports on the Halloween special...
Jackson Publick
No, just confused people talking out of their asses. We've always been pretty clear about what it is and isn't...
Mantis-Eye
I know that in terms of the plot it takes place after the season five premiere, right?
Jackson Publick
Kinda... it's more accurate to say it takes place during the season 5 premiere, because the premiere takes place over the course of a couple of months, beginning before Halloween and ending after it.
Mantis-Eye
And is it a 15 minute episode or a 30 minute one?
Jackson Publick
It's a full 30 minute episode (which means it's actually 22 1/2 minutes). And before you ask, or pay too much attention to any other "conflicting" reports, it's not being animated in-house. We're producing it just like all the regular Venture Bros. episodes, with pre-production here at Titmouse and animation done overseas.
Mantis-Eye
So is it one of the 10 episodes of season 5 or is it its own special episode?
Jackson Publick
Yeah, it counts as one of the 10 episodes ordered for season 5. It was the fourth script we wrote—actually, Doc wrote it—but we bumped it up to second in the production order so we could get it finished by October.
Basically, when we did the math and figured out that we probably wouldn't be able to premiere season 5 until the beginning of 2013, I got super-depressed over the prospect of a Venture-less 2012. Doc was already half done writing a spooky sort of episode that he wanted to take place on Halloween, so we made it official.
Mantis-Eye
Now that you've had more time there since we last talked, how has working at Titmouse been?
Jackson Publick
It's been great. They're a really strong, successful studio with a great vibe and they give me everything I need to get the show done right. Switching studios gave us the opportunity to reexamine our production pipeline, and Titmouse, with all their experience producing so many different kinds of shows, was able to suggest better ways of doing things. We beefed up our storyboard, editing and color departments. We're using new software, etc. There was a learning curve for all of us, but I feel like this is the strongest art team we've ever had on the show. And, while I'm still overworked and constantly frantic to make deadlines, I haven't felt rushed or forced to compromise.
Mantis-Eye
So then I take it production on season 5 is going well?
Jackson Publick
You're asking at the worst possible time because this is when I'm the most exhausted and the most sick of doing this. But objectively, it's going well. We're nearing the end of pre-production. We're a couple of weeks behind, having had a few setbacks along the way, but that's not unusual.
Mantis-Eye
What kind of setbacks?
Jackson Publick
Normal production stuff. We started production short of one storyboard artist and one background designer. Doc and I were late with scripts. Here and there someone gets sick or misses a deadline or whatever. And like I said, we're working with a lot of new people and new software and crap, so it took us a while to get in the swing. Plus some episodes are just harder than others, you know? And every year we try to raise the bar on the quality of the designs and the storytelling, so I have a natural tendency, once things start getting easier, to make them harder. I've definitely been kicking the background and character/prop design teams' asses this year. We gave them a LOT to design. That's just what happens when you finally let the Ventures get off the compound and go to interesting places and meet interesting people.
Mantis-Eye
Is everything written?
Jackson Publick
Yup. Scripts were finished a couple of months ago.
Mantis-Eye
When do you expect to get animation back?
Jackson Publick
We're due to get the first rough cut of the first episode about two weeks from now. Though I think we just got a call from Korea saying the first couple might be a little late.
Mantis-Eye
You guys said you're doing the premiere last, how far along is it?
Jackson Publick
I'm currently revising the storyboards and editing the animatic for the first half of it. We should be shipping it to Korea in about 3 weeks. Because—and here's a scoop—it's actually an hour-long premiere.
Mantis-Eye
Was it always planned as an hour long or did that come about the same way "Operation PROM" became an hour?
Jackson Publick
More like the PROM situation. The story just kind of dictated that we couldn't fit it all into 22 minutes.
Mantis-Eye
The season four finale seems to be regarded as among the best episodes of the show, if not the best episode. Do you guys have any worries or concerns about trying to follow that up with the season five premiere in terms of expectations by both fans and yourselves?
Jackson Publick
Yes and no. First, I agree that's one of our best episodes, and I'm glad the fans feel that way, too. If anything, we felt pressure when making that episode to deliver a worthy conclusion to a 16 episode split season, to reward the fans' patience and our own struggles. Doc and I had an absolute ball writing that one and it's what reinvigorated us, after a very difficult split season, to even consider moving on to a season 5. We actually came up with 3 or 4 of the season 5 episode premises during those writing sessions. So that experience and that process, the creative high, and the final product were some of the biggest high points of my Venture Bros. career, honestly. Christ, we got to use a Pulp song!
But I can't hold the rest of the episodes up to the same standard. We tend to pull out all the stops for our season finales--they've traditionally been bigger and more ambitious than the rest of the season. And that particular episode had the benefit of a longer writing period and a longer production period, so we had more time than usual to tweak and hone it.
That said, I think any time you hit a creative peak, it gives you something to strive for again, and raises your overall expectations and demands on yourself to always meet a certain level of quality. And I think we've followed through with a great batch of episodes this coming season. But I don't feel pressure to live up to the season 4 finale with the season 5 premiere, or any of these episodes, because they're not the season 4 finale. Not every day is Saturday, you know? But that doesn't mean Wednesday can't be great, too... especially if you win the lottery, or go to a Pulp show.
Mantis-Eye
Enough about the show, let's ask the questions fans really want to know. How much advance planning goes into your panels?
Jackson Publick
Oh, good god... like zero planning.
Mantis-Eye
You guys seem to be coordinated about it...
Jackson Publick
You're kidding, right?
Mantis-Eye
You had that A Different World theme at last year's SDCC, jet setter theme at NYCC and so on. Is that spontaneous or do you think about it beforehand?
Jackson Publick
If we're lucky, we think of a schtick maybe an hour or two before the panel and run around trying to get whatever we need, be it A Different World clothes or an mp3 of the Star Wars disco song.
Mantis-Eye
Does Adult Swim pay for your hotel room and air fare? First class? Is the hotel nice? Are you allowed to raid the snack bar?
Jackson Publick
They fly us out (actually, Doc takes the train) and put us up, yeah. The details are none of your business...
Mantis-Eye
Do they still pay for that stuff at NYCC even though you live in New York?
Jackson Publick
Seriously? These are the questions burning in the Venture fans' minds?!
Mantis-Eye
At least one fan...
Jackson Publick
I think once I asked adultswim if they'd put me up in a cool NY hotel for the night, just for kicks, and they said yes... but then I forgot to actually do that.
Mantis-Eye
What were your favorite Venture Bros. costumes this year?
Jackson Publick
I'm sad to say I didn't see many costumes until I got back from San Diego and started seeing pictures on the internet. I came down with a super-shitty cold my second day there, so I stayed in my hotel room and pay-too-much-per-viewed some really awful movies. I did catch a glimpse of a really successful Professor Impossible and Sally as we were leaving the panel. A good looking The Outrider was there, too. And of course it's never not funny to see the Plug Face Guy.
Mantis-Eye
How awesome is the Sgt. Hatred doll on a scale of 1 to 10?
Jackson Publick
Like an eight.
Mantis-Eye
An eight?
Jackson Publick
Okay, nine.
Mantis-Eye
What do you think is the best way to pose a complete Order of the Triad set?
Jackson Publick
I haven't checked the posability of their arms, but obviously the "Triad arm lock" is the way to go there.
Mantis-Eye
Which action figures should they battle?
Jackson Publick
Who, the Triad guys? I don't know... Micronauts? Like a dozen of 'em.
Mantis-Eye
You guys always seem to genuinely enjoy talking to people at signings...
Jackson Publick
It's true. We have cool fans, honestly. And it is just too fucking weird not to talk to people who wait in line to see you. It's actually way creepier to just sign your name a couple hundred times without looking up.
Mantis-Eye
Did you have any really memorable fan encounters this year or sign anything weird?
Jackson Publick
I signed a boob, but that's nothing new. I spent the entirety of both our signings in kind of a DayQuil haze, though, so I have very few memories. My friend's dad came by to say hi, that's about it. This year Adult Swim made really beautiful, gigantic prints of Patrick Leger's Venture Bros. illustrations from the Adult Swim issue of Juxtapoz that just came out. And they just gave 'em away free to fans who came to the signings. So that's what I remember most--signing these really cool looking posters and thinking "They'd better be sending me some of these" the whole time.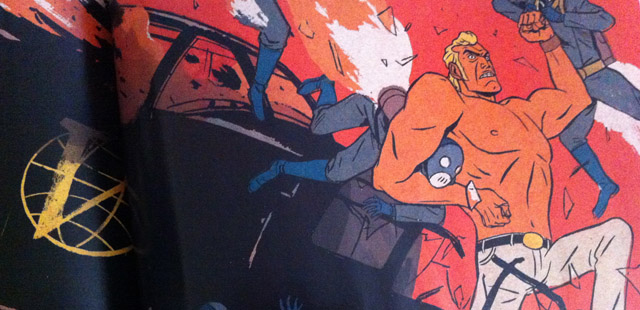 Mantis-Eye
Looking forward, any idea what fans attending Dragon*Con or New York Comic Con can expect to see at their panel?
Jackson Publick
I'm guessing we'll have some actual footage to show at Dragon*Con, even if it's only culled from one or two episodes of rough cuts. Hopefully we'll have even more by NYCC.
Mantis-Eye
That's it, I think. Anything else you want to add?
Jackson Publick
I guess just that we're kind of getting psyched for season 6 now, and the hour-long special we're planning to make that will bridge seasons 5 and 6. We're hoping to write the latter soon.
Also, just... say hi to everyone for us.
Mantis-Eye
Thanks, Jackson!