Latest News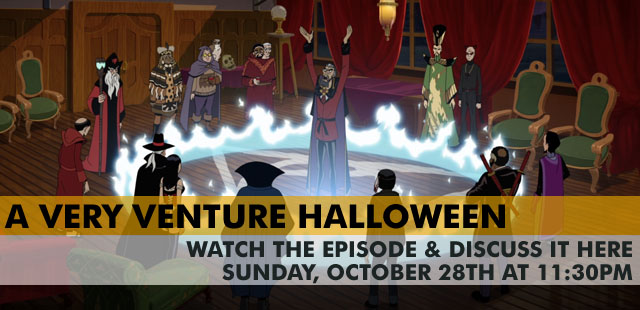 Here's your discussion thread for
"A Very Venture Halloween"
! For the uninitiated this is a place you can pop in to talk about the episode either while it's airing or after it's aired. You should note that there will probably be spoilers in the comments, so if you're not into that sort of thing you should probably stay out until you've seen it. As always, please respect your fellow
Venture Bros.
fans and enjoy! Don't forget to rate the episode after you've seen it (on the capsule page) and if you haven't you should also
enter the Mantis-Eye Halloween giveaway
. Have fun, and don't eat too much candy!
Update:
If you missed the episode and have access to watch Adult Swim Gold episodes (generally if you pay for some sort of cable or satellite TV)
"A Very Venture Halloween" is up on Adult Swim Video
. No word yet on when it will be up as a non-Gold video, but probably next weekend.