Second Interview with Bif Bang Pow!'s Jason Lenzi

The gap in the middle of season four may be forever remembered as the time Venture Bros. toys were finally announced followed by a subsequent outcry. Styled after Mego figures of the 70s and 80s, these new Venture Bros. figures have polarized fans on this site and others. While there are a number of people who are excited about them, the detractors have been rather loud since the prototypes debuted at Toy Fair last month.
I had considered asking Bif Bang Pow! co-founder Jason Lenzi some more specific questions about the figures, but I decided it would end up being too negative of an interview. So you can imagine my surprise when he actually reached out to me. His main concern is with the unrest with many fans, which is certainly understandable since some of the comments can be pretty harsh. Jason informed me that he was willing to talk about the most common issues and complaints and would do his best to shed some light on the situation. So here you go, straight from the source.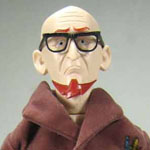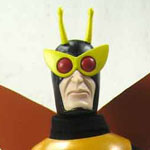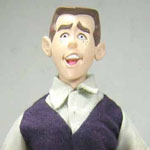 Mantis-Eye:
So first and foremost, what was behind the decision to build these figures in the style of the old Mego figures?
Jason Lenzi:
Without making it too long of a story, for a while back in 2009 I toyed with the idea of making a retro/Mego-esque figure of 'Flash Gordon' from the 1980 film, since we still had the license to work with and that film was the one license we had that was out when Mego was alive and well. Around the same time, we were working on acquiring the 'Venture' license. When I met Jackson down at SDCC '09 for the first time, he really loved our merchandise, and commented on the 'Lebowski' figures we did, and their cloth outfits. I'm not sure, but I think I first suggested going retro with 'Venture', as it just seemed to "fit" the show and had, of course, already been referenced in episodes. I didn't know it at the time, but Jackson's a Mego fan himself, and he agreed right away that that would be a cool way to go with these. He definitely wanted to do something special with the property, and not do what everyone else was doing or might expect.
Mantis-Eye:
Were more traditional figures or statues ever considered, or could we possibly see some in the future?
Jason Lenzi:
Yes, they were briefly considered, and we definitely want to do other types of figures if these take off and are successful.
Mantis-Eye:
How difficult is it to take characters that are designed and animated in 2D and making them into 3D representations?
Jason Lenzi:
Well, it depends. One of the things we immediately had to consider with this license was articulation. Yes, there certainly have been other 2D properties successfully translated into action figure form, but not many I can think of that had significant articulation as well (Toynami's stuff comes to mind). This is always a bone of contention for people, and we also knew it'd be very hard to pull off much poseability with some of these characters if they'd been made as traditional seven inch figures. With the retro style, presto! Pose all ya want!
Mantis-Eye:
Obviously there have been a ton of very vocal complainers on the internet. Are you reading all of that, and are you taking any of those grievances into consideration?
Jason Lenzi:
No, I can't read all of it, but I have read quite a bit. And to clarify, I wouldn't say it's been a 'ton', but what there is been has been passionate! But truthfully, all told, we're looking at a few dozen complaints, and we're looking to sell thousands of figures. Generally, folks are less vocal about praise when giving feedback anyway. Also, this isn't our first license, so I have a pretty thick skin and don't get too hung up on it. Part of me wants to jump on all the boards and explain everything to everyone, but that's just not possible. The things I always have to remember are: a) not everyone's gonna love us, b) not everyone will have the faintest idea of how this whole process works from licensing and prototyping to manufacture and cost, and c) always have faith in your convictions. In the end, I know how cool these are gonna be, and the overwhelming majority of feedback has been the same.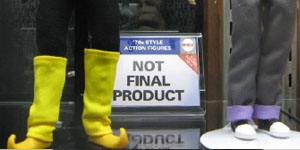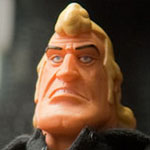 Mantis-Eye:
So those complaints aside, what's the reaction been like outside of that? What did people at Toy Fair think of them? How is the pre-order going so far?
Jason Lenzi:
One of the things we kept hearing from people at toy fair was, once again, it was the same old same old. All the same licenses, all riffs on the same types of items. But with Bif Bang Pow! going retro with all of our licenses for 2010, people found it hugely refreshing to see our stuff. Especially 'Twilight Zone' and 'Venture Bros.'. Pre-orders have been amazing so far, and several major retailers want all of our lines. To put it in simpler terms, we already have 'Venture Bros.' wave 2 in the works!
Mantis-Eye:
You guys have said time and time again that these are prototypes and not the final products. Can you give any info about what may or may not be changing and what's final?
Jason Lenzi:
Without giving too much away, just about everything is changing. Between our eyes, Jackson and Doc's, and the network itself, believe me, we're catching everything. To be frank we're all very pleased with our sculpts, Jackson especially, so there will be minor tweaks here and there to the heads. But the outfits and accessories are all going to change: materials, colors, lengths, tightness, etc, etc, etc. Not to beat the proverbial dead horse, but people need to understand that we (again, that's all of us involved in this process) very much wanted to have physical specimens to show in time for NY Toy Fair, to show to the world, fans, and retailers. It's always better than not having anything at all. We felt the figures were good enough to show, to get the idea across, and get the buzz going, and pre orders started. Mission accomplished.
And just for the record, there were a couple of prototypes from a different license that I didn't want to show as I felt they weren't up to scratch. We felt comfortable enough with what we brought to have it on display, knowing the toy world would understand they were works in progress.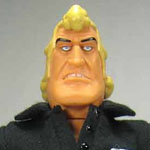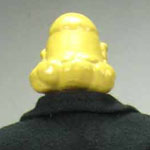 Mantis-Eye:
The most complained about figure is easily Brock. The most common ones seem to be that his clothes are too baggy, he's too short and his chin is too large. Anything you can say about those things? The height one certainly holds some water since Brock generally towers over every other character in the show, but keeping everything to scale doesn't seem like it'd be too much of a priority with these kinds of figures.
Jason Lenzi:
Again, where absolute accuracy is concerned with these, we're most concerned with head sculpts and clothing. I don't want to say too much right now, but Brock is changing significantly, body wise. The body shown at Toy Fair was never, ever considered for the final product. It was just to give a taste. So, back to scale. These are retro. No one complains too much that Superman and Lex Luthor are the same height in the new Mattel DC wave, and I haven't heard any grumbles about Checkov and Spock being able to share wardrobes. The point is, where it's glaring, we will be playing with scale/weight/height with these. But that's about all I'll say on that subject. There are many, many licenses I can think of that don't adhere to strict height requirements, and they do just fine!
Mantis-Eye:
Hank and Dr. Girlfriend were mentioned in one of your press releases, will they be part of this initial wave or are you holding them back for later?
Jason Lenzi:
Coming up next!
Mantis-Eye:
Next as in yet to be revealed for this wave, or are they going to be in the next one?
Jason Lenzi:
No, they're not in this wave. Just what's been shown at Toy Fair.
Mantis-Eye:
Will updated versions of the figures be shown at any upcoming conventions?
Jason Lenzi:
Most likely nothing new will be shown prior to SDCC 2010, where it all comes to a head. The figures will be debuting there for purchase, prototypes of the next waves will be on display, and there may be an exclusive for the con as well.
Mantis-Eye:
Any other secrets yet to be revealed about these figures? Will they have kung-fu grip? What about accessories?
Jason Lenzi:
I don't want to give too much away just yet, but I can say that some characters will have accessories to hold, and some will just be part of the wardrobe. We're thinking of variant figures all of the time, with new sculpts and outfits, and are talking about possible retailer exclusives as well. At this stage 21 and 24 will possibly be retailer exclusives.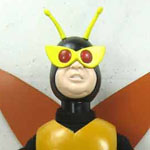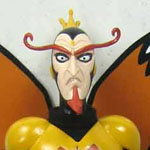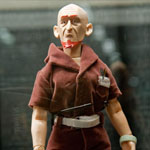 Mantis-Eye:
Do you have any ideas or designs for what the packaging will look like yet?
Jason Lenzi:
We're working closely with Jackson and Doc to make it special. We're going for an original design, that will be reminiscent of what would've been on the shelves back in the late 70's-early 80's. The rest of our licenses' packaging may be a bit more conventional, but when it comes to 'Flash Gordon' and 'Venture Bros.', I've always felt strongly that these should look like something from back in the day.
Mantis-Eye:
Anything else you want to add that I might have missed? This is your space to be as open as you like
Jason Lenzi:
Well, I guess just that I'd like folks to understand that we appreciate the passion, whether it's pro or con. At the end of the day, we could have made these statue-like with no articulation, we could have made them 'Marvel Legends' style with 34 points of articulation, we could have gone the 3 3/4" route, we could have done what we did. Regardless, some people just weren't gonna be happy. There are loads of reasons why we felt this was the way to go for 'Venture', and sure, some involved production headaches and costs, but we mainly did it because we're huge fans and thought it would totally fit with the world the characters inhabit.
We do all of this because we love toys, and we love the properties we've chosen, and as fans, selfishly, we want cool items to go on our shelves. We hope everyone that feels the same will jump on board and support the lines. And if you don't, well, hopefully there'll be something we'll make in the next few years' time that you will love, and if that happens, be sure to get yer laptops out and blog about it! Thank you and goodnight!
Many thanks again to Jason for answering these and offering his services. If you haven't already you can check out BigBangPow!'s website and their Entertainment Earth Online Store where you can currently pre-order Brock with Dr. Venture and The Monarch with Dean if you like. Figures are slated to hit shelves in August and bobbleheads sometime before then.
Super thanks to Mego Museum for most of these photos, which you can find larger versions of on their website.
This is also the second interview I have done with Jason, the first done back in January so if you want to check out that one, feel free.