Interview with Bif Bang Pow!'s Jason Lenzi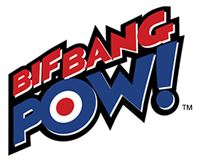 Founded in 2005, Bif Bang Pow! was started by Jason Labowitz and Jason Lenzi with the goal of providing high quality toys and collectibles to cult audiences. Basically to just make stuff that they thought was really cool. Since then they have secured a number of television and movie licenses such as The Big Lebowski, Lost, Flash Gordon (with help from Alex Ross), Dexter and The Twilight Zone.
Meanwhile Venture Bros. fans' desire for Venture-related toys had gone unrequited for a very long time. So it goes without saying that Bif Bang Pow! seems like the perfect toy maker to put together a line of action figures centered around the show. Bif Bang Pow! didn't even exist when the first season of the show aired. That's how long its been.
Following the announcement that BBP! would be releasing a line of Venture Bros. toys and bobble heads I contacted co-founder Jason Lenzi with a couple of questions pertaining to all this.
Mantis-Eye:
So the first question is one you probably can't answer but it's the one everyone wants to know. Can you say which figures are planned? We already know The Monarch, Brock, Dr. Venture, Hank & Dean as mentioned in the press release, but what other major characters will be coming out? If you can't answer can we get some kind of ballpark as to how many are planned?
Jason Lenzi:
Well, this is a simple answer, and I'm not being evasive. As anyone in the toy world will tell you, it's all about demand. Simply put, if the demand is there, pre-orders, etc., we want to make as many characters as we can!
Mantis-Eye:
How will everything be set up? Will there be multiple figures per package?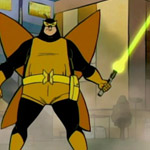 Jason Lenzi:
Individual figures with possible sets or two packs.
Mantis-Eye:
Will they come with accessories?
Jason Lenzi:
They will come with accessories, yes.
Mantis-Eye:
How big will they be? Are you shooting for the standard seven or so inches or will they be bigger?
Jason Lenzi:
No details yet.
Mantis-Eye:
Many of your current figures are very classically designed in that they're not dramatically posed or anything, just cool looking figures with the standard points of articulation. Is that the plan for the Venture Bros. ones as well?
Jason Lenzi:
We're looking at more articulation.
Mantis-Eye:
Will there be multiple series or runs? Like maybe we get the main characters out of the way the first couple of series and then we get some really obscure guys like Dr. Dugong or something.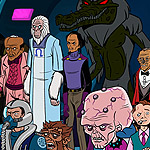 Jason Lenzi:
This is sort of what might happen. Again, demand permitting, we could do main characters and assortments will be sprinkled with more obscure characters.
Mantis-Eye:
Your press release mentions that Jackson Publick was involved, what was the extent of his involvement? Was he super involved or more just kind of gave you some direction and character models and let you take it.
Jason Lenzi:
We're in contact throughout this whole process. Definitely not a case of leaving an envelope on the door step and moving along. He and I are discussing packaging design as we speak!
Mantis-Eye:
What exactly goes into creating one of these figures? How long is the process and what sort of stuff is involved?
Jason Lenzi:
Wow, this is a loooong answer! Suffice to say, being obsessive helps, and staying on top of all parties involved as well. From everyone signing off on a prototype to store shelves can sometimes be five to six months.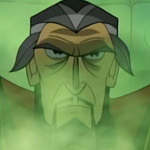 Mantis-Eye:
Was this all planned to coincide with the airing of season four or did it just kind of happen?
Jason Lenzi:
I'd say it just sort of happened. But not without all tie-in opportunities thought of as well!
Mantis-Eye:
Who is your favorite Venture Bros. character?
Jason Lenzi:
I have to say, I've joked about it already, but I love Bowie, Eno and the 'Art of Noise' girl. But am extremely partial to Orpheus. He never fails to make me laugh out loud.
Mantis-Eye:
I'm pretty impressed with the level of detail in the Lost bobble heads, so are you shooting for a similar kind of style with the Venture Bros ones?
Jason Lenzi:
Well, yes and no. I mean, we're going to make them accurate depictions of animated characters, but we're not going for portrait style sculpts, if that's what you mean.
Mantis-Eye:
How popular are your bobble heads anyway? I have seen a few fans who are really excited about the figures but not so much on the bobble heads. They seem almost like a different demographic thing, like maybe older fans would enjoy a bobble head more or something like that. I could just be making that up though.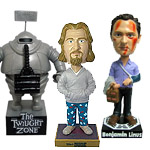 Jason Lenzi:
Not necessarily, but you're close. It really varies from property to property. But there are several interesting points I can make. One, people seem to love our bobble heads across the board. If someone is buying 'Dexter', they're picking up 'Twilight Zone' characters as well. Also, they're a great way to get something to market fairly quickly, whilst we iron out details on the figures. Lastly, remember, not everyone that digs certain properties collects action figures. Some folks feel more comfortable with a bobble head of 'The Dude' on their desk at work rather than his action figure.
Mantis-Eye:
How has fan reaction been for you? You've basically made the dreams of the last five years come true for fans of the show, which is pretty cool.
Jason Lenzi:
Aw man, that's so cool to hear. Well, I'm a fan myself, and this has been a labor of love already. Fan response has been tremendous, and we really are doing this with them in mind. Also, creatively, working with Jackson is a unique opportunity to make something extra special, coming right from the source.
Many thanks to Jason for taking time out of his busy schedule to answer these questions. You can check out Bif Bang Pow!'s website or stop by their Entertainment Earth store if you'd like to take a look at some of their products. Venture Bros. bobbleheads are slated for release in spring with the action figures to follow in the summer. There will be more info on the site in the future, and possible debuts at the upcoming Toy Fair in New York this February, so stay tuned!