SuperJail Season Two Premiere Giveaway!
With the premiere of SuperJail! season two this Sunday (Apirl 3rd) we here at The Mantis-Eye Experiment have decided to give away a copy of the season one DVD to one lucky reader. There's no catch for entering, just enter your name and email address and wait for me to contact you (or to not since it's highly probably you won't win)! This is a region one DVD, so keep that in mind if you are outside the US/Canada.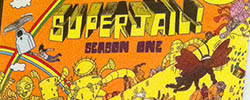 Sorry, this giveaway has ended!
Contest rules and legal-ish mumbo-jumbo:
Participants will be chosen at random from a list of entrants. Users who enter multiple times will not increase their chances of being picked and only their most recent entry will count.


In the event that the winner refuses or cannot be contacted then another winner will be selected at random and so on until a legitimate winner is selected. The selected winner will have seven days to respond via email before they are passed over.


Once I mail the prize it's out of my hands. So if it gets lost in the mail or damaged there's nothing I can do about it, sadly. No replacements will be issued. It's never happened before (as far as I know) so I'm sure this won't be an issue, but just in case I'm putting this here.


No prize substitutions will be made. The prize is as described and pictured and in brand new condition as best as I can tell. Non-US/Canada residents should note that this is a region one DVD, so take that into consideration in case you are unable to play it.


By submitting the form on this page you acknowledge that you have actually read and more importantly that you agree to these rules (especially the last one).


I reserve the right to change rules or make up new ones as I see fit at any time. I probably won't do that but just in case now I have all my bases covered.