Season 4.2 DVD and Complete Season 4 Blu-Ray Giveaway
Welcome to the latest installment of the Mantis-Eye episode-on-disc giveaway! As has been the tradition you need to answer fifteen questions relating to the second half of season four ('the back eight' if you prefer) with as much accuracy as possible for a chance to win. This giveaway is special because you can pick the prize you want: either the Season Four, Volume Two DVD or the Complete Season Four Blu-Ray. And yes, even though the Blu-Ray contains all of season four you only need to answer questions about the last eight episodes.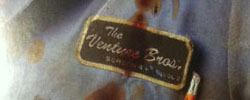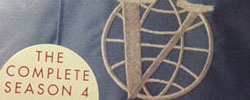 As always there are some rules below the questions, and you ought to read them if you want to be well-informed but I'll summarize anyway. The contest is open until noon eastern time on April 8, 2011. You can enter multiple times but only your last entry will be accepted (as well as the prize associated with that entry). If you win you have seven days to get back to me before I select a new winner. Have fun, and remember the answers should be discoverable on this site, so if you aren't sure of one just poke around. There's no reward for rushing it!
The Quiz!
1) How much did the Conjecturecycle cost?
$5 million
$10 million
$12 million
$15 million

2) Which of these is not one of the newer, more evil names Professor Impossible suggests for himself?
Professor Incorrigible
Professor Inscrutable
Professor Injurious
Professor Indolent

3) Which character made a triumphant return this season after not being seen since season one?
Phantom Limb
Scott Hall/Henchman 1
Jonas Venture Jr.
Girly Mags Scientist

4) How has Dermott been able to enter the Venture Compound with ease all this time?
He had a key.
Through a gap in the security coverage.
The alarm system doesn't actually work.
He knows the keycode.

5) Which is not a feature (or potential feature) of Dr. Venture's musical, "Rust"?
Songs arranged by Pete
Written in one night
Actors on rollerskates
Lead actor also a super hero

6) Who is not in Rusty's 'spank bank' (contained within his id)?
Stripper from Nightin' Ales
Dr. Quymn
Molotov
Sally Impossible

7) What activity is legal per the laws of Spider-Skull Island?
Drinking alcohol
Driving while on a cell phone
Gay marriage
Smoking in bars and restaraunts

8) Based on changes to his tatoo (as discussed in
"Operation P.R.O.M."
) what should Sgt. Hatred's name be now?
Sgt. V
Sgt. VD
Sgt. Vat
Sgt. Vatred

9) In that same episode Hunter reveals where some of SPHINX's funding comes from. What is the source of funding?
Secretly funded by Monstroso
Various accounting tricks let them run tax-free
Paid for by an anonymous donation
Stolen from OSI's slush fund

10) What 70s - 80s television character apparently can not be purchased in robot butler form?
Dave Starsky from Starsky and Hutch
James Crockett from Miami Vice
David Bruce Banner from The Incredible Hulk
Jason Lochinvar McCabe from Jake and the Fatman

11) What profession is not on Dean's list of career choices?
Husband
Boy Detective
Boy Adventurer
Boy Reporter

12) Which Brock-ism wasn't used during this season?
Brock-block
Brockodile Dundee
Brock Lobster
Brock Ness Monster

13) Who is U.S. Steel's sidekick?
Ghost Robot
Scorpio
Truckulese
Wonderboy

14) Which item isn't contained within Dr. Venture's box of prized posessions?
A Rush cassette
Signed picture of Lonnie Anderson
An old headshot
College diploma

15) Services offered by HankCo include all of which of the following:
tailoring, men's shoes, banking
puppet repair, travel agent, massage
notary public, private detective, mechanic
electronics, pharmacy, school supplies

Sorry, the contest has ended! The winners will be announced shortly, so keep and eye out!
Contest rules and legal mumbo-jumbo:
You can enter as many times as you want, but only your last entry will be accepted.


You have to answer all the questions right to have a chance to win. In the event that nobody answers them all correctly then the people with the highest score will be entered in the final drawing. If only one person gets the highest number of correct answers then he will automatically come in first.


The final drawing for each prize will be comprised of all eligible participants (those with the most right number of answers) who selected one of the two prizes. One winner will then be selected at random from each prize pool.


In the event that the first place winner refuses or isn't able to be contacted then a new person from the corresponding winners prize pool will be picked. If there are no more people in the winners pool then the person with the second highest score will become the winner and the process will repeat until someone finally wins.


The DVD is region one, so if you live outside the US or Canada you probably won't be able to watch it unless you have a region-free player. You can of course still enter if you are outside the US/Canada, but I make no guarantee that you can watch the DVD. The Blu-Ray should be region-free but I make no guarentees.


No prize substitutions will be made. I can't swap it out for anything else and I can't switch you to the other prize pool after you have been picked. The item you receive should be unopened so at the very lest you might be able to get store credit for them at Best Buy or something maybe (not that I condone that or anything).


You must enter a valid e-mail address. When I pick the winner I'm going to e-mail them and if the e-mail bounces I'm going to pick a new winner. You should also enter a name of some kind because if you don't I'm just going to make up a name for you and it might not be nice!


The cutoff for entering is noon (EST) April 4th, 2011. After that you can't submit any more entries and if any are submitted after that time they will not be accepted. The winner will be picked and answers will be posted shortly after that.


Once I mail the prize it's out of my hands. So if it gets lost in the mail or damaged there's nothing I can do about it. Sorry, no replacements will be issued. It's never been a problem before so I'm sure this won't be an issue, but just in case.


By entering this contest you acknowledge that your e-mail address and name will be stored in a database for future reference. I will not sell or give out or use your e-mail and name for anything outside the scope of this contest (which is limited to contacting you if you win). You'll also have to supply a mailing address via email so I have a place to send it to, but that will not be stored by the site.


By clicking the submit button you acknowledge that you have actually read and agree to these rules. Also I reserve the right to change rules or make up new ones as I see fit (aside from the one about selling your email, which will not change), though I probably won't do that, but just so I have all my bases covered. You know how it is.