San Diego Comic-Con 2010 Giveaway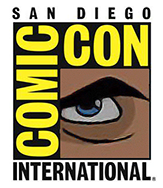 Every year San Diego Comic-Con comes and goes, and every year people report on what happens there and post photos and that sort of thing. Also every year I can't make it, which is lame because the Venture Bros. panels always seem pretty great. This year is no different really, except I'm making it worthwhile for people not attending!
Michael Borkowski is a storyboard artist for the Venture Bros. (as well as a few other shows, plus other art-related stuff; check out his site) and every day he draws a warm-up sketch and posts it on his Twitter. He recently released a book of his 24 favorite sketches and for those who order he will also draw basically whatever you want on the very last page of the book. So in my possession are four of his sketchbooks complete with Venture Bros. characters sketched into each one! Pretty awesome, right? Here are the sketches (click to see a bigger size):
SELECTED!
SELECTED!
SELECTED!
SELECTED!
Book #28/500
The Monarch
Book #29/500
Brock Samson
Book #30/500
Dr. Orpheus
Book #31/500
Dr. Venture
Entering is totally simple as well, just fill out the form below and you'll be entered! There will be a new drawing for each day of the convention (starting Thursday), so you only have to enter once and you'll be entered for every drawing that occurs after you enter. If you enter multiple times you'll only be counted once (the most recent one, in case you entered your email wrong or something), so no cheating! Also only people not attending Comic-Con are eligible! This one's for everyone who couldn't make it. The winner will get to pick which sketchbook they want, so obviously if you win on the last day you're stuck with whatever's left.
Sorry, this giveaway has ended!
Contest rules and legal-ish mumbo-jumbo:
Participants will be chosen at random from a list of entrants. Every non-winner is eligible for all drawings subsequent to their time of entry, one per day for the duration of Comic-Con 2010 (July 22nd through July 25th). Users who enter multiple times will not increase their chances of being picked and only their most recent entry will count.


In the event that the winner refuses or cannot be contacted then another winner will be selected at random and so on until a legitimate winner is selected. Each winner will have three days to respond via email before they are passed over.


Participants will select their prize based on the prizes that have not been selected yet. If, at the time of a drawing the previous winner (or winners) has not selected their prize then the newest winner will be asked to make multiple choices (in order) in case the previous winner(s) selects their preferred sketch. If the previous winner does not respond in the allotted three-day period then each winner will be moved up one slot and an additional winner will be selected. This process will continue until all prizes are spoken for.


Participants are only eligible to win, at most, one prize for the duration of this contest. If your name is selected you become ineligible for further drawings, even if you fail to respond or you refuse a prize.


People attending San Diego Comic-Con are asked not to enter! This contest is for all the sad people who can't make it to Comic-Con (like myself) but still want a cool comic-y prize. Now of course there's no way for me to be 100% certain if you are attending Comic-Con, so we are going with the honor system here. Entrants who answer 'yes' to the question will not be eligible to win. Seriously.


Once I mail the prizes it's out of my hands. So if it gets lost in the mail or damaged there's nothing I can do about it, sadly. No replacements will be issued. It's never happened before (as far as I know) so I'm sure this won't be an issue, but just in case I'm putting this here. On top of that no prize substitutions will be made. Prizes are as described and pictured and in brand new condition as best as I can tell.


This contest and the Mantis-Eye Experiment have no official association or affiliation with Comic-Con, Michael Borkowski, Adult Swim, Cartoon Network etc etc (basically nobody) and make no claims on behalf of any entities of the non-Mantis-Eye persuasion. However I did tell Mr. Borkowski what I was up to when I purchased the books and he thought it was a pretty good idea so I guess he's cool with it. Comic-Con logo used under fair use license and is in no sanctioned or approved by Comic-Con and related entities.


By submitting the form on this page you acknowledge that you have actually read and more importantly that you agree to these rules (especially the last one).


I reserve the right to change rules or make up new ones as I see fit at any time. I probably won't do that but just in case now I have all my bases covered.