Henchman 24 Memorial Shirt Win-o-rama
Welcome to the Mantis-Eye Experiment Henchman 24 Memorial Shirt Win-o-rama contest! With the end of season three, Henchman 24 met his unfortunate demise. One lucky person will win their very own
Henchman 24 memorial t-shirt
!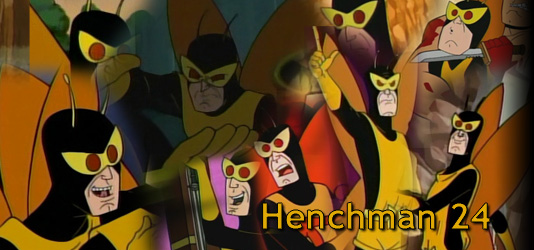 So what do you have to do to win? Simple! Create your very own 24 memorial. It can be anything. Write a poem, sing a song, draw a picture, photoshop something! Anything! As long as it has something to do with 24 you can use it to enter this contest. Be creative! If you can't draw or write, I dunno, bake a pizza that looks like 24's head and take a picture of it. Literally anything, even if it's totally retarded. Well okay, nothing gross. I don't want to see any pictures of 21 and 24 having sex (with each other or anyone else). Keep that shit to yourself!
Simply fill out the form below (so I can order your t-shirt and have it shipped to you). For the 'entry' field you can put your entry (if it's text-only) or a link to your entry if it's anything else. If you need a place to upload your file you can use
YouSendIt
for files and
ImageShack
or
tinypic
for images (or whatever your hosting thingy of choice may be). Feel free to
contact me
if you have any issues.
Also be sure to read the rules below for boring but important stuff on the contest.
Sorry, the contest has ended! You can
check out the winner as well as all the entries
though.
Contest rules:
You can enter as many times as you want. Make sure to enter the same info if you enter multiple times (or include each thing in the same entry) because if you change something or leave something out or typo something I'll probably skip you.


Contest ends at 6pm EST (3pm PST) on Saturday, August 30th . I realize that's not much time but I need some time between the end of the contest and when I place the order to judge some things.


Make sure all the info you enter is correct. If you enter a small and need a large you will sadly get a small in the mail. If you think you entered the wrong size or address you can let me know as soon as you can (if I have already ordered your shirt you are probably screwed though). Also be sure to enter a valid e-mail address so I can contact if you win or if there's an issue with your entry (like a mistyped link or something).


Once the contest ends I'll e-mail the winner and let them know. The winner will be picked by me based on what I think is awesome (and I might ask a couple people).


Your creation is your own thing and I don't claim any rights over it, however if you win it will be posted on the main page and by entering the contest you give me permission to post it. Also since you're making unlicensed stuff based on copyrighted characters there's no selling of it going on, either by you or me (not that either of us would do that), so you agree to provide it free of charge to everyone on the internet. Or at least the people who read this site. Feel free to post it in the site comments prior to the judging.


Sadly once the shirt has been shipped it's no longer in my hands. So if it gets lost in the mail that sucks a whole lot but there's not much I can do about it, especially since I am not even shipping it (you might try bugging the Shirt Club guys via e-mail though to see if they can help).


I realize you have to submit personal information to me, but I promise I won't be selling it or giving it out or doing much of anything with it really. I wouldn't even know who to sell it to even if I wanted. At any rate, your personal info (address and e-mail) are safe! However, if you are uncomfortable with submitting those, uh, too bad. The only other option is to not enter the contest.


By clicking the submit button you acknowledge that you have actually read and agree to these rules. If you don't like them then don't submit. Also I reserve the right to change rules or make up new ones as I see fit. Just so I have all my bases covered.