Five Years: The Penultimate Giveaway
With the Five Years of Mantis-Eye/Season Four bonanza coming to a close I felt there needed to be a super great prize for the season finale. What's the super greatest prize I can think of? How about DVDs signed by Venture Bros. creators Jackson Publick and Doc Hammer?
There are four totally awesome prizes, seasons one through three on DVD and season three on Blu-Ray, all graciously signed by Jackson and Doc, signature guaranteed! They might even still smell a little like the AstroBase since they were sitting there for a couple of weeks.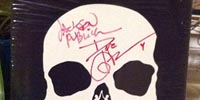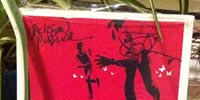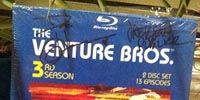 Of course with prize-ante being upped you're going to have to work for them a little. Kind of. I've scoured the internet for photos of our heroes and now you get to make them say something funny, or at the very least attempt it. Be sure to read the contest rules and submission guidelines!
The complete contest rules are below in the fine print, but in a nutshell the four winners will be picked as such: the two highest scores as voted by you guys, my favorite, and the final will be totally random (so even non-funny people have a chance to win!) Winners will be emailed in that order and will get to select one of the prizes. All entries made before the cutoff date at 11:59pm pacific time on November 25th will be considered!
Let's Make Some Magic! (Instructions)
Simply select a photo, enter your name and email and add your own (hopefully) hilarious text. For images with multiple text boxes you have to fill in at least one of them. The text input will also more or less mimic the display of the comic, so when it cuts you off it will probably start to look bad in the image. Once you're done just click the huge 'Create!' button and you're on your way. Once generated if it's messed up or you spelled something wrong you'll have an opportunity to remove it and make a new one. Making comics has never been so easy, or so creatively limiting!
(Potentially) Hilarious Gallery of Images
Here's where you can view the gallery of what people have made. Click on each tab to view random, most recent and top picks. You can click on the random tab again to refresh it and see a different set.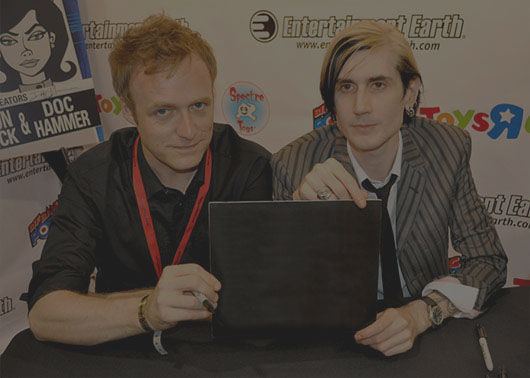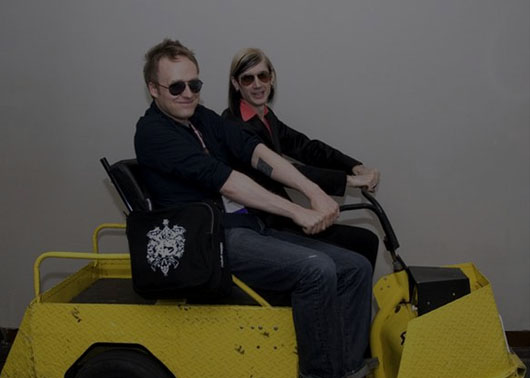 Content Submission Guidelines:
Don't be a jerk! Any comics considered offensive in any way (at the discretion of The Mantis-Eye Experiment) will be removed. You're allowed to curse, but no racism, bigotry or anything along those lines.


Don't abuse the 'report offensive' functionality! Only report comics that you are actually offended by, not comics you feel aren't funny or ones that are bad or have spelling errors or something like that.


In creating a comic (hitting submit) you agree to relinquish all intellectual property rights dealing with said comic to the Mantis-Eye Experiment which will make said content available via Creative Commons Attribution 3.0 Unported license. Basically you give me the right to store and display your content and other users may share (copy/distribute) and adapt/modify your work under the condition that they credit you (the original author) if they do distribute and/or modify it.


The views potentially expressed in these comics are not at all endorsed or otherwise supported by The Mantis-Eye Experiment and are the works of individuals submitting to an automated system. So if you see something awful, uh, sorry!


By clicking the submit button you acknowledge that you have actually read and agree to the rules outlined above. I also reserve the right to change them if necessary, but that won't happen (but just in case).


Contest Rules and Legal-ish Mumbo-Jumbo:
You can enter as many times as you want, but your chances of winning will not be increased. The random winner will be selected from a pool of unique entrants, so multiple entries will neither help nor hurt your chances for that drawing.


Four winners will be selected with the following criteria: The first two (2) winners will be picked based on votes recieved from other users and must be two unique users (so if the same person has the top two spots they will win once and third place will win the second spot). Note that scores are weighted based on age of entry, how many votes you have and some other factors, though this is not reflected on the page. If vote tampering is suspected then votes will be adjusted accordingly. The third winner will be selected via a staff pick, selected by Mike. The first two winners are not elegible for this selection. The final winner will be selected from a pool of remaining entries with the first three winners excluded.


In the event that a winner refuses or cannot be contacted then another winner will be selected at random and so on until a legitimate winner is picked. Each winner will have three (3) days to respond before they are passed on (non-reply within three days is considered refusal). If their email is invalid or bounces for any reason then they will be passed on immediately. If one of the first two winners refuses or cannot be contacted then the next highest score will become a winner and so on. If the staff selection refuses/etc then a new one will be picked. Random winners will be picked until an entrant accepts.


No prize substitutions will be made. Prizes are as described and in new condition as best as I can tell. Since they are signed by Jackson & Doc the plastic has been peeled back from a portion of the packaging. If there is something wrong with your prize when you get it there's nothing I can do about that, sorry.


This giveaway will include entries from contest start on November 19th until midnight pacific time on November 25th. Entries will be accepted after the cutoff point but will not be considered for a ny of the drawings.


Once I mail the prizes it's out of my hands. So if it gets lost in the mail or damaged at any point there's nothing I can do about it. Super sorry, but no replacements will be issued. It's never happened before (as far as I know) so I'm sure this won't be a problem.


By entering this contest you acknowledge that your e-mail address and name will be stored in a database for future reference. I have a lot of respect for privacy and I hate spam, so I will not sell or give out or otherwise use your e-mail and/or name for anything outside the scope of this contest (which is pretty much limited to contacting you if you win). You'll also have to supply a mailing address via email so I have a place to send it to, but that will not be stored in the site's database and I will also not use that for anything aside from mailing you the prize.


By clicking the submit button you acknowledge that you have actually read and agree to these rules. Also I reserve the right to change rules or make up new ones as I see fit, though I probably won't do that, but you know how these things are.


Photo Credits/Sources: Venture Bros. Blog, Doc Hammer, (oh crap I forgot where I got the third one!), Geeks of Doom