Five Years: Happy Holidays Mini Giveaways
Welcome to the Mantis-Eye Five Years Holidays Giveaways. Adult Swim was awesome enough to send me some random stuff to give away, and give it away I shall. What more could you want?

As always there's some fine print for you to check out below, but in summary each giveaway will last forty-eight hours. You can enter multiple times if you want but it won't help your chances. If you win you'll have seven days to get back to me with your address before I select a new winner. Have fun, these will be the easiest giveaways I've ever done!
Giveaway #7: Adult Swim Bag Thing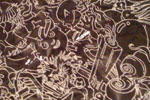 (click for bigger)
Here it is, the final thing in the holiday giveaways! Rather than go out with a bang I've decided to go more the sputter and die route, and thus we end with some kind of canvas bag with an assload of Adult Swim characters on it. It might also not be canvas, but it's certainly made of fabric. I don't think there are any Venture Bros. characters on there either but I didn't really check very closely.
Sorry, this givaway ended on January 1st, 2010 at 5pm eastern. Not only that but it was the last one! Sorry if you didn't win, better luck next time if there is one!
Giveaway #6: Adult Swim Shot Glass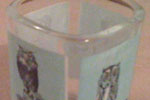 (click for bigger)
This is a crazy Adult Swim shot glass. It's got a bunch of owls on it and it's made of glass so as to properly hold your liquor or other beverage if you don't drink. Also you could probably smash it into a guy's face during a drunken bar brawl and do some damage, though the Mantis-Eye Experiment does not advocate such an action nor assumes any responsibility for such actions should you choose to do so.
Sorry, this givaway ended on December 29th, 2009 at 5pm eastern. The giveaways aren't quite done yet though, so stay tuned!
Giveaway #5: Brock Samson Baseball Tee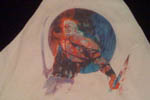 (click for bigger)
It's just like the shirt on the Adult Swim store because it is the shirt in the Adult Swim store! It's sized medium and features Bill Sienkiewicz's amazing artwork of Brock featured in the season one DVD! It's a 'baseball tee', which means something I'm sure but it's mostly awesome because of the picture. Note that these run a tad small as I'm normally a medium but this is a bit snug on me.
Sorry, this givaway ended on December 24th, 2009 at 7pm eastern. There's more stuff to be gotten though, so keep checking back!
Giveaway #4: Soundtrack Vinyl LP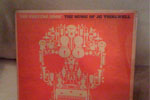 (click for bigger)
It's the soundtrack on vinyl. It's kind of like a big CD that you probably can't use. Even so, it's pretty cool to have one, plus you get a bigger version of the art compared to the CD. Oh also you get fewer tracks because I guess LPs can't hold as many songs as a CD. However you can download those songs for free (via instructions I can only assume are within) and everyone will be happy.
Sorry, this givaway ended on December 20th, 2009 at 2pm eastern. There's more stuff to be gotten though, so keep checking back!
Giveaway #3: Adult Swim Waffle Shirt!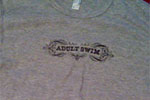 (click for bigger)
This latest giveaway is for an Adult Swim waffle shirt. If you don't know what a waffle shirt is, it's kind of like long underwear, but thinner. Don't expect this to keep you warm unless you live in Hawaii. It's light grey and from American Apparel. It has that old timey Adult Swim logo on their site on the chest in black and most importantly all you medium people it is sized M. Rejoice!
Sorry, this givaway ended on December 17th, 2009 at 12pm (noon) eastern. There's more stuff to be gotten though, so keep checking back!
Giveaway #2: Monarch T-Shirt!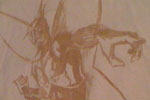 (click for bigger)
This giveaway is for a Monarch sketch t-shirt. This is the same art style as the season two DVD box art drawn by Jackson Publick. The shirt is what I might consider cream colored or even kind of off-yellow. The Monarch is silkscreened on there in gold and he's kind of hard to see in the photo because the colors are similar but trust me, he's there! The shirt is American Apparel, size L.
Sorry, this givaway ended on December 14th, 2009 at 10pm eastern. Don't worry, there are still more to come, so keep checking back!
Giveaway #1: T-Shirt!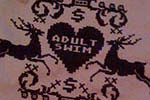 (click for bigger)
You are entering to win an Adult Swim branded t-shirt. It's a grey (maybe slate?) American Apparel t-shirt, size XL. I know it looks kind of pink-ish in the picture but that's because I used my iPhone camera and the lighting was bad, but trust me it's grey. It's got a sort of pixel art Adult Swim logo inside a heart and there are reindeers and other stuff. It's good quality and very simple.
Sorry, this givaway ended on December 12th, 2009 at 2pm eastern. Don't worry, there will be others! Keep checking back!
Contest rules and legal-ish mumbo-jumbo:
You can enter as many times as you want, but your chances of winning will not be increased.


The final drawing will be comprised of all eligible entrants with one winner selected at random.


In the event that the winner refuses or isn't able to be contacted then another winner will be selected at random and so on until a legitimate winner is selected. Each winner will have seven days to respond before they are passed on, and if their email is invalid (bounces) they will be passed on immediately.


No prize substitutions will be made. Prizes are as described and in brand new condition as best as I can tell. If there is something wrong with your prize there's nothing I can do about that, sorry.


Each giveaway on this page will last forty-eight (48) hours and will be designated. Entries submitted after the cutoff period will not be accepted. When a new giveaway starts you must re-enter if you want a chance to win as entries from a previous giveaway will be tossed out.


Once I mail the prizes it's out of my hands. So if it gets lost in the mail or damaged there's nothing I can do about it, sadly. No replacements will be issued. It's never happened before so I'm sure this won't be an issue, but just in case.


By entering this contest you acknowledge that your e-mail address and name will be stored in a database for future reference. I have a lot of respect for privacy and I hate spam, so I will not sell or give out or otherwise use your e-mail and/or name for anything outside the scope of this contest (which is limited to contacting you if you win). You'll also have to supply a mailing address via email so I have a place to send it to, but that will not be stored in the site's database.


By clicking the submit button you acknowledge that you have actually read and agree to these rules. Also I reserve the right to change rules or make up new ones as I see fit, though I probably won't do that, so don't worry.