Latest News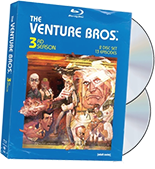 In spite of all the skepticism revolving around season three's probability of being released on Blu-Ray (even though it was produced in HD) it appears that it will in fact get an HD release along with the standard fare DVD set.
IGN has a story
along with two product-shot mockups showing off the old Atari game box style the sets will carry.
Arriving at retail as a two-disc box set on both platforms for the suggested retail prices of $29.98 and $44.98, respectively, The Venture Bros. Season 3 features all 13 uncensored episodes from the show's highly popular third season and bonus material including deleted scenes and commentary. Additionally, the Blu-ray disc box set will be packaged with an exclusive CD which includes 20 tracks that comprise the full musical score from the television series' third season.
So there you go! The site says the release date is
March 24, 2009
, so there's a while to wait, but Blu-Ray fans and Playstation 3 owners rejoice.
Update
: In celebration of this momentous event there's a
new poll
(or vote in the sidebar).