BifBangPow! 3 3/4" Brock Action Figures Gallery
Along with their line of fine Mego-inspired action figures, BifBangPow! is also trying their hand at a line of more traditional 3 3/4" action figure. While some (such as the creators of the show) might argue that the Mego-style figures work best with the theme of the show, smaller figures have been something fans have wanted for quite some time. BifBangPow!'s efforts to launch a complete line of these figures hit a few snags the but Brock figure was finally released to much fanfare. He comes in a regular style with a black tshirt as well as bloodied-up style in his white and red ringer tshirt, the latter of which is a limited-run Comic-Con exclusive.
Browse the gallery to see the figures in all their glory. Each one (they're identical aside from the paint) has ten points of somewhat stiff articulation and comes with a knife accessory that they can hold in either hand or be placed in the belt sheath. The quality of the sculpt is pretty good, especially given the small size. The only issue I have is that my con-exclusive Brock had his eyes painted slightly crooked. They're also not ultra poseable beyond being able to sit or hold their arms up.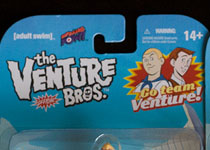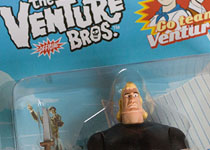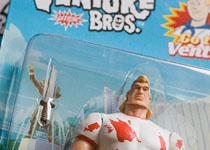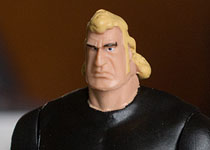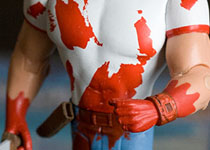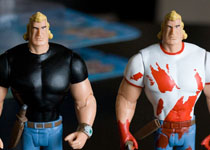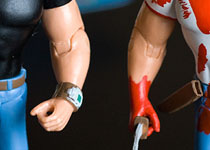 You can order your own Brock Samson from Entertainment Earth for $9.99 or the SDCC exclusive version for $14.99.