Latest News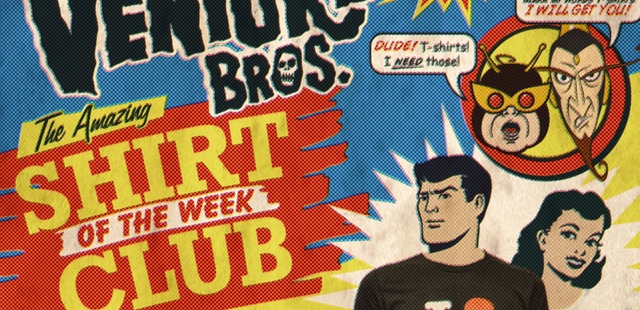 For those of you pumped about finally getting new Venture Bros. episodes (the season seven premiere is in just two days, on Sunday, August 5th!) you'll also be happy to know that the series mainstay tie-in merchandise is also back: Shirt of the Week Club!
For those of you unfamiliar, Shirt of the Week is, uh, pretty much exactly what the name implies. You can purchase a different t-shirt that's (sometimes loosely) associated with the most recent Venture Bros. episode. They're $20 each and only available for the week following an episode. You can check out the previous shirt clubs for season six, season five and season three right here.
The even more pro among you will also remember the subscription model, which is basically signing up to get every single shirt plus a bonus exclusive subscriber shirt. So you get all ten shirts plus a bonus shirt for $180, plus shipping is free, so you only end up paying like $17 per shirt. If that's enticing to you head on over to the Titmouse store and pre-order! Subscriptions can only be bought until August 19th so you have some time to decide but you'd better hurry up!