Latest News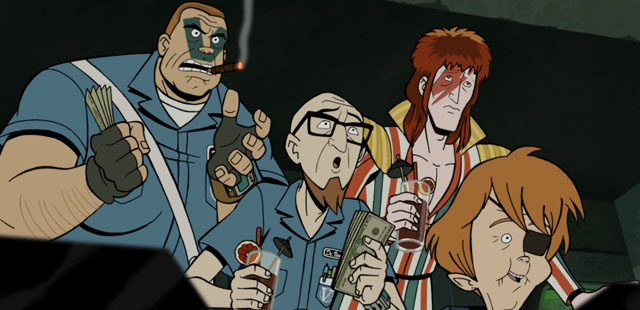 For those of you who (like me) couldn't go to Dragon*Con, one of the things you missed at the
Venture Bros.
panel were a few short, fully-animated clips from the upcoming as-of-yet unnamed Halloween special. While the full version of what was shown may never see the light of day beyond Dragon*Con,
Jackson was nice enough to provide some stills
on his LiveJournal. The show is looking as sharp as ever, plus he provides some enticing news in the way of future (the hour-long special and season 6)
Venture Bros.
:
Doc's currently on a train back from Atlanta, but when he returns to the AstroBase, we'll no doubt start talking more earnestly about writing our planned long form special, to be produced some time between seasons 5 and 6. We've already had a lot of "big idea" discussions about season 6 as well, so I'm hoping we get to work on all of this stuff sooner rather than later and we don't make you people wait 2 years between seasons again.
Though remember the saying, my friends, about things that come to those who wait. Something about the most impatient people getting what they want, I think. I forget it exactly, but that's probably the gist of it. Anyway you should
read the rest of what Jackson has to say
. The Halloween special airs on Halloween (or thereabouts) and season 5 is currently slated to start in early-ish 2013, possibly January or February.