Mantis-Eye At NYCC 2011: Venture Bros. Signings
If you're a fan of the Venture Bros. and a fan of the show's co-creators (and how could you not be) then conventions are likely your only chance to snag their autographs and even chat with them a little. At this year's New York Comic Con there were two signings, one set up by Adult Swim and one organized by Entertainment Earth.
As the quickest and apparently least publicized Venture Bros. event at NYCC (I heard a number of people say they didn't know about it) was the Adult Swim signing with Jackson and Doc around two hours before their panel. In spite of the whole thing going beyond the allocated hour everyone waiting in line got to speak with Jackson and Doc, even people who didn't know it required a ticket.

If you're wondering why I appear to be so much smaller than them it's because they
are actually giants. Or because I had to kneel behind their chairs.
Initially I wasn't planning on getting in the line, but Sara from Adult Swim Central (who awesomely had a Mantis-Eye button on her bag) spotted me while she was in line so I joined her. After a bit of waiting it turned out that we were some of those people who needed a ticket to get in (though nobody had told us what that was about) so we had to wait in an auxiliary line. Fortunately after all the ticketed folks were done almost everyone who was stranded on the second line was able to get in.
Once there I got them to sign five Shallow Gravy CDs (more on that later) and we each took photos with them. Doc even specifically requested a Mantis-Eye button, though he wanted a 1" one and I only had 1.5" ones. Jackson claimed he already had one from SDCC (which is weird because I don't think I gave him one) but I forced a new one on him anyway. After that we had to go because we were taking too long and they had to be at the press panel. Jackson and Doc were super nice about that too as well and said it was okay. However, we all had to be at the same place next anyway (the press hour) so everything was okay!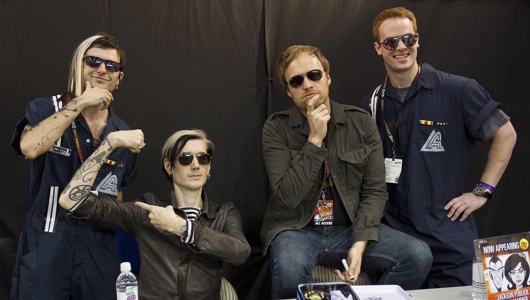 Photo credit: John Nowak/Cartoon Network, TBS Inc.
The second signing was on Saturday at the Entertainment Earth booth, and was scheduled to start at 1pm but didn't get going until after 1:30 because the men of the hour were stuck in traffic. Fans were starting to get a little restless but the line moved along quickly which made everyone happy. Jackson and Doc seemed to be having a lot of fun talking with fans, especially the ones carrying extravagant props or wearing crazy costumes. When I got up there they actually made fun of me for waiting in line again, but I had really wanted to get my new Dr. Orpheus doll signed. Doc told me that I could have used the back entrance or something but I doubt that would have went over very well with the Entertainment Earth folks.
That was pretty much it. I hung around and snapped a couple of photos but it was mostly just Jackson and Doc being awesome and talking to fans. They're genuinely nice guys who are really happy that people are enjoying something they greatly enjoy making. If you ever find yourself at a convention it's usually worth the wait (and the wait is never too bad) for what will probably be a pretty great memory.