Mantis-Eye At Comic-Con 2011: Costume Contest and Flying Lotus Performance
This year at Comic-Con Adult Swim hosted a couple of 'lounge' events at a club called Quality Social about 20 minutes by foot from the convention center. The Friday night event was to be a Venture Bros. costume contest followed by a live performance by Flying Lotus, the guy perhaps best known for being behind the bump music on Adult Swim. On top of all that that but Jackson and Doc would be the judges for the contest.
The main thing with the lounge events was that they were sort of invite-only. You had to go to the Adult Swim booth or one of the ice cream trucks roaming San Diego (nearby of course) to find out how to get in. Generally they would just give you one if you asked nicely but once they started running low on invites you had to do a little bit of work for them. Word on the street was a dance-off occurred at an ice cream truck (deejayed by Kid Koala) for the final thirty passes.
Of course being the amazing slacker I am I waited to go to the Adult Swim booth until after lunch, at which point they were out of invites. With a dance-off not being an option (I am entirely too white and uncoordinated to ever 'serve' anyone) I relied on asking Twitter to get me in, which turned out to work. Marc Ilagan, the fellow who runs another Venture Bros. site, Venture Bros Blog, knew someone at Adult Swim who was able to pass along a couple extra tickets. The invite itself turned out to be a simple Venture Bros. pin, though I do think they were mostly concerned about how many people the place could safely hold than denying people entrance for other reasons.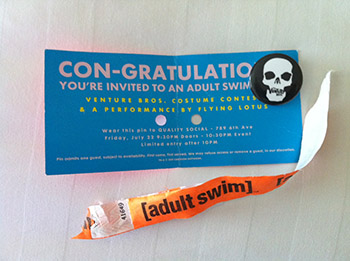 To the benefit of people who got on line first (doors opened at 9:30 but the actual contest didn't start until 10:30) Jackson and Doc were just walking around, ordering drinks and talking to fans. There were also various other Adult Swim-type people there if you were keen enough to know who they were. Seth Green was briefly wandering around early on (though he left shortly after), Dave Willis (co-creator of ATHF and Squidbillies) was also there for a while and I am fairly certain I saw Keith Crofford (executive VP at Adult Swim) getting crunk. Awesomely Adult Swim provided three free drinks to all who entered, which turned out to be both a blessing and a curse. The blessing with limited free drinks is that there's no scramble for a limited-life open bar, the curse being that you couldn't actually buy drinks after you used your tickets. More on that later!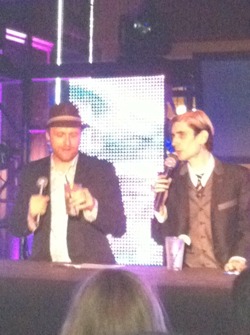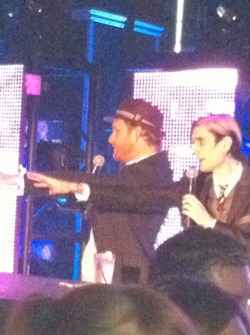 After an hour of schmoozing (and smoking) with the stars the costume contest began. Many of the people who were invited to participate at the end of the Venture Bros. panel from earlier in the day were there, including Phantom Limb (with arm lights now disappointingly broken), Baron Underbheit, Billy Quizboy, Dr. Killinger (both male and female versions), various Hanks and Deans (very few of them actual males, and many of them making out), and even the Warden and Daisy from SuperJail! for some reason. Sadly the Orange County Liberation Front guys and the plug-face guy were nowhere to be seen. Jackson and Doc introduced each participant with their usual brand of humor and the contestant(s) got to strike a pose and get the crowd amped up.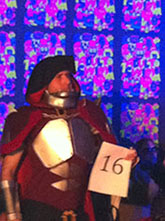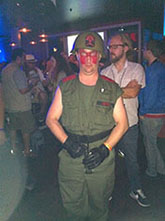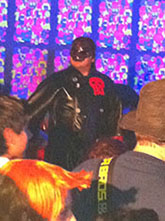 Jackson and Doc then left the stage to figure out the winners of the contest. When they finally came back it turned out (awesomely) that everyone was a winner, though they did get their own special award title (I assume that's what Jackson and Doc were making up in the back) and the prizes were awesome sketches of characters from the show signed by Jackson and Doc. James Urbaniak also showed up at some point, though he wasn't really a judge but he did chat with people in the crowd a fair amount.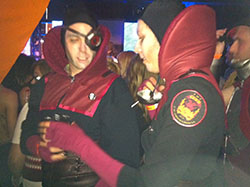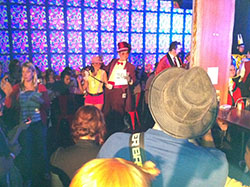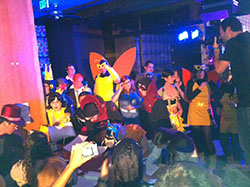 After that we were treated to a live performance by Flying Lotus (who had also been hanging out at the party the entire time). He's an electronic/laptop artist which means a live performance is him mixing things together on the fly, so we heard a lot of really awesome stuff. Flying Lotus himself also got really excited fed off the energy of the crowd. Since the venue was so small it felt amazingly personal, and as a big fan of Flying Lotus myself I really enjoyed it.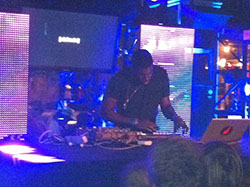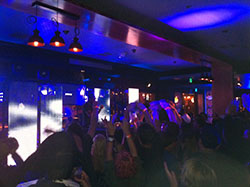 At this point it was getting late and I was pretty tired, plus I was out of drink tickets. I attempted to give a bartender my credit card but he said they could only take tickets, so I decided that I would wander back to the hotel, content with having had a really fun time.
I really don't have much of an ending to this, except that if you ever get a chance to go to a Venture Bros. costume contest that is judged by Jackson and Doc and followed with a performance by Flying Lotus then you should definitely go. Oh and also maybe try and weasel your way into getting a couple extra drink tickets.